Raw Beet Salad
A delicious and easy salad that takes little time to make and is the perfect side dish for the holidays or quick weeknight dinner.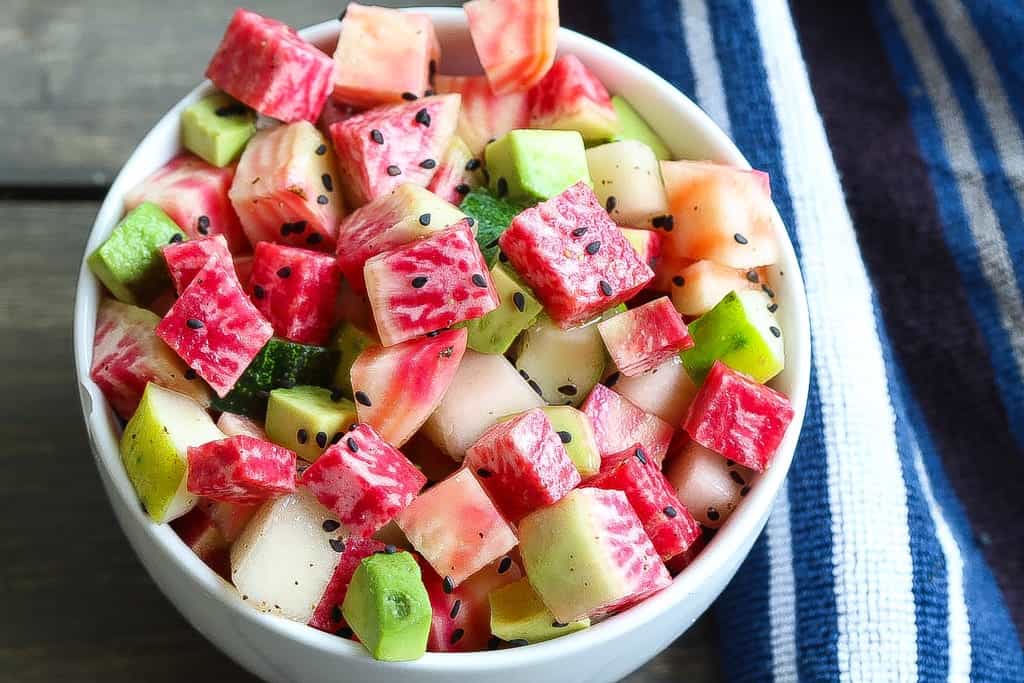 This raw beet salad looks and tastes fancy but is SUPER EASY to make. It comes together in minutes since no cooking is required. It's just beets, radishes, cucumbers, and melon tossed in a simple vinaigrette. With the exception of the avocado, I just bought the best looking fruit and vegetables I saw at the farmers' market. The vibrant colors of the beets and radishes just called me. When it's like that your heart just don't stand a chance.
How you cut the vegetables is a matter of choice. Thinly sliced or diced are both appropriate. I wanted more crunch and more of that raw vegetable flavor, so I spent the necessary time dicing all the vegetables. But if the heavy crunch isn't your thing, nor that raw taste, feel free to cut the ingredients into thin slicers using your knife or mandolin slicer.
Types of beets to use?
This salad works with any type of beets. I chose chioggia beets because they are unique in their interior color, and they were available at my local farmer's market. However, there are a number of different varieties, each with its own unique characteristics. If you've only bought beets from a typical grocery store, then you might be surprised to know that all beets aren't dark red. I grab the golden beets and chioggia whenever they're available.

What are Chioggia Beets?
Chioggia beets, though they look like ordinary beets on the outside, they are naturally candy-striped colored beets on the inside. They are also highest on the sweetness scale. Some are a subtle yellow-and-orange combination while others come with a brilliant red-and-cream candy cane effect. For the most part, I use them, as I would any other variety of beets. However because that stunning color fades away when cooked, I will eat them fresh, uncooked often so that I can enjoy them fully.
How to choose the right beets?
Red beets are the beets most of us think of when our minds turn to "beets." Look for beets with their fresh, leafy greens still attached, if possible you'll know those are fresh. The great thing about red beets is that they are amazing storage vegetables. Getting a bit less tender as they are stored, perhaps, but also gaining sweetness along the way.
What is the flavor profile of Watermelon Radish?
Though it looks like a watermelon it tastes nothing like it. Watermelon radishes are crisp with a mild taste that is slightly peppery with some sweet notes. They can be served raw or cooked, hot or cold and pair well with foods like fennel, cheeses such as feta, apples, vinaigrettes, cucumbers, citrus and most fresh herbs.
Raw Beet Salad
If you make this simple, delicious, and nutritious raw beet salad recipe, please come back and leave me a comment below with your feedback. Definitely take a photo of the dish and be sure to tag #foodfidelity so that I can see them. You can also keep up with my food exploits as well as original recipes! You can find me on Instagram, Facebook, Twitter, and Pinterest. If you like any of the music you find on the site, visit me at Spotify to find curated monthly playlists.
For another beet recipe try these lightly smoked beets.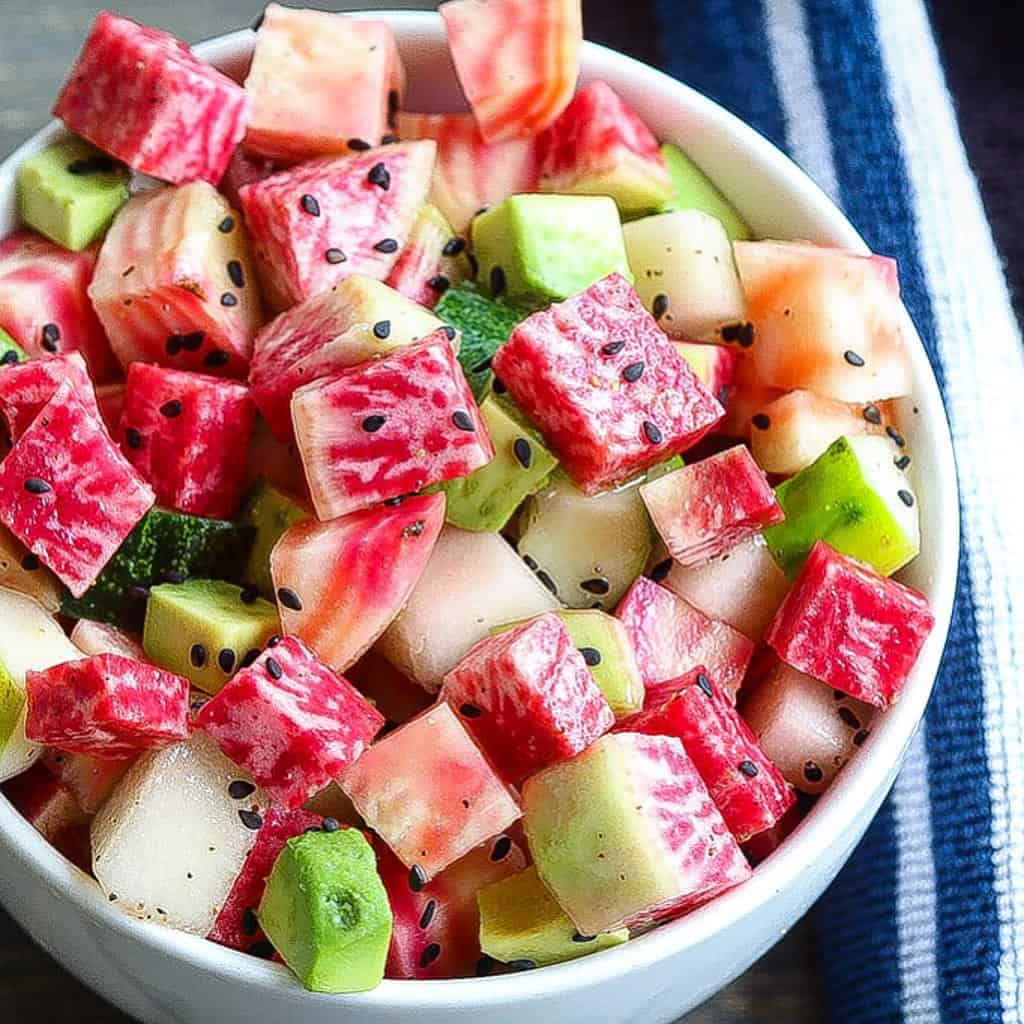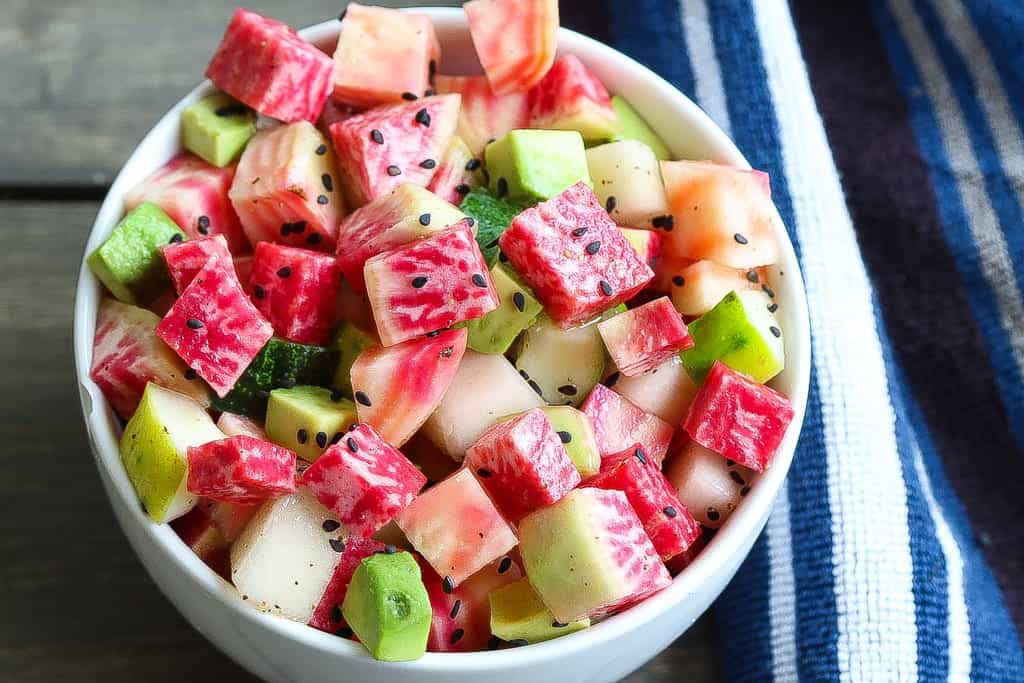 Ingredients
1

medium chioggio beet

peeled and diced

1

medium watermelon radish

diced

1

cucumber

de-seeded and diced

½

small honeydew melon

peeled, de-seeded, and diced

1

lime

juiced

1

tbs

Rice Vinegar

2

tbs

Olive Oil

1

garlic clove

minced

Kosher Salt

Pepper

Black Sesame Seeds

optional for garnishing
Instructions
Make the vinaigrette
Mix oil, lime juice, vinegar, garlic, salt and pepper in mixing bowl.
Make the salad
Place cucumber, radish, beets, and melon in a medium bowl. Mix well.

Top with vinaigrette and toss.

Garnish with sesame seeds
Notes
For best results let the salad sit for at least 30 minutes to allow the flavors to meld.
Nutrition
Calories:
205
kcal
|
Carbohydrates:
28
g
|
Protein:
2
g
|
Fat:
10
g
|
Saturated Fat:
1
g
|
Cholesterol:
0
mg
|
Sodium:
84
mg
|
Potassium:
866
mg
|
Fiber:
4
g
|
Sugar:
21
g
|
Vitamin A:
180
IU
|
Vitamin C:
58.2
mg
|
Calcium:
59
mg
|
Iron:
1.2
mg
Subscribe To My YouTube Channel
Subscribe To My YouTube Channel for full length recipe videos. Click the bell icon to be notified when I post new videos.
My YouTube Channel