Simple salmon steak recipe with a tasty green onion vinaigrette for a quick weeknight dinner or date night entree.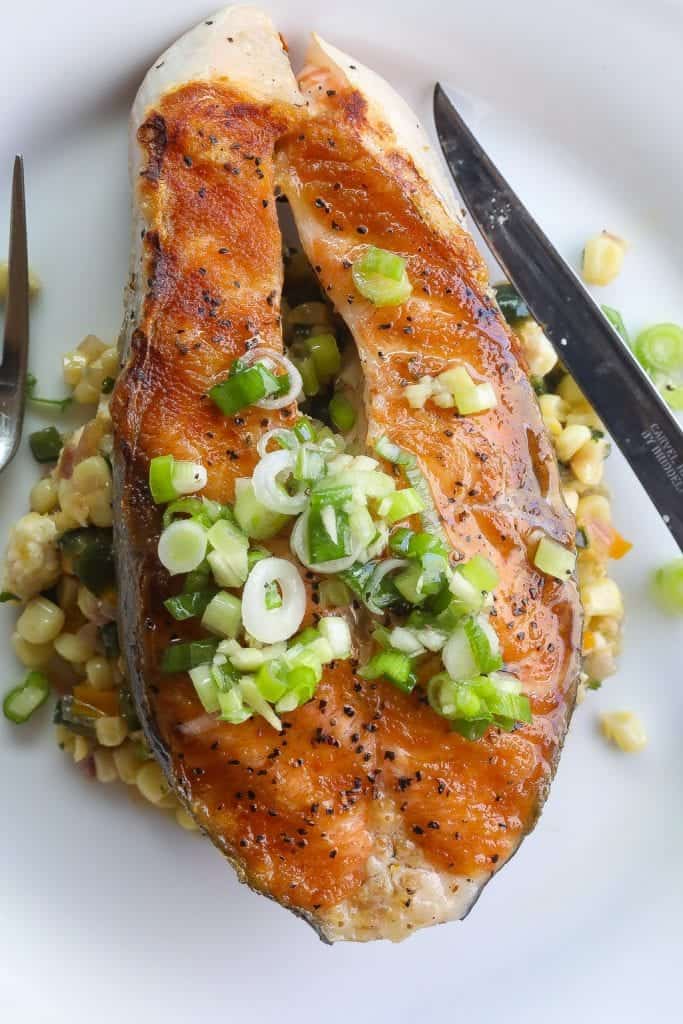 MOOD MUSIC
Salmon is fatty in a good way, so it pairs extremely well together with an acidic sauce like Angie Stone over a funkful soulful Brand New Heavies track. The green onion vinaigrette, which I discovered at Gjelina's during a visit to LA is a perfect complement to the salmon.
Grilled Salmon Steak Ingredients
Salmon Steaks
Olive Oil
Salt and pepper
Grilling Instructions
Prepare grill by pre-heating to high heat. Apply oil to a folded paper towel and lightly oil the grill grates.
Arrange salmon steaks on a baking sheet then season with salt and pepper. Once salmon has reached room temperature grill the steaks until cooked through. This amounts to about 4-6 minutes per side depending on thickness.
Transfer the salmon to individual plates. Serve topped with the green onion vinaigrette.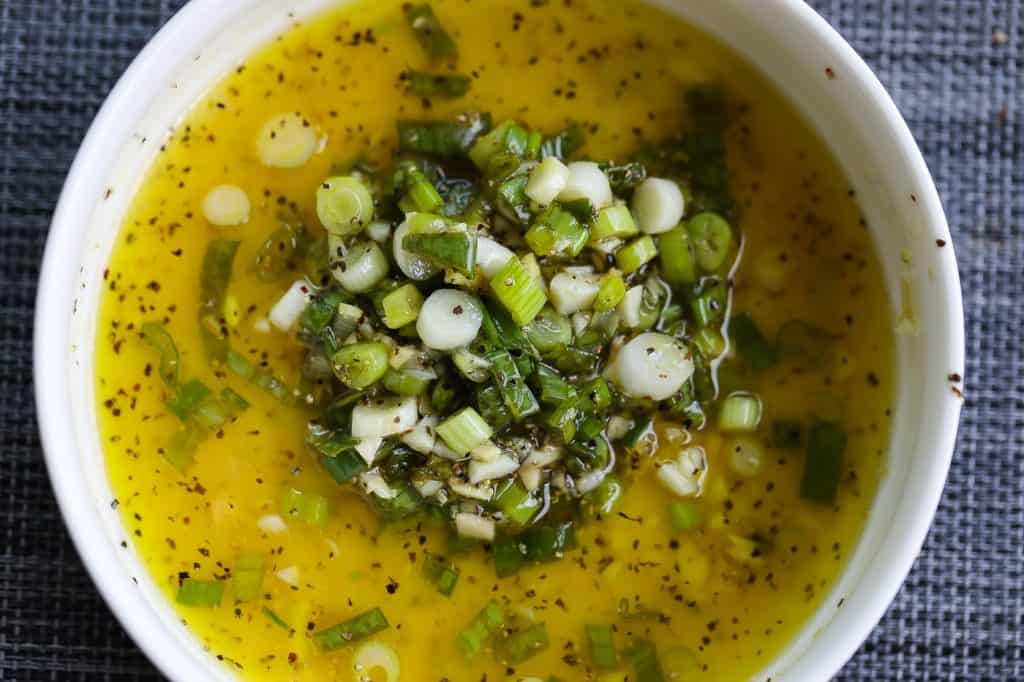 Meal Prep
Sunday is my meal prep day. I know for some this is stressful, but I keep things pretty simple and low-key. Meal prep for me means two things - 1. Chop up my vegetables (onions, peppers, celery, etc.) and 2. Make the 2-3 sauces I'm featuring that particular week.
Most of my weeknight meals include some version of a lean protein topped with a flavorful sauce and paired with easy, quick cook sides. If I'm having fish, then I buy Tuesday when the new fresh fish is delivered and typically cook the fish the same day. In most cases the sauces are low-involvement requiring only a few ingredients such as this green onion vinaigrette.
Salmon Steak v. Salmon Fillet
It seems odd but I often see the terms 'steak' and 'fillet' used interchangeably. In reality they are really different. Steaks are cut perpendicular to the spine which means you have to cut through the bone vs fillets which are absent of a bone since the cut is in parallel. Also notable is the horseshoe like shape of the steaks. Note this recipe works with either cut, but other fish as well.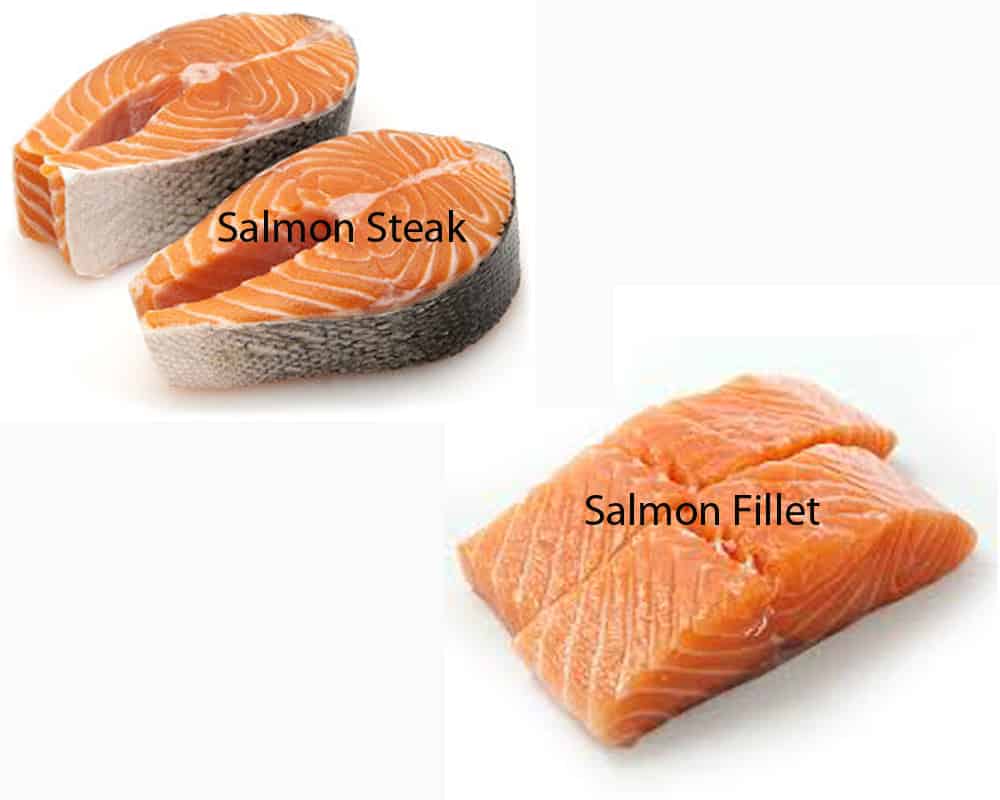 Does salmon steak have bones?
Fillets have fewer of those smaller pin-like bones. When buying steaks I recommend having the store fishmonger remove the bone if you prefer a boneless steak. Removing the bone actually allows you to roll the steak into almost a ball for easier more even cooking. If you don't have the luxury or prefer to do it yourself then see this video on how to remove the bones. Note I leave the big bone in tact and only remove the thin small ones.
How do you cook salmon steaks?
There are many ways to cook salmon steaks. Pretty much all the common ones (grill, pan-fry, broil, bake) are at your disposal. Pan-frying is definitely the fastest though all are pretty quick. Grilling provides the best combination of flavor and texture in my opinion, but you have to factor in the time required to fire up the grill, unless you're using an indoor stovetop grill as I typically do.
Brine
Whatever cooking method you choose, I do recommend brining the fish first. It's not required, but it does add some additional flavor. The brine is simple and sweet. Just drop the salmon steak into bowl of salted water for about 15 minutes if you have time. Brining helps season the fish further and minimizing any "fishiness" if present.
Grilled salmon steak
Grilling is my preferred method to cook salmon steaks. Depending on thickness you'll need to adjust heat levels. Thinner steaks are perfect for searing whereas the thicker cuts will require longer cook times at lower temps. The lower temps are needed to ensure you don't end up with an undercooked center. I prefer about 120-125 degrees for an internal temperature.
Broiled salmon
Broiling requires little effort. It's just reverse grilling, i.e. the heat comes from up above vs. below like a grill. It's like baking but with that browning. Broil at 450 degrees for about 8 minutes or so.
Baked
Baking is simple, but it's my least preferred approach. There are little worries are achieving a steak that is cooked evenly, but the texture and color are suboptimal for me. If baking then cook for about 20 minutes at 350 degrees
What Sides Go With Salmon Steaks
Simple green salads like this pear and collards salad or a simple mustard greens salad go well with this dish. I also like corn or a black eyed pea salad as a good pairing. Slaws are also perfect as are broccoli or broccolini.
Grilled Salmon Steak Cooking Tips
Don't remove the big bone, but have the store remove the little ones

Remove from heat source just shortly before its done cooking. Use edge of spatula to observe flesh near the bone. It should be just a tad underdone. It will continue to cook after you remove from the heat.

Again, timing depends on how thick the fillet is and how well-done you like your fish.

Dry the fish completely if grilling. Moisture can cause stickiness
MORE SEAFOOD RECIPES
Easy Baked Cod with Panko Crust
making grilled salmon steak
If you make these delicious delicious salmon steak recipe please come back and leave me a comment below with your feedback. Definitely take a photo of the dish and be sure to tag #foodfidelity so that I can see them.
You can also keep up with my food exploits as well as original recipes! You can find me on Instagram, Facebook, Twitter, and Pinterest. If you like any of the music you find on the site, visit me at Spotify to find curated monthly playlists.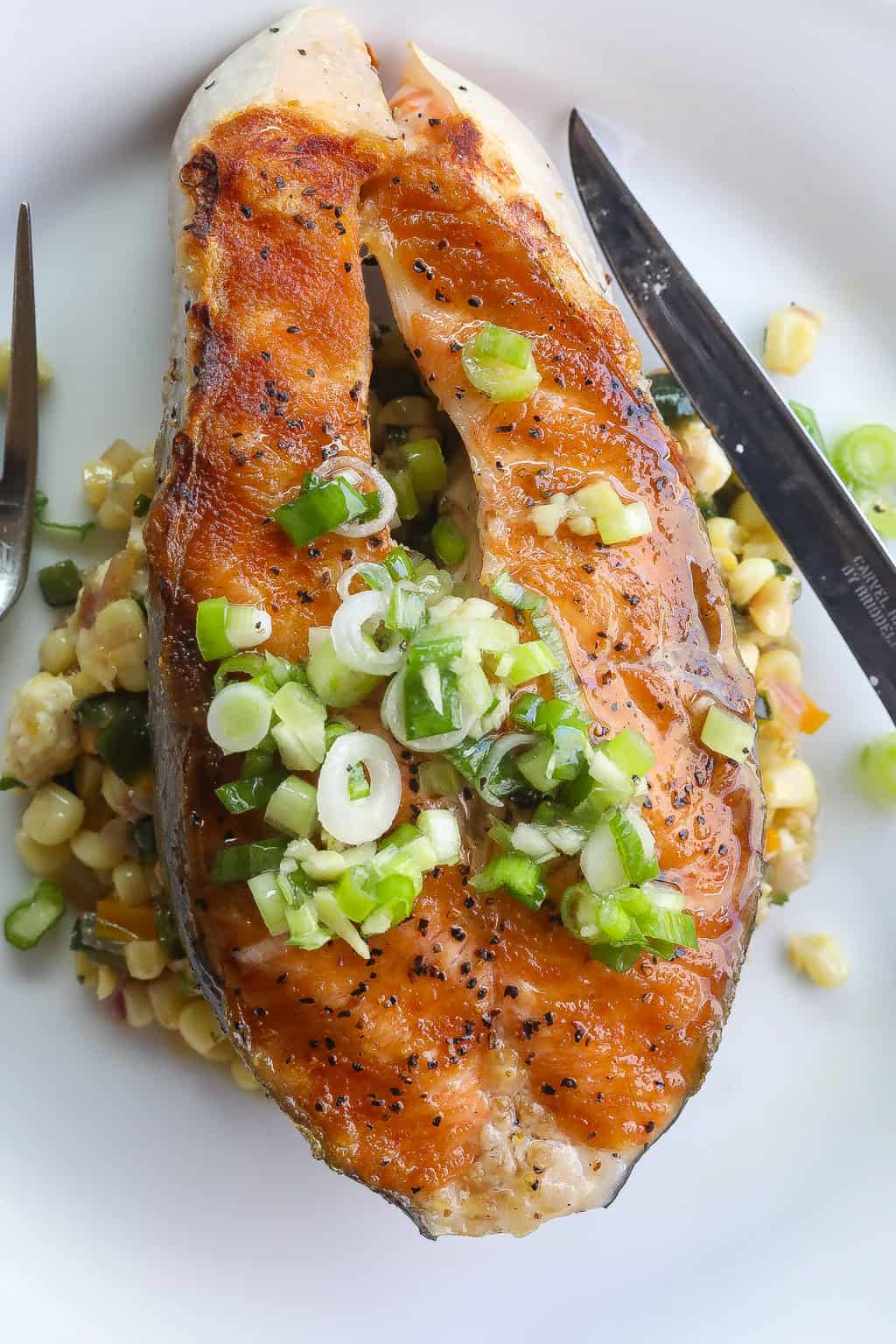 Ingredients
For the Fish
2

salmon steaks

6 to 8 ounces each

1

tablespoon

olive oil
For the Sauce
1

tablespoon

olive oil

2

green onions

sliced thin

1

inch

piece fresh ginger

peeled and grated

2

garlic cloves

minced or grated

1

lime

juiced

1

tablespoon

rice vinegar

1

teaspoon

honey

(maple, brown sugar, or any other sweetener work fine as alternatives)

1

teaspoon

kosher or sea salt

1

teaspoon

black pepper
Instructions
Make the Sauce
Combine the olive oil plus the green onions, ginger, garlic, lime juice, vinegar, honey, salt, and pepper in a bowl and mix well. Season to taste and set aside.
Grill the Fish
Heat grill to high; lightly oil grates with remaining oil and paper towel. If using an indoor cooktop grill then oil the fish instead.

Arrange salmon steaks on a baking sheet; season with salt and pepper.

Grill salmon steaks until cooked through, 4 to 6 minutes per side depending on thickness of the salmon.

Transfer salmon to plates; Serve topped with green onion vinaigrette.
Video
Notes
Brine the fish before cooking by placing steaks in a large bowl of salted water.
Nutrition
Serving:
6
oz
|
Calories:
241
kcal
|
Carbohydrates:
5
g
|
Protein:
23
g
|
Fat:
14
g
|
Saturated Fat:
2
g
|
Cholesterol:
62
mg
|
Sodium:
633
mg
|
Potassium:
589
mg
|
Fiber:
1
g
|
Sugar:
2
g
|
Vitamin A:
105
IU
|
Vitamin C:
6
mg
|
Calcium:
26
mg
|
Iron:
1
mg
Subscribe To My YouTube Channel
Subscribe To My YouTube Channel for full length recipe videos. Click the bell icon to be notified when I post new videos.
My YouTube Channel