If you're looking for plum desserts this roasted plums dish is an easy, delicious one. It's the perfect no-fuss, healthy dessert recipe.
Amazingly these roasted plums produce out of this world-level flavor despite such a short ingredient list.
The flavor is both bold and complex owing to the honey, cinnamon, and ancho powder which gives that sweet heat. These all go well with the tart plums.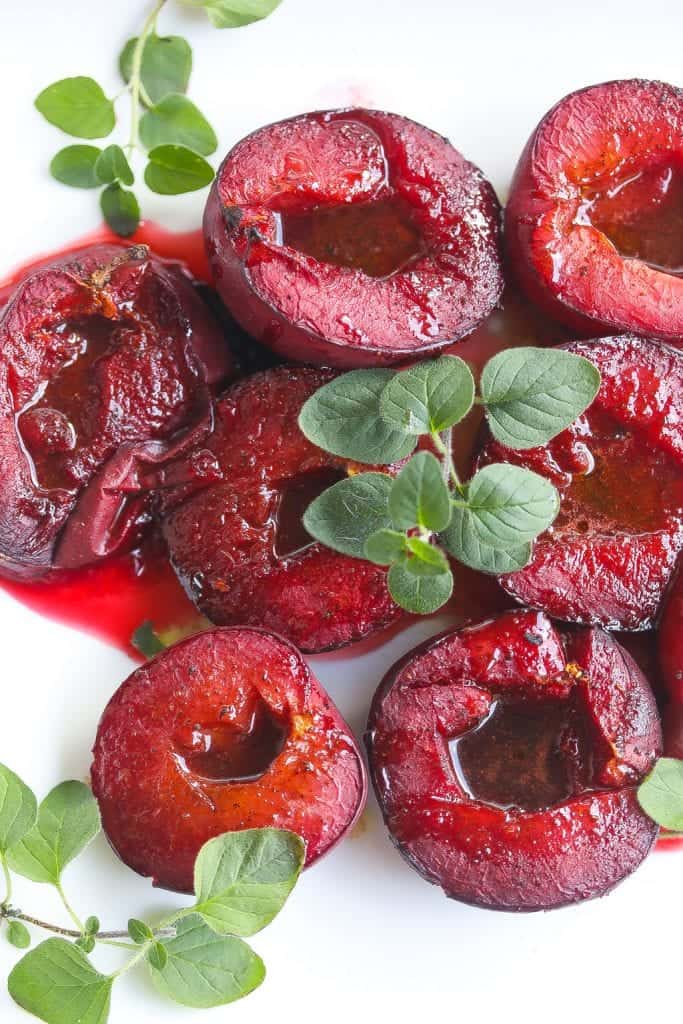 MOOD MUSIC
I admit plums are a major weakness for me. I wasn't much of a troublemaker as a kid but of the few times I got into trouble, plums were often at the center of the issue. I was essentially a plums bandit much like the Fantastic Mr. Fox was with chickens.
There wasn't a punishment severe enough to deter my plum addiction; no belt, switch, paddle, or any other means of a whooping mattered. Sweet or sour, I loved both types; plums are just irresistibly delicious to me.
Roasted Plums Dessert Ingredients
Plums
Honey
Cinnamon
Ancho Chili Powder
Butter (optional)
How To Make Roasted Plums
Pre-heat oven or grill to 400 degrees.
Halve the plums and remove the seeds. Place the halves in medium oven-proof skillet (cast iron) or smaller baking sheet/pan. If using the ladder spray with cooking spray or cover with parchment paper.
Brush the plums with honey, then add the cinnamon and chili powder. Bake for 20-25 minutes. Plums should start to break down slightly, but still hold the majority of their shape.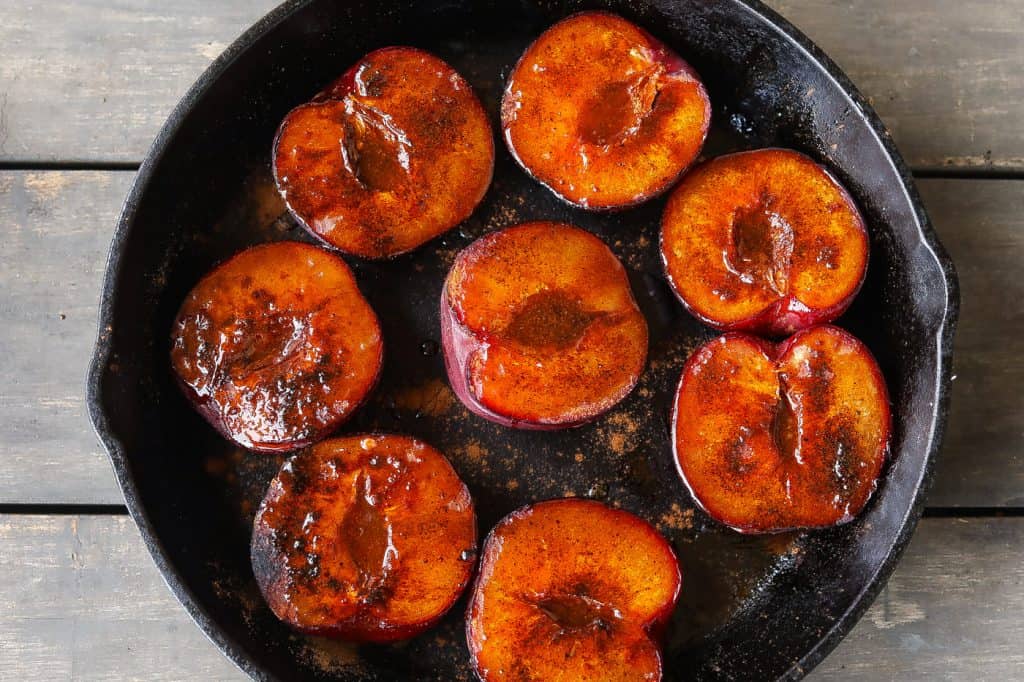 Mix melted butter with some of the honey, cinnamon, and chili powder. During the last few minutes of cooking brush the butter mix on the plums. Serve.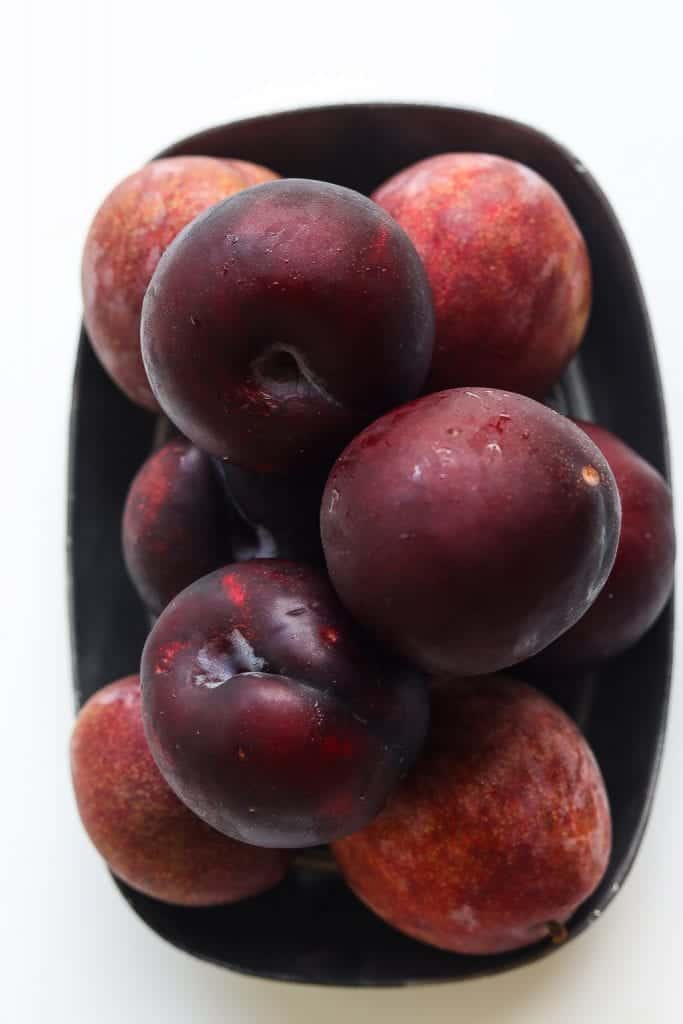 Frequently Asked Questions (FAQs)
What types of plums work best?
A recent trip to my local Central Market triggered this reflection. They had plumcots, which are a hybrid combination of plums and apricots. These particular ones are closer to green plums in size, color, and texture, but maintain the sweetness of apricots.
Any plum varietal works in this recipe as I've used regular black plums as well as the aforementioned hybrid. For more insight on picking plums checkout this all things plums-related article.
Is this dessert paleo?
I'm not much of a baker, so most of my desserts are either ice cream or roasted fruits. These plums or any for that matter are great for roasting. I've also been exploring paleo recipes and this fruit dessert recipe makes for a great paleo dessert with one tweak, substituting agave with either maple syrup or honey.
I'm relatively new to the paleo world, but it's been clear to me in my research that sweeteners are polarizing amongst the paleo crowd. Honey and maple syrup are good to go, but agave is out. I'm clearly not the expert but for me, because there is strong support for either side, it's a no for me.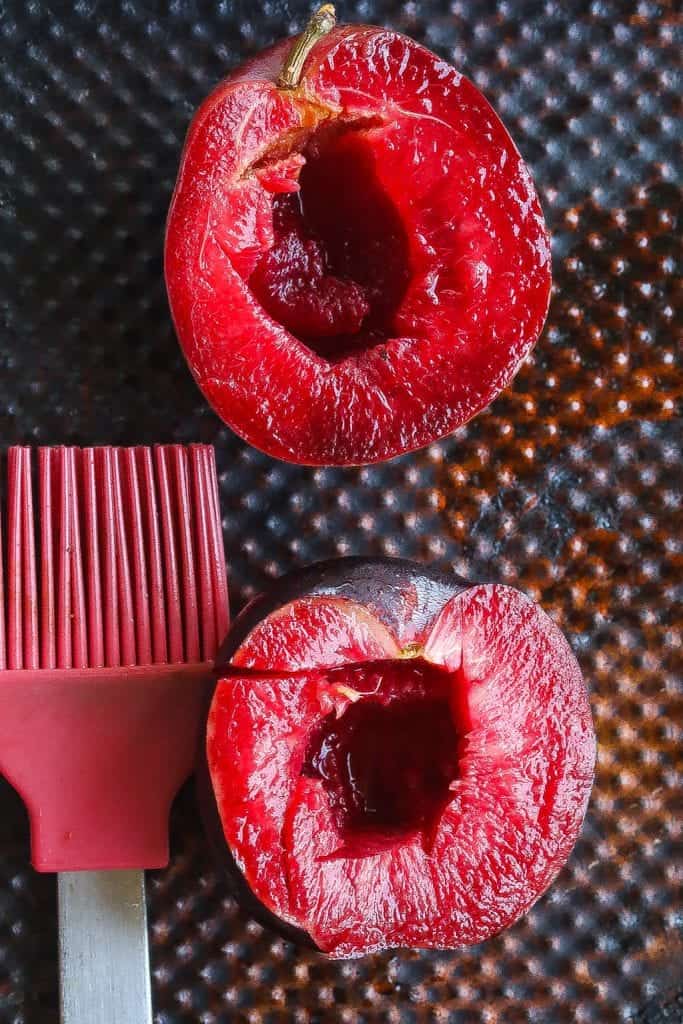 I made a spicy agave-based sauce. The sauce, similar to this overall recipe was very simple. I mixed agave (honey or maple are perfectly suitable substitutes) with cinnamon and chili powder and poured over the plums as if I was adding syrup to bread for a syrup sandwich. The agave was used to help with caramelization and intensify the natural sweetness of the plums to balance against the tartness of the plums.
How To Choose Ripe Plums?
I'm more of a tart plums guy as you probably gathered from my green plums story. But for those of you who prefer sweeter plums here are a few things to consider in shopping for plums:
Start with a heavier plum that's has a little give to squeeze, but not too soft.
Regardless of the variety, the darker skin the better
Go with plums with smooooooth skin
What Do I Serve with Roasted Plums?
These beauties don't last long in my house. I rarely have time to add any other ingredients/foods to it. A good dollop of Greek yogurt or even crumbled feta cheese are an excellent pairing.
This plums dessert is a great finish to a meal, especially a healthier one. Pair the plums with a main entree like cabbage stir fry, savory oatmeal, jerk chicken or smoked trout plus sides like red beans and rice, glazed carrots or collard greens salad.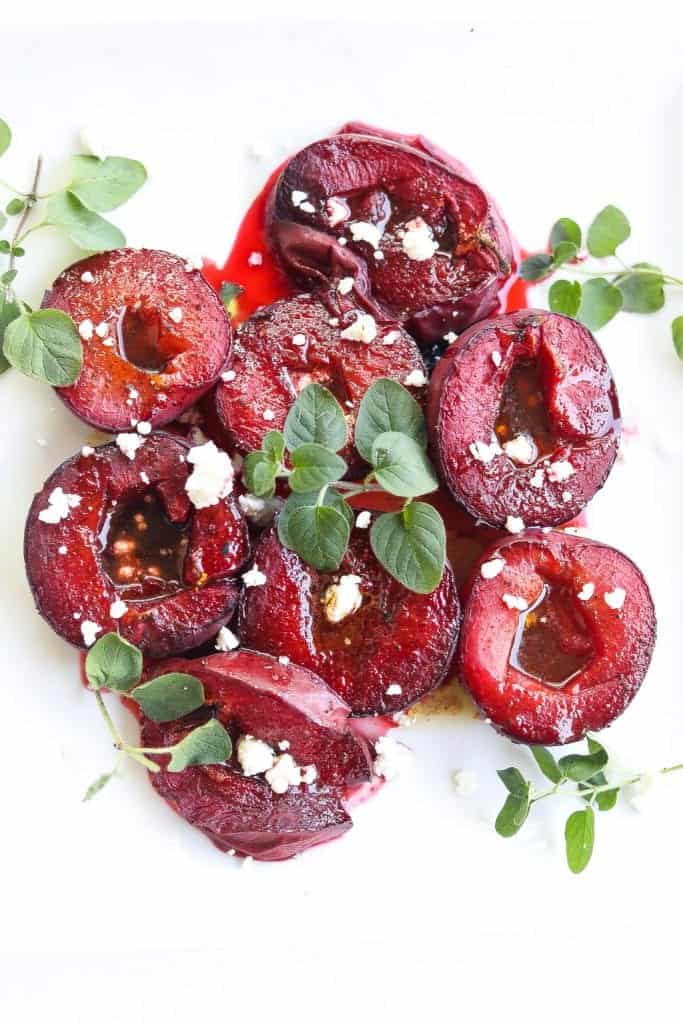 More Fruit Dessert Recipes
Making Roasted Plums Dessert
If you make this delicious Roasted Plums recipe or any other recipe please come back and leave me a comment below with your feedback. Definitely take a photo of the dish and be sure to tag #foodfidelity so that I can see them.
You can also keep up with my food exploits as well as original recipes! You can find me on Instagram, Facebook, Twitter, and Pinterest. If you like any of the music you find on the site, visit me at Spotify to find curated monthly playlists.
Lastly, go to my YouTube channel and subscribe to be notified when new weekly videos are uploaded.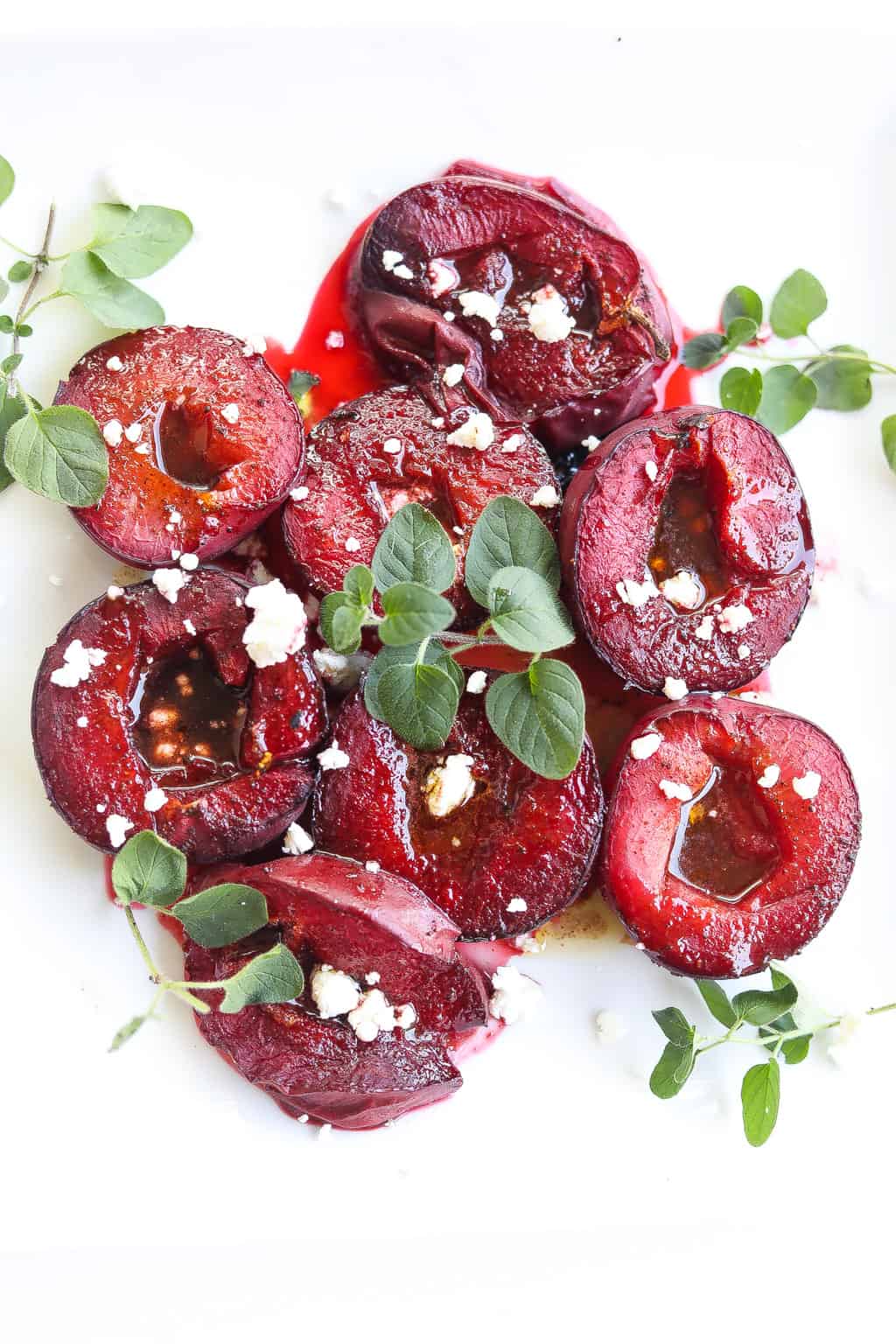 Ingredients
4

ripe plums

halved and pitted

2

teaspoon

agave or honey

1

teaspoon

cinnamon

1

teaspoon

chili powder

1

cup

Greek Yogurt

optional
Instructions
Preheat the oven or grill to 400 F

Arrange the plums in a baking dish. Drizzle with the agave mix, using more if the plums are not sweet, or less if the plums are sweet.

Roast in the preheated oven until the plums are very soft, approximately 30 minutes.

Cool slightly & serve topped with yogurt & an additional drizzle of syrup. Garnish with fresh herbs (thyme or oregano)

Store any leftovers in the refrigerator.
Video
Nutrition
Calories:
74
kcal
|
Carbohydrates:
13
g
|
Protein:
6
g
|
Fat:
1
g
|
Saturated Fat:
1
g
|
Cholesterol:
3
mg
|
Sodium:
29
mg
|
Potassium:
187
mg
|
Fiber:
2
g
|
Sugar:
11
g
|
Vitamin A:
430
IU
|
Vitamin C:
6.3
mg
|
Calcium:
65
mg
|
Iron:
0.3
mg
Subscribe To My YouTube Channel
Subscribe To My YouTube Channel for full length recipe videos. Click the bell icon to be notified when I post new videos.
My YouTube Channel