For those who want to enjoy Summer's best fruit beyond a cold slice or fruity drink, this is a great alternative. With the appearance of Ahi Tuna, the texture and mouthfeel of a medium rare ribeye, this finished roasted watermelon steak is a great fancy appetizer and main ingredient for a summer salad.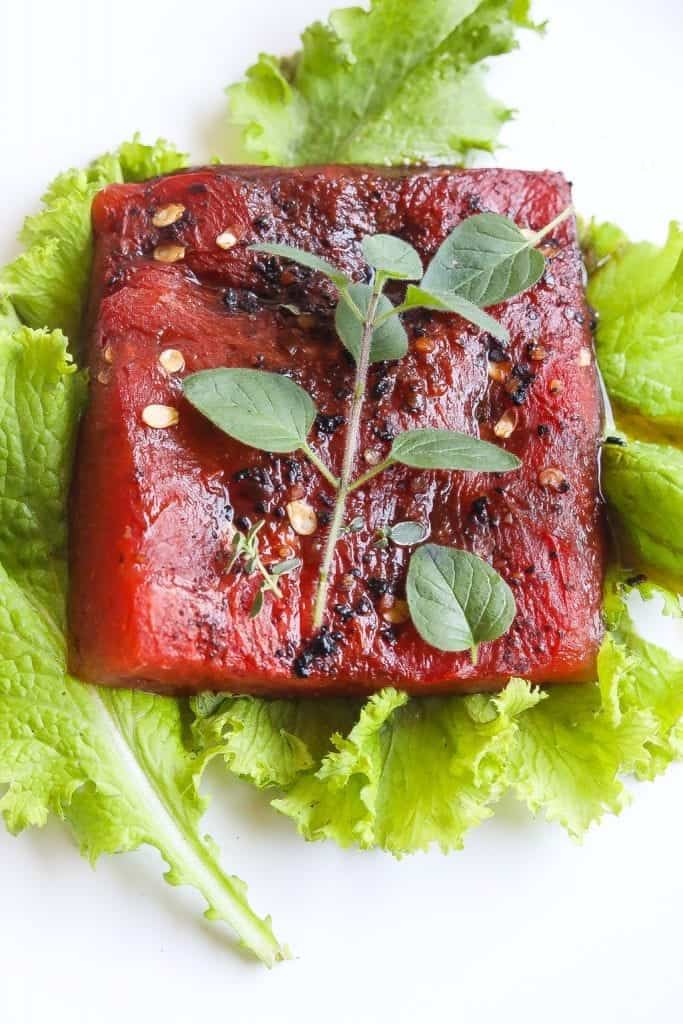 Summertime doesn't officially start in our house until we've had our first watermelon from our local farmer's market. Since it's such a momentous occasion 'we be getting down' with our happy dance.
My son and I have a shared passion for cooked fruits whether grilled, roasted or even sous vide. I think for him it's the concentrated sweetness that occurs, but for me, the texture nerd, I love the transformation that occurs in creating a totally different mouthfeel.
It goes down in the Summertime for us given the many fruit options available for experimenting. I can't say all have been successful, but we've mastered the art of making roasted watermelon steak. As a matter of fact, we're so good you can make this recipe without any adjustments.
We make a version of roasted watermelon steak probably once a week. Sometimes we dress it up with ingredients like goat cheese, pistachios, and/or a balsamic glaze or pair it with arugula and cherry tomatoes for a simple salad.
However, mostly we keep it simple and just add a few base savory seasonings like pepper, salt, and fresh herbs. This recipe is the base version and as you get confident with it, you can tweak it as you see fit.
I know for some the idea of adding savory ingredients to watermelon or adding anything is sacrilegious. But in my childhood home, the salt + watermelon combo was normal behavior.
Now I will say salt on everything was pretty normal too, but that's a whole nutha conversation. For me, salt on watermelon makes as much sense as putting Mexican tajin seasoning on mango, melon, and jicama. It just works!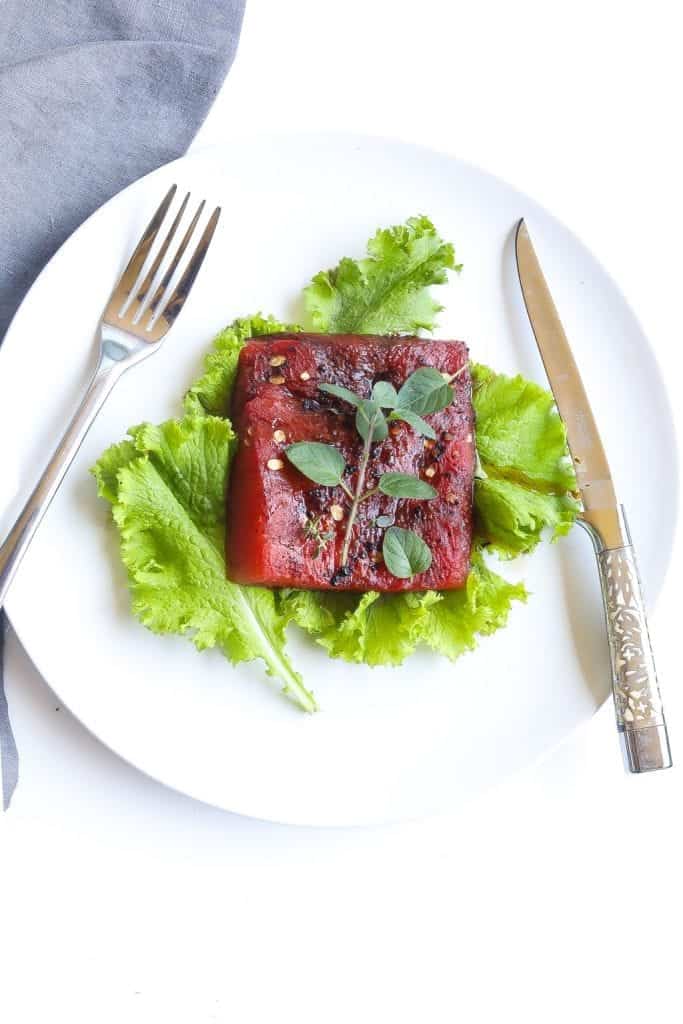 Though the idea of roasting watermelon may be foreign, the recipe couldn't be any more simple. There is minimal prep (cutting a watermelon rectangle) and little cooking.
Since you're roasting, it's just set it and wait, and while you wait you can multi-task whatever else you have going on in the kitchen or tell stories to your kids about how much time you spent outside during your day; what was it - sun up to sun down or as the family Griot aka grandpa used to admonish using that popular African American Proverb, "Have yo ass home before the streetlights come on!"
The Art of Picking A Good Watermelon
I remember my grandfather explaining to me the finer points of watermelon picking as a child. He said you had to flip the melon so it was belly side up and thump it. If the sound was hollow then it was ripe.
Well, with my little sausage fingers and untrained ears every thump sounded the same so either all melons were ripe or all weren't lol. As I got older it began to all make sense. Of course, with this development came disappointment as I realized via the magic thump test, most supermarket melons weren't ripe.
My advice if you're aren't growing your own is just to go buy at a farmer's market as they typically bring their most ripe melons. If the grocery store is your only option then follow these steps:
Dull vs. shiny melons are riper

Pick up the melons and go with one that feels heavier than its size

Roll the melon over to its bottom side (the side that it sits on). Ripe ones will be a creamy yellow color; the darker the yellow the longer it sat on the vine.

Look for black "sugar spots" - if the ugly black spots exist, this is where sugar is seeping out and indicates a sweet melon.

Perform the thump test. Deep hollow sounds are what you looking for.
Key Cooking Steps
Cut watermelon into rectangles and place on a baking sheet
Season each with kosher or sea salt, coarse black pepper, and balsamic vinegar
Roast in the oven covered with foil at 400 degrees F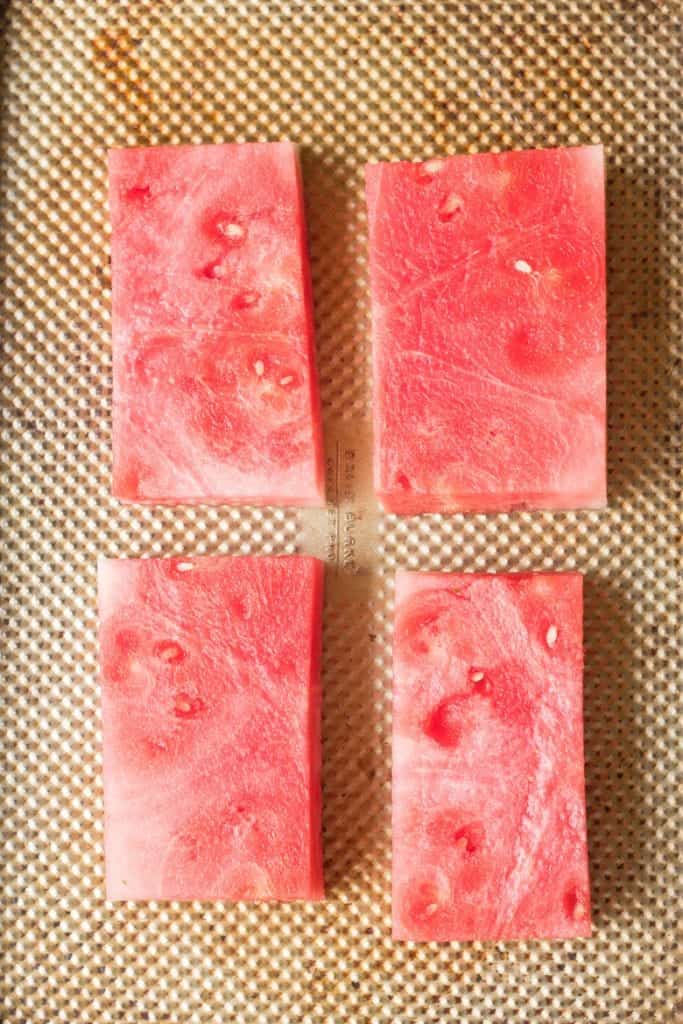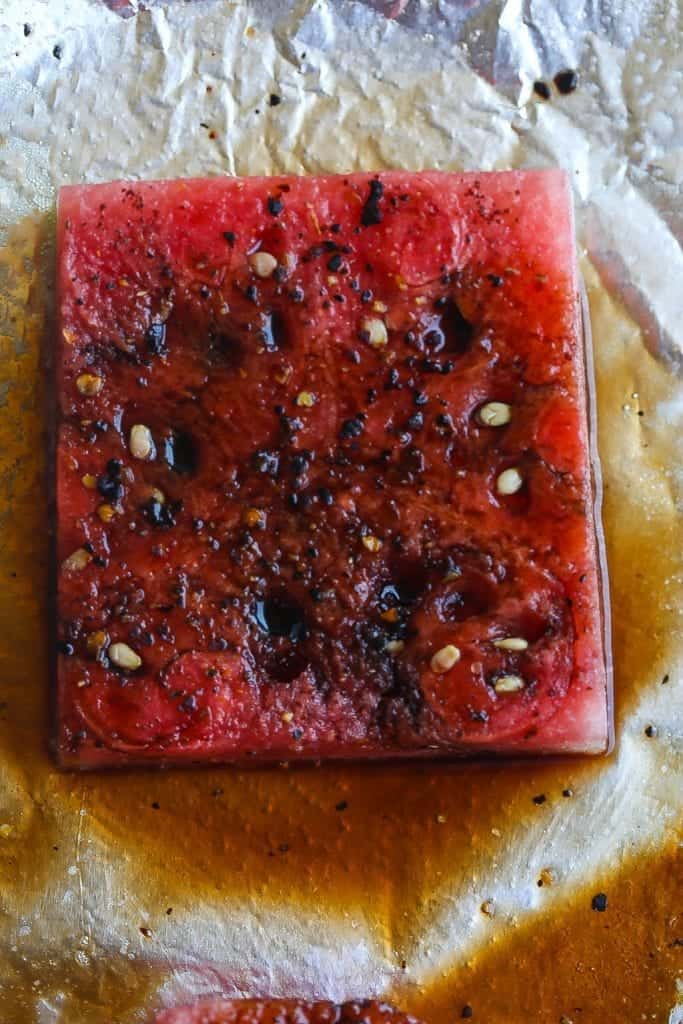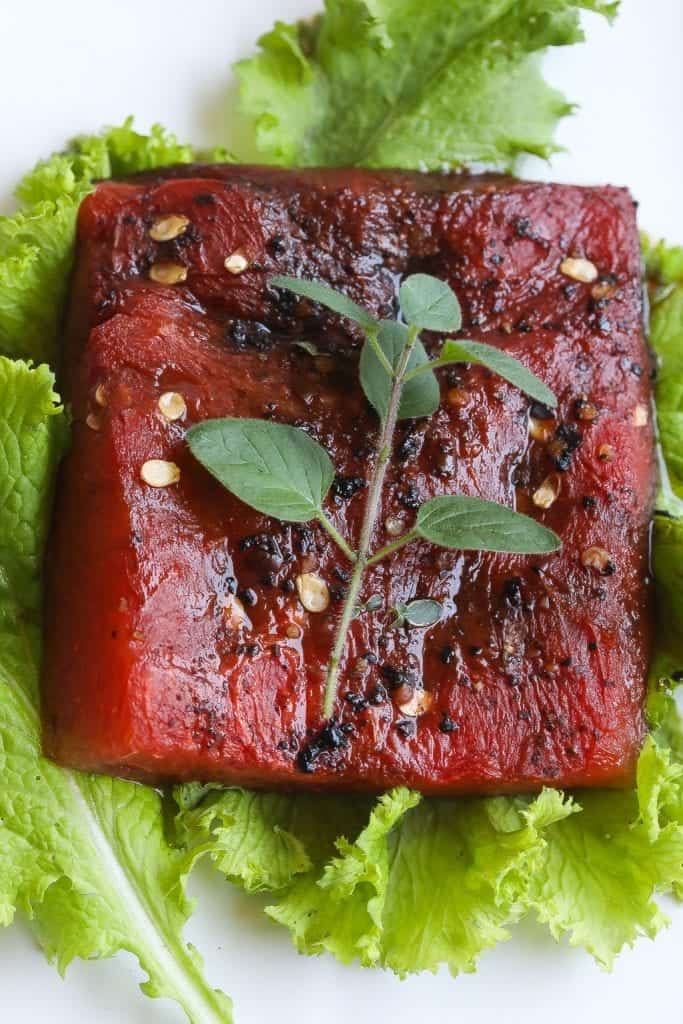 Roasted Watermelon Steak Cooking Tips
Use parchment paper or foil to keep the mess to a minimum. Roasting will cause a lot of leakage from the melon which will render your pan sticky with several dried burnt black spots.

Either remove the seeds or use a seedless melon. Smaller white seeds aren't an issue, but black mature ones make for a not so good experience.

A good vinegar goes a long way. I used balsamic, but sherry works well also.

For a more savory taste top with steaks with butter about halfway through the cooking process

Spoon any leftover juice over the steaks before serving or reserve the au jus for a homemade watermelon vinaigrette

Pistachio crust is a nice add for crunchy texture. Smash a few with the bottom of a skillet and roast atop the steak the last 10 minutes
For even more fun top with some Haitian pikliz
If you make this delicious roasted watermelon steak recipe, please come back and leave me a comment below with your feedback. Definitely take a photo of the dish and be sure to tag #foodfidelity so that I can see them.
You can also keep up with my food exploits as well as original recipes! You can find me on Instagram, Facebook, Twitter, and Pinterest. If you like any of the music you find on the site, visit me at Spotify to find curated monthly playlists.
Also if this post has piqued your interest in cooking other fruit, check-out some of the other roasted or grilled fruit recipes such as these roasted plums.
Enjoy this roasted watermelon steak as a fancy appetizer or as the main item in any simple salad recipe. Arugula, feta, watermelon, and a simple vinaigrette works well and is a go-to summer salad if we have leftover steak. However I admit, there is something cool about enjoying this steak as you would a steak at your favorite steakhouse. My son and I get fancy and just knife and fork it.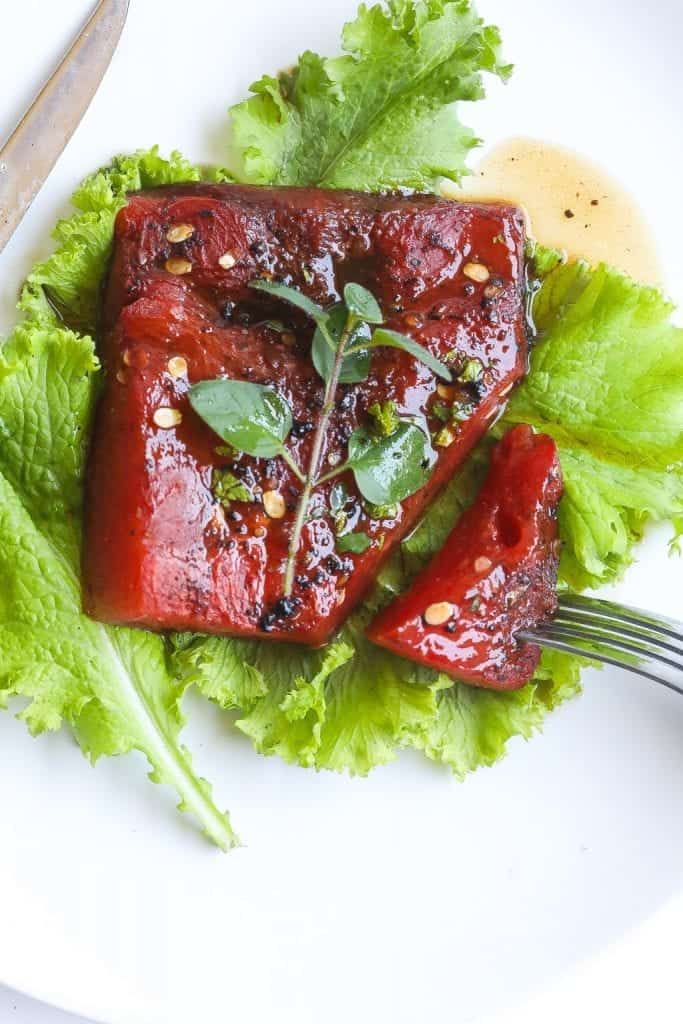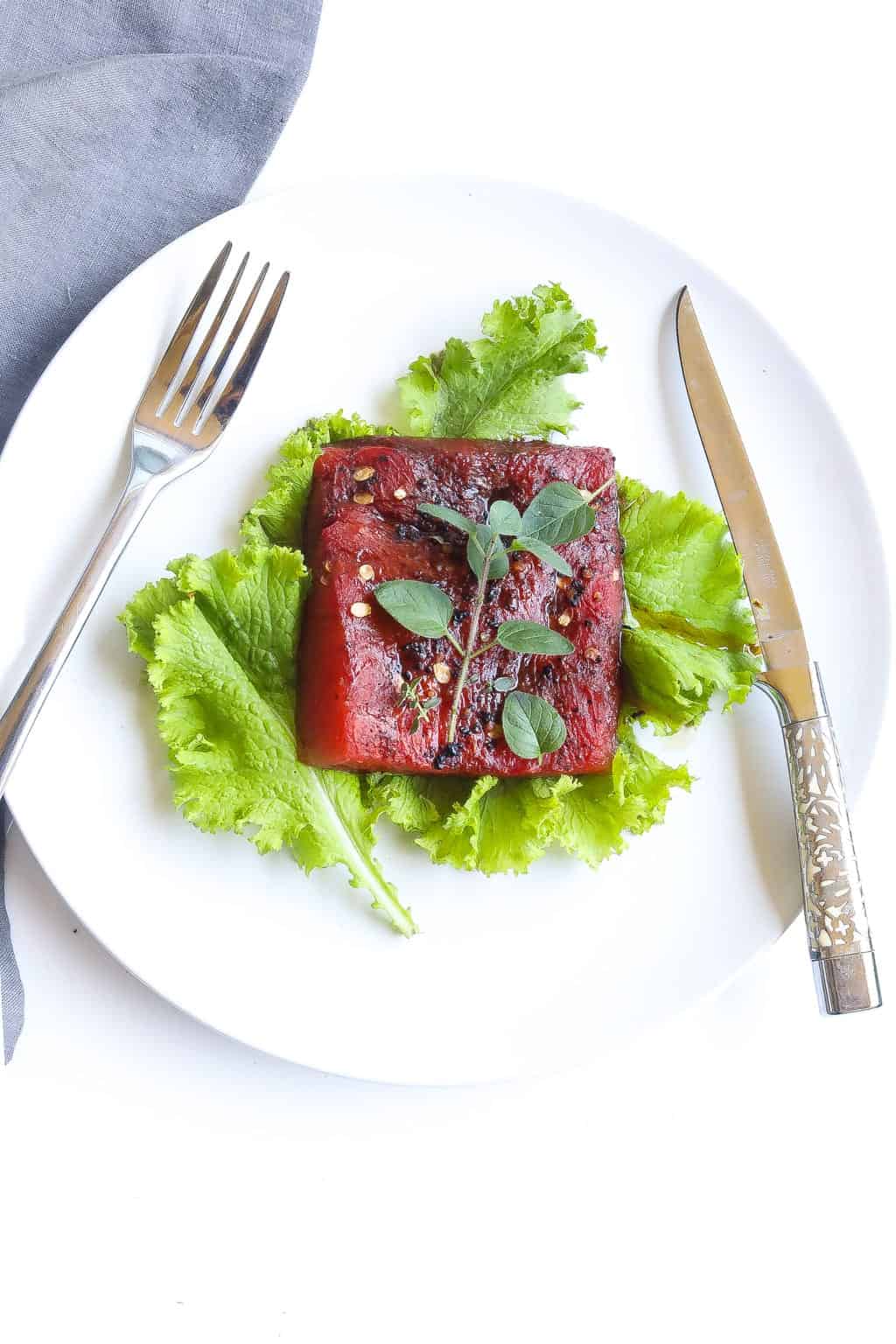 Ingredients
1

small watermelon

1

teaspoon

course ground black pepper

1

teaspoon

sea salt

½

tablespoon

balsamic vinegar
Instructions
Preheat oven to 400 degrees

Carve watermelon (rinds removed) into 4 rectangular pieces. Each should be about ½ in thickness.

Line baking sheet with foil and grease with oil spray. Place all 4 watermelon pieces on the baking sheet with ample room between each. Season with salt, pepper and splash of the vinegar.

Add another sheet of foil on top of the melons and roast for about 30 minutes.

Remove the foil and bake uncovered for another 10-20 minutes.
Video
Notes
I've made this recipe without the pistachios before and its just as tasty so if pistachios aren't readily available or just not your thing go without or substitute other nuts for a crunchy texture.
Nutrition
Calories:
342
kcal
|
Carbohydrates:
86
g
|
Protein:
7
g
|
Fat:
2
g
|
Saturated Fat:
1
g
|
Sodium:
593
mg
|
Potassium:
1275
mg
|
Fiber:
5
g
|
Sugar:
70
g
|
Vitamin A:
6400
IU
|
Vitamin C:
91.2
mg
|
Calcium:
84
mg
|
Iron:
2.8
mg
Subscribe To My YouTube Channel
Subscribe To My YouTube Channel for full length recipe videos. Click the bell icon to be notified when I post new videos.
My YouTube Channel