Simple in execution, complex in flavor, this is an easy weeknight skillet corn is a side full of flavor and versatile enough to work with whatever ingredients you have on hand.
This is a great summer cookout dish. It's super easy to make and can be eaten cold or at room temperature so it travels well.
I've made a version of this recipe many times over the years. It's always a hit with family and friends. I served it at a cookout during our recent summer vacation in Martha's Vineyard where we were able to connect with both old and new friends in what I can only say was one of the best familial experiences I've had in a long time. I use the term family broadly as it is described in Blood Orange's new video for the song "Charcoal Baby." As the narrator explains in the opening of the video:
"You ask me what family is, and I think of family as a community. I think of the spaces where you don't have to shrink yourself, where you don't have to pretend or to perform. You can fully show up and be vulnerable in silence, completely empty, and that's complete enough. You show up as you are, without judgment, without ridicule, without fear or violence or policing or containment, and you can be there, and you're filled all the way up. We get to choose our families. We are not limited by biology. We get to make ourselves, and we get to make our family."
Southwestern Skillet Corn Ingredients
Fresh or Frozen Corn
Peach
Garlic Cloves
Avocado
Lime Juice
Olive Oil
Cumin
Chili Powder
Salt
Pepper
Cilantro
Skillet Corn Saute Cooking Instructions
All ingredients are cooked in the skillet, so the recipe is really just about sequencing. Start with the garlic and onions on moderate heat.
Season as you go with the spices.
Before adding the corn turn the heat up to medium high for slight charring of the corn.
You'll want to add the peaches last. This allows you to cook them without breaking them down so much that they lose their crunch.
This is a great summer cookout dish. It's super easy to make and can be eaten cold or at room temperature so it travels well.
How do I pick the freshest corn on the cob?
When I'm at the supermarket I see shoppers meticulously examining fresh ears of corn. You ever wonder what they're looking for? I assume everyone has their own methods of picking the freshest, sweetest ears. Over the years I've gotten pretty good at picking the right ones, by following a few tips I learned from my farmer's market friends. Go with ones that have bright green leaves that haven't begun to wilt. Pinch or squeeze the tips of the ears to test for full, juicy ears.; there should be some give. If they've already been shucked or covered in saran wrap, just skip and go to the frozen vegetables aisle.
Is There A Shortcut/Quick Way To Cook Corn on the Cob?
If you're pressed for time or just want to avoid turning on the stove during the hot summer, as odd as it sounds microwaving provides an express version of cooked corn on the cob. I'm more of the microwave is a tool for heating/warming foods vs. a method of cooking, but when it comes to corn on the cob shortcuts, I've found my inner Mark Bittman.
Microwaving is great for cooking a few ears. You simply heat the corn (in their husks) on high for 5 minutes. The husks serve the purpose of sealing the heat inside which essentially steams the corn. After microwaving let the corn sit and cool for 3-4 minutes then shuck carefully. If the corn is still too hot to handle, use a kitchen towel or simply wait a few extra minutes. Microwaving has the added bonus making the ears much easier to shuck.

What is the easiest way to cut corn kernels off the cob?
When you make this southwestern corn sauce recipe, try the following technique for a no mess, easy way to slice corn off the cob. If you bake a lot and have a Bundt pan cut an ear of corn vertically with the thicker end sitting over the hole of the Bundt pan. Don't worry if you don't have a Bundt pan, as you can create a makeshift one using two bowls (one small and one large). Place the smaller bowl turned upside down inside the larger bowl. The smaller bowl will act as a base for which to set the ear of corn while cutting. Use a small, very sharp knife to slice the corn off the cob, turning the ear as you go.
Can I use frozen or canned corn in this recipe?
I prefer to use the corn cut from the cob, but when fresh corn isn't available, frozen corn is the next best alternative. Canned corn works, but obviously will not be as fresh. Be sure to drain well first if using canned.
Can I make any or all of the recipe ahead of time?
The corn can definitely be cooked and cut from the cob then stored in the refrigerator. Likewise, you can chop the vegetables and herbs chopped, a day in advance; I wouldn't go any more than a day though. Keep all refrigerated until ready to use.
More Recipes
make this recipe
If you make this Southwest skillet corn recipe or any other from the site, please come back and leave me a comment below with your feedback. Definitely take a photo of the dish and be sure to tag #foodfidelity so that I can see them.
You can also keep up with my food exploits as well as original recipes! You can find me on Instagram, Facebook, Twitter, and Pinterest. If you like any of the music you find on the site, visit me at Spotify to find curated monthly playlists.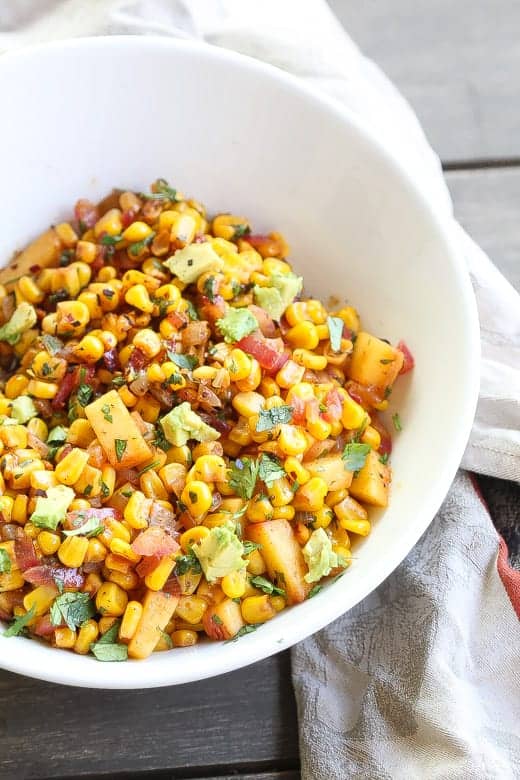 Ingredients
1

tablespoon

olive oil

3-⅓

cups

fresh corn or 1 package

16 ounces frozen corn

1

peached

pitted and chopped

1

red onion

diced

2

garlic cloves

finely chopped

1

tablespoon

lime juice

1

teaspoon

salt

1

teaspoon

black pepper

1

teaspoon

ground cumin

1

teaspoon

chili powder

⅓

cup

minced fresh cilantro

1

avocado

pitted, diced
Instructions
In a large nonstick skillet, heat oil over medium heat.

Add garlic, half the cumin and chili powder cooking for 1-2 minutes just enough to infuse the oil with flavor.

Increase heat to medium high then add red onions cooking for a minute. Add the corn; cook and stir 3-5 minutes or until tender.

Reduce heat to medium-low; stir in peaches, salt, pepper, remaining cumin and chili powder, and lime juice. Cook 2-3 minutes longer or until heated through.

Remove from heat; stir in cilantro and avocado.
Notes
If using frozen corn don't forget to defrost before cooking.
Don't be afraid to cook the corn at higher temps. The slight char adds another level of flavor.
Just be careful not to cook the corn too long. Keep in mind the vegetables will continue to cook after you remove them from the heat, especially if you're using cast-iron. It's better to be early than late otherwise you risk the corn becoming soft or even soggy.
Fresh is always better, but frozen corn is a close second.
Nutrition
Calories:
185
kcal
|
Carbohydrates:
22
g
|
Protein:
3
g
|
Fat:
12
g
|
Saturated Fat:
2
g
|
Sodium:
598
mg
|
Potassium:
495
mg
|
Fiber:
6
g
|
Sugar:
5
g
|
Vitamin A:
434
IU
|
Vitamin C:
14
mg
|
Calcium:
20
mg
|
Iron:
1
mg
Subscribe To My YouTube Channel
Subscribe To My YouTube Channel for full length recipe videos. Click the bell icon to be notified when I post new videos.
My YouTube Channel