Charred baby eggplant - Baby eggplant charred to a damn near crisp for a smoky, delightful side dish that can be made in a matter of minutes but tastes and looks like some serious gourmet mojo.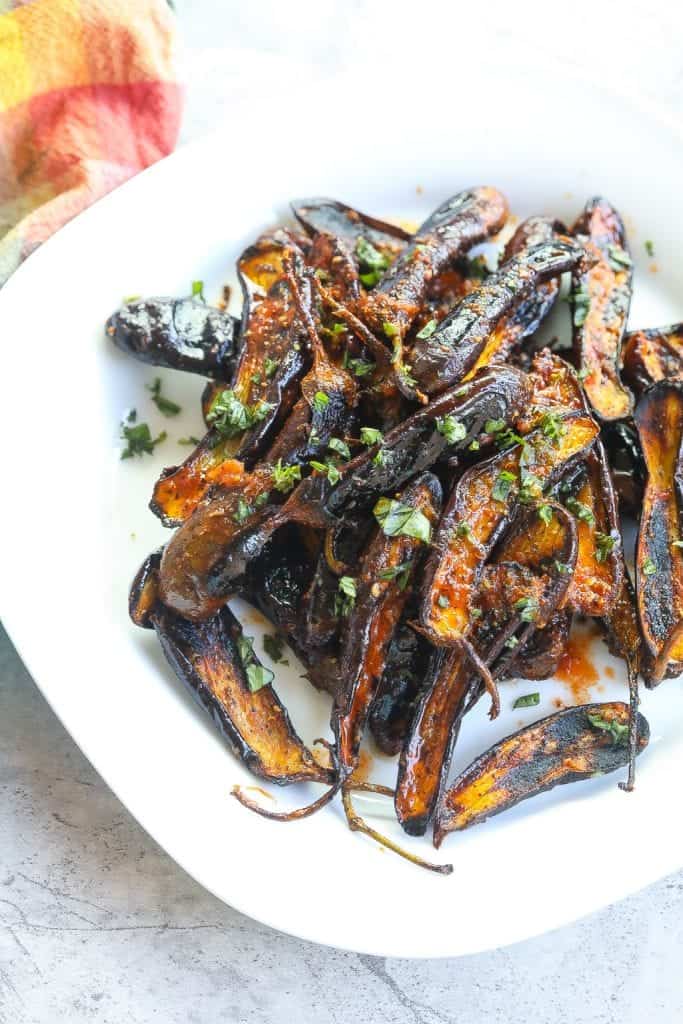 Summertime, I just be out there buying up all kinds of vegetables. I don't give it a lot of thought particularly, but the odder or more heirloom, then the better. When I came across these petite or baby eggplant, I had to grab them. And I knew exactly what I'd do with them.
Eggplant has an interesting place in my house. 3 out of 4 Browns love them with my daughter being the lone wolf. If I cook it, she won't eat it for any reason. She has issues with the taste mores than the texture. One of the benefits of baby eggplant is that most people, including my daughter, don't recognize them as eggplant. Picture this scene - My daughter home from school hungrily grabs a plate full of the only food that's ready for consumption, which is a platter of charred baby eggplant set aside. She eats 1, 2, 3, 4, and is on her fifth when she decide to compliment the chef and drop about 5 omgs! She raved about them like she had eaten the greatest thing since sliced bread. Of course, me being the sly fox dad that I am, I waited after the fact to let her know that she had been in fact eating eggplant.
Where to find baby eggplant
I cop baby eggplant at my local area Farmer's market as I do most heirloom vegetables. Asian grocery stores will readily have them as well. Otherwise, if you have a specialty grocery store (in Texas we have Central Market) nearby you're likely to find them there as well. Occasionally a Trader Joe's or Whole Foods will have them.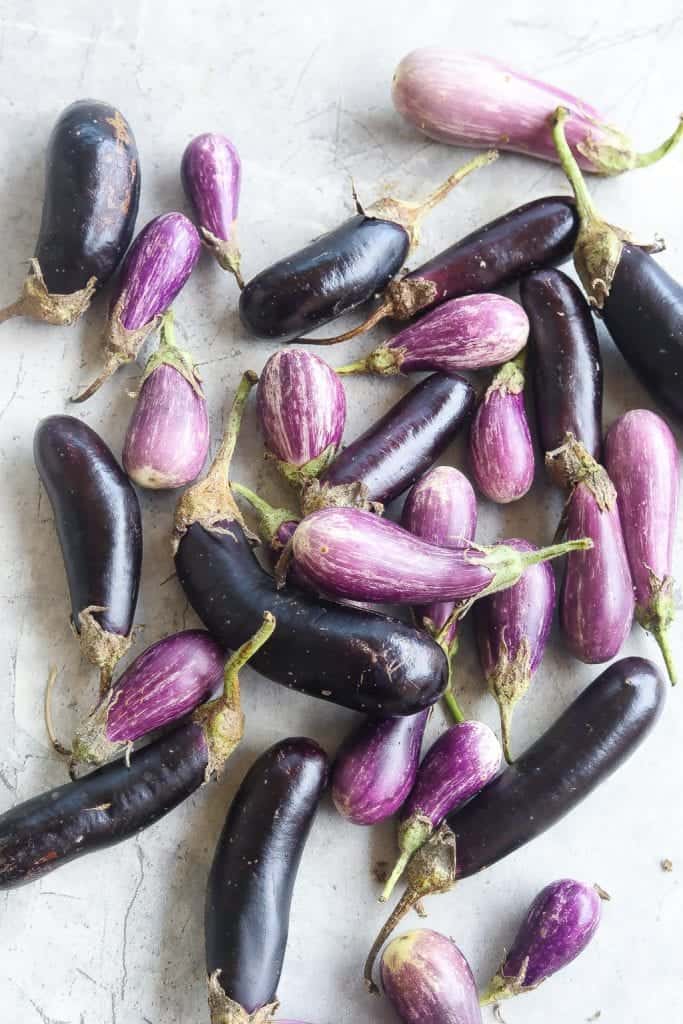 How to cook baby eggplant
Eggplant works great using many different methods. Stir-frying, roasting, and grilling are all great, but charring can be a preferred approach for quick, intensely flavored and visually appealing sides.
What is charring?
Charring is just fancy for damn near burning lol. It works as a great flavoring technique because the natural sugars in vegetables caramelize under intense heat giving you a balance of slight bitterness with deep sweetness. Charring baby eggplant not only blackens the skin but infuses a crazy smoky flavor that basically transforms the dish.
I learned about charring some time ago when my salsa fetish reached its peak. I started learning about Mexican salsa techniques and discovered the art of using a cast iron pan to char onions and tomatoes before pureeing them in a blender. Since then I've graduated to all sorts of vegetables including these baby eggplant.
Charring via the grill requires some technique and skill. Best bet is to use wood or coals and let them reduce to glowing in full red color. This will minimize if not eliminate the chance for flare-ups.
The goal is to get the vegetables to the darkest shade of brown possible without burning. It's a great tool to have in your bag of tricks. Charring vegetables whether its okra, green beans, or asparagus you can get your sides on the table in a matter of a few minutes. The trick I use is to keep a dope sauce on hand to top them off.
What is served with baby eggplant
For this charred baby eggplant recipe, I paired it with grilled trout. I had the grill going for the fish and decided to make use of it for the eggplant. The reality is this eggplant fits well with pretty much anything including purely vegan dishes.
Charred baby eggplant cooking tips
No need to season the baby eggplant first. The charring will provide great flavor and you can top with a nice sauce post-cooking.

Charring using a grill takes some getting used to. If you're not comfortable working directly over a flame use a cast-iron skillet on the stovetop. It's quicker and easier.

Dryness is your friend. No need to oil the pan or the eggplant. You can, but it's not necessary. Charring requires high temps and a dry pan gets hotter than an oiled one. Keep it dry. Although you can toss the food in a little oil, chefs recommend keeping the cooking surface dry.

Don't worry about the vegetables sticking to the pan. Resist the urge to move the eggplant around. The key is to let the vegetables cook long enough on one side. Eventually, the charring effect eliminates the stickiness as it allows the eggplant to release naturally which is how you'll know its time to flip

Don't cook the sides equally in terms of time. The first side requires longer time than the flip.
Making charred baby eggplant
If this charred baby eggplant recipe intrigues you, definitely make it and let me know what you think by leaving a comment or even posting a picture on Instagram using the hashtag #foodfidelity.
You can also keep up with my food exploits as well as original recipes! You can find me on Instagram, Facebook, Twitter, and Pinterest. If you like any of the music you find on the site, visit me at Spotify to find curated monthly playlists.
If you're interested in other grilled vegetable sides try these grilled sweet potato wedges or whole smoked cabbage. For other eggplant recipes try this recipe for oven roasted eggplant with Cuban mojo sauce.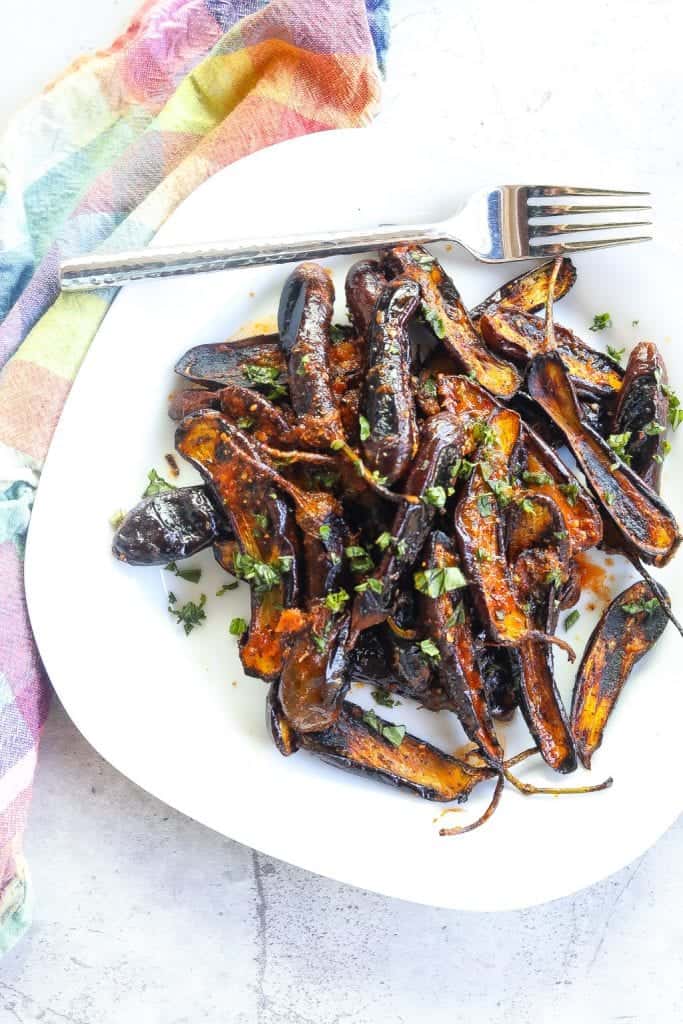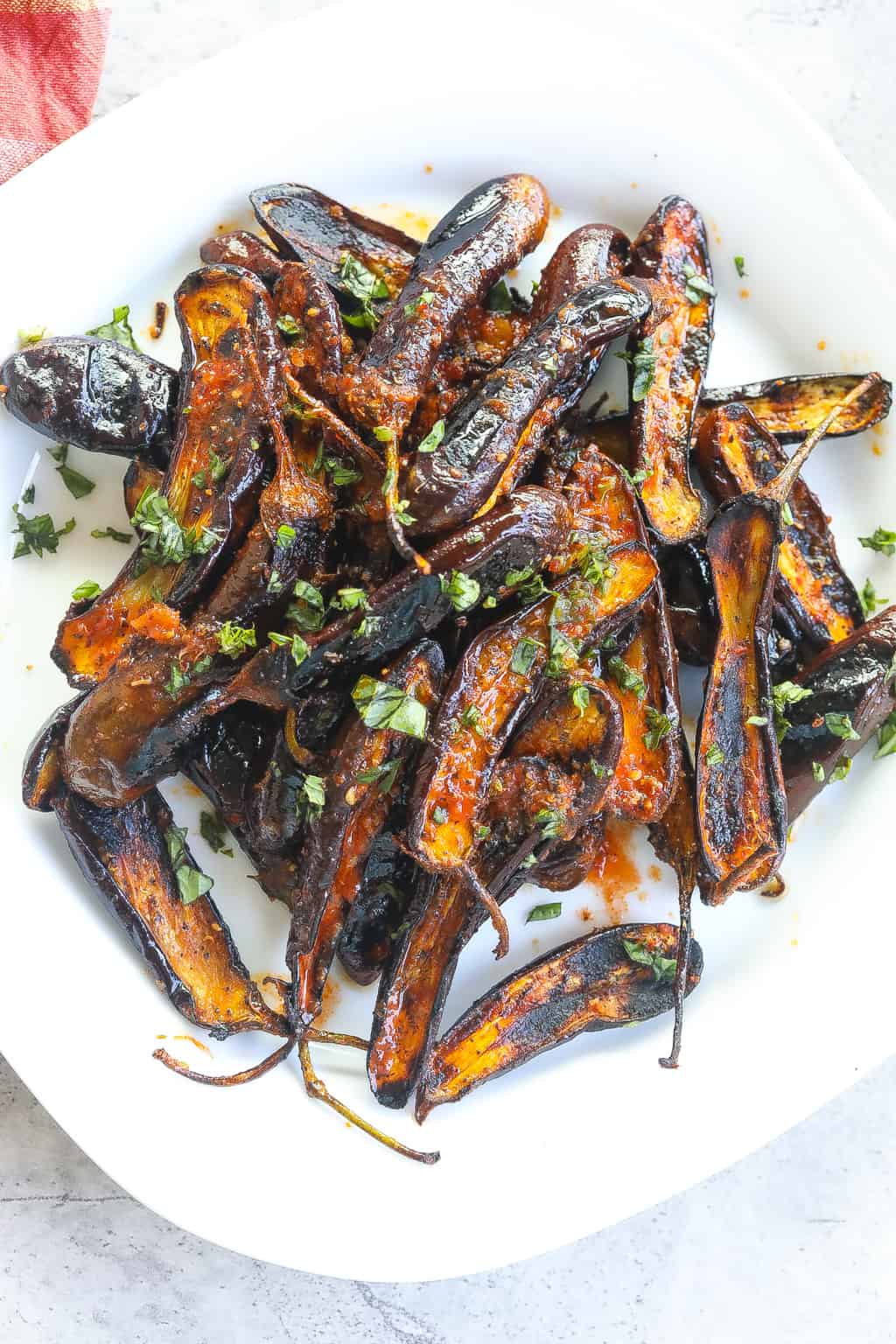 Ingredients
1

lb

baby eggplant

halved

1

tablespoon

kosher salt

½

cup

Harissa sauce

1

tablespoon

olive oil

optional
Instructions
Season eggplant generously with salt. Let sit for 5 minutes then drain off any water. Dry fully with paper towel.

Heat grill on high heat

Place eggplant skin side down and char for 6-8 minutes. Flip and char the other side 3-4 minutes. Both sides should be a very dark brown to almost black in color

Remove and let cool. Serve topped with harissa sauce and/or a dry seasoning mix.
Notes
If using grill be sure to lay the eggplant perpendicular to the grates to prevent them falling through the gaps
If you prefer to use oil, toss the eggplant with the oil in a mixing bowl after step 1
Feel free to cook the eggplant indoors on the stovetop using a cast iron skillet or indoor grill top.
This dish is versatile and works with any sauces if you don't have harissa on hand. I also eat it dry with a cajun rub.
Nutrition
Calories:
40
kcal
|
Carbohydrates:
4
g
|
Protein:
1
g
|
Fat:
2
g
|
Saturated Fat:
1
g
|
Sodium:
1164
mg
|
Potassium:
173
mg
|
Fiber:
2
g
|
Sugar:
3
g
|
Vitamin A:
17
IU
|
Vitamin C:
2
mg
|
Calcium:
7
mg
|
Iron:
1
mg
Subscribe To My YouTube Channel
Subscribe To My YouTube Channel for full length recipe videos. Click the bell icon to be notified when I post new videos.
My YouTube Channel