Gluten Free Pancakes Recipe
Pancakes are my #1 comfort breakfast food and I refuse to compromise this for anyone or anything. Therefore it is with much enthusiasm that I present this dairy and gluten free pancakes recipe. The mixed berry compote is just icing on the top to these fluffy, moist flap jacks!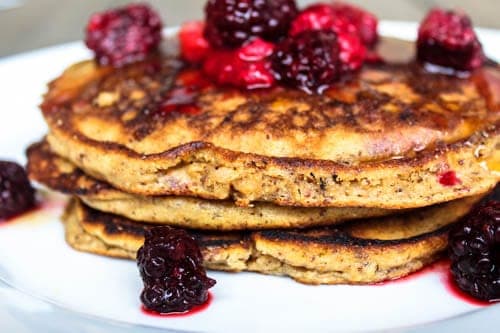 I've experimented with this recipe for tasty pancakes over the years. I totally skipped the Aunt Jemima box version and started with your basic buttermilk pancake recipe before moving on to gluten free versions to now this dairy free recipe. The base recipe works across all types, it's just your choice of what type of flour (brown rice, almond, whole wheat, all purpose, etc.) and milk (buttermilk, almond, whole, 2%, etc.) you prefer.
As a kid we were a bacon, eggs, cold and hot cereals household – grits, Cream of Wheat, Honeycomb, Lucky Charms, and Alpha Bits. So my pancakes consumption was limited to McDonald's and the school frozen pancake discs. My college years in Austin were the pancake years. My frat brother Roderick Jackson aka "Rod Flap Jacks" was on the skillet every Saturday morning stacking jacks sky high! Those jacks were perfect following many late nights.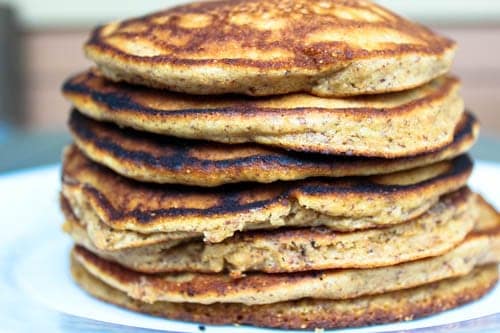 When I became a dad I essentially revived Rod Jacks tradition for my household. More recently with older active kids I haven't been able to maintain proper flapjack cadence, especially with the super early starts to track meets. My daughter has reminded me of my flapjack "fall-off" many times, so with no track meet this week I got back on track with these non-dairy pancakes. I used almond milk and almond flour while utilizing more traditional ingredients for the rest of the gluten free pancakes recipe. These pancakes are consistent in texture with regular pancakes, while the almond ingredients provide a subtle nutty flavor.
Regular white flour works fine in this recipe, but I chose almond flour for a few for the obvious gluten free pancakes reasons, but also for a few others – almonds are lower in carbohydrates, are a great source for vitamin E., and finally it's simply ground almonds and thus absent of any processing.
I topped these gluten free pancakes with a simple mixed berry compote which included maple syrup and orange juice. Feel free to top as you wish, as the pancakes can stand alone on their own or work well with  any other accompaniment.
Dope beats, fresh eats. Enjoy this dairy and gluten free pancakes recipe without worrying about the loss of any comforting tastes so familiar with Saturday mornings.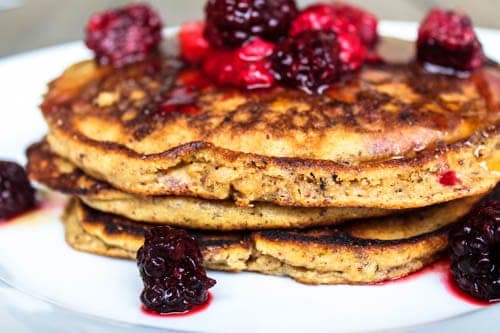 Almond Flour Pancakes w/ Berry Compote
Print
Ingredients
1

cup

almond flour

2

tablespoons

brown sugar

1

teaspoon

baking powder

1

tablespoon

corn meal

1/2

teaspoon

salt

1

teaspoon

ground cinnamon

1

tablespoon

orange juice

1

cup

almond milk

1

teaspoon

baking soda

2

tablespoon

vegetable oil

1

large egg
Instructions
In a small bowl, whisk together flour, sugar, baking powder, baking soda, corn meal and salt; set aside.

In a medium bowl, whisk together milk, oil, juice, and egg. Add dry ingredients to milk mixture

Heat a large skillet or griddle over medium heat. Fold a sheet of paper towel in half, and moisten with oil; carefully rub skillet with oiled paper towel.

For each pancake, spoon 2 to 3 tablespoons of batter onto skillet. For bigger pancakes use more batter

Cook until surface of pancakes have some bubbles and a few have burst, 1 to 2 minutes. Flip carefully with a thin spatula, and cook until browned on the underside, 1 to 2 minutes more.

Transfer to a baking sheet or platter; cover loosely with aluminum foil, and keep warm in oven. Continue with more oil and remaining batter.

Serve warm, with desired toppings.
(Visited 19 times, 1 visits today)