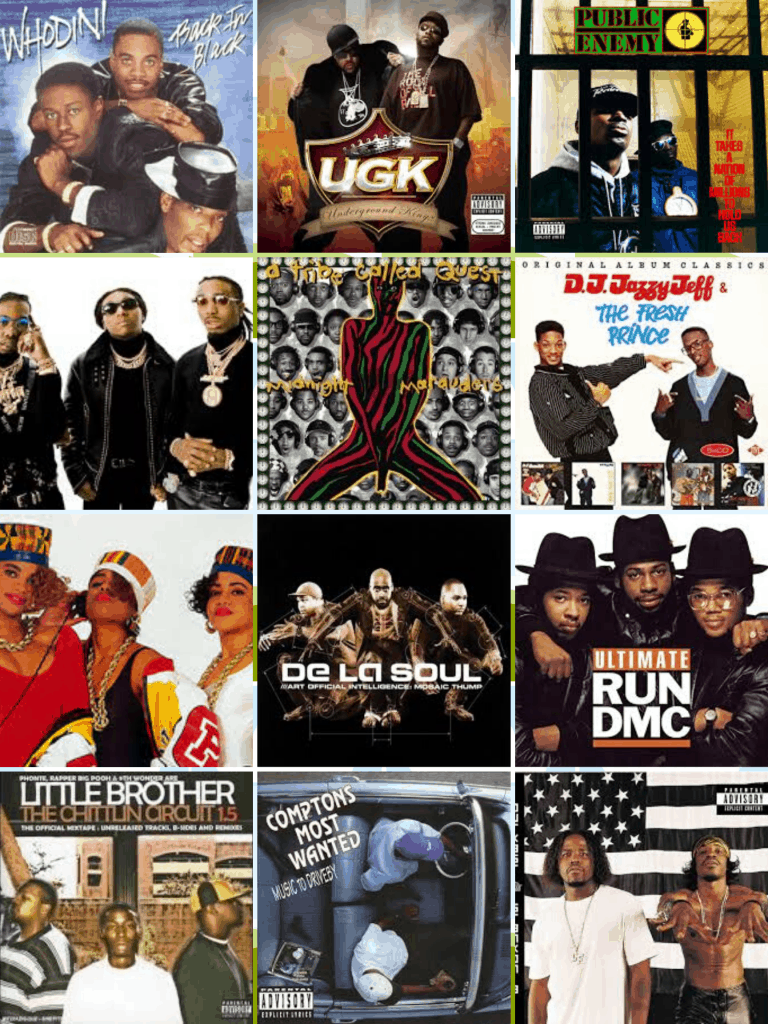 Last year around this time a few of my music maven friends and I compiled a list of our top 64 Soul/R&B Groups as part of the Music version of NCAA Basketball March Madness. The Elements as in Earth Wind and Fire took down sleeper The Mighty O'Jays for the crown. Check-out the latest Best 90s R&B/Soul Music Album Brackets and vote.
With the NCAA tournament being canceled along with all other sporting events we thought it especially important to bring the Music Madness back, but this time focused on crowning the greatest Hip Hop Group of all time.
Agreeing on the 64 was a tough task, as there were a lot of considerations. How do you balance cultural significance, sales, advancing the music, skills and music quality, etc. To add to the challenge you have to consider things like regional differences , era, and longevity. For example, how do you weigh a one-album wonder vs a group who was consistently good but never dropped a classic?
The other question is how do you define group - is it a duo like Outkast? Or 3+ like Wu-Tang? And what to do with 80s era DJ+MC combos like DJ Jazzy Jeff and the Fresh Prince? Ultimately we threw them all in and decided to forgo trying to develop "regional categories" instead just created seeds and paired groups based on rankings.
Hip Hop Groups music brackets take-aways
DJ's (Jazzy Jeff, Premier) and super producers (RZA, Dr. Dre) carry a lot of weight. Regarding the former, they were so essential that they got "group" recognition despite being paired with a solo MC.

#1, #2 and #3 seeds are ridiculous and should be interesting to see who makes the Final Four. Groups like Wu, PE, Tribe, Outkast, EPMD, RUN DMC, etc. represent some real heavyweights

The 90's may have been the Golden Age for Hip Hop Groups

I'm curious to see how a few of my underrated favorites perform - De La Soul, UGK, 8Ball and MJG, Little Brother, CMW, Slum Village, and Gangstarr

How far will the only female group advance?

Though I was overruled by the Council, Ultramagnetic MCs shoulda made the Top 64!
My heart says Run DMC, but my mind says A Tribe Called Quest, who you got?
crowning the greatest hip hop group of all time
Cast your votes here for the best rap group all time and check back daily to see the results by round. Feel free to print out a hard copy and write in your complete picks then post/share on social media with the hashtag #hiphopgroupsmadness. Also feel free to forward the brackets link to friends and family.
Comments are welcome and strongly encourage.
I've also included links for playlists on both Spotify and Itunes to help with your selections.
To vote, click on a matchup and make your selection for a particular round. Note rounds are only open for a select amount of time before they are closed and the next one opens up.

CLICK THE LINK Hip Hop Brackets to get your votes in.