Easy Heirloom Tomato Gazpacho
Like revenge, gazpacho is a dish, best served chilled. This easy gazpacho recipe featuring fresh, delicious heirloom tomatoes provides the perfect refreshing break into a hot summer. Farmer's market fresh cucumbers, peppers, and herbs add further vibrancy to this colorful dish.
I get excited about making this easy gazpacho. With heirloom tomatoes you have a stunning array of colors and unique flavor profiles of each variety to work with. And if you read my earlier Galette recipe post, you'd know I had an overabundance of heirloom tomatoes to consume.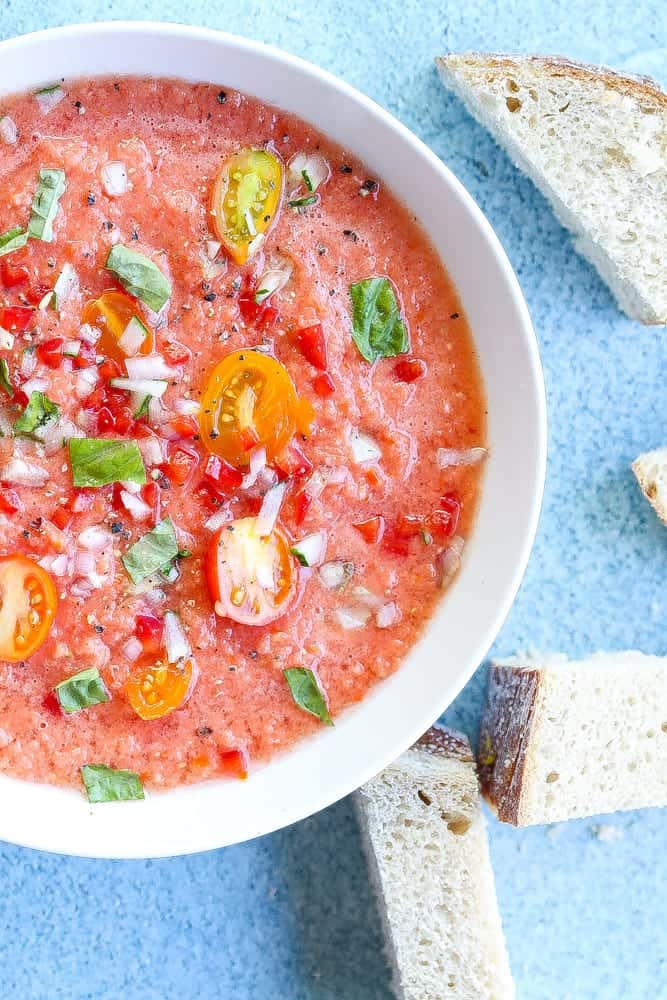 What is gazpacho?
Gazpacho is chilled vegetable soup common in Spain. Tomato is normally the vegetable of choice, but over time other vegetables have been used as the base. I first fell in love with Gazpacho while coaching basketball in Madrid one summer. I've visited other parts of Spain many times since and have enjoyed the regional differences in flavors and approach to this chilled soup.
The two things that are consistent across regions are one - they use only the ripest tomatoes and two - they are served extremely chilled. For my latest version, I went for an heirloom tomato gazpacho to take advantage of the delectable locally-sourced tomatoes I get at my neighborhood farmer's market. Heirloom tomatoes don't make this gazpacho recipe any less easy, it just adds a more complex flavor profile.
Summertime offers access to all varieties of ripe tomatoes as well as a variety of options for ingredients. At our neighborhood farmer's market I was able to cop a few different heirloom tomatoes, purple sweet peppers, and amaranth.
Heirloom tomato gazpacho: what are flavor profiles of the different tomatoes?
I had a few different options but went with a combination of red, green and yellow colored heirloom tomatoes. Green heirlooms, particularly the Green Zebras tend to be tangy and zingy. Yellow ones tend to be noticeably less acidic than your typical red tomatoes, which means they are also some of the sweetest tomatoes.
These particular ones carried a somewhat zesty and citrusy node to go along with the sweetness. Combined the sweeter yellow makes a good partner with the tangy green tomatoes. The red tomatoes were Brandywine which are rich and sweet in flavor. You can't go wrong with these.
Easy Gazpacho Recipe Flavor Tips
The key to optimizing flavor in this dish (outside of using the freshest/ripest ingredients) is to salt the vegetables before pureeing. Salting actually extracts water and juices from the vegetables creating more intense flavor.
Cold soups actually require more seasoning than hot ones so amp up the seasonings including spices, herbs, olive oil, and vinegar. The olive oil helps with texture (makes it creamy) and taste while the sherry vinegar adds extra acidity which gives the gazpacho that zest!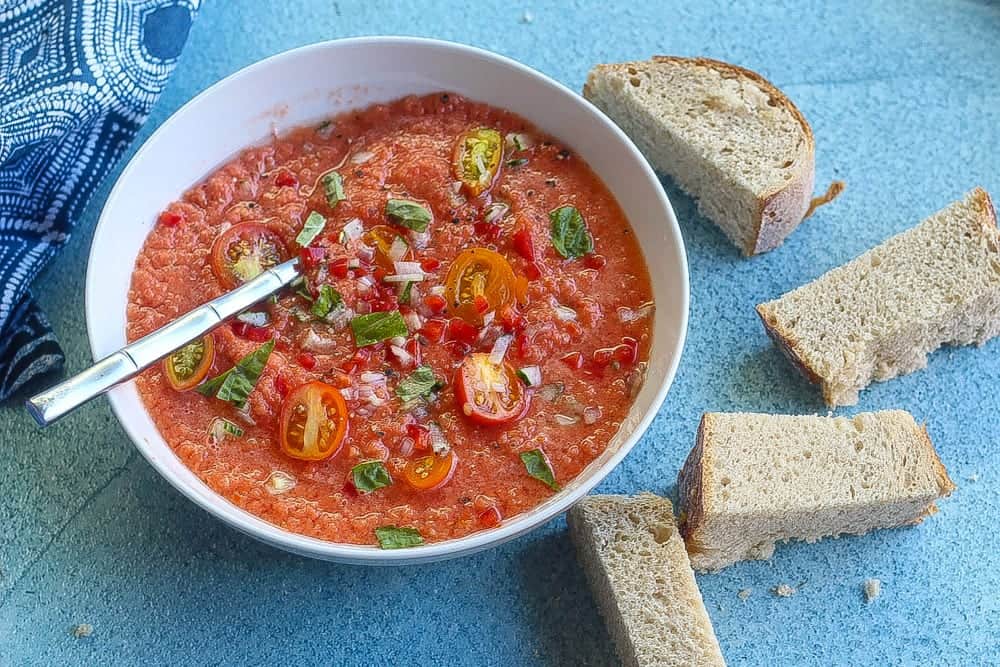 Can I make non-heirloom tomato gazpacho?
The advantage of heirloom tomatoes is they tend to have more varied flavors and colors. Additionally, regular commercial tomatoes have over time been so manufactured aka systematically bred for perfect round shapes and red color at the expense of flavor. This isn't to say that you can't make good gazpacho with regular tomatoes.
Your technique and execution have to be on point though or you'll end up with a can of V8. More often than not, I use a combination of plain tomatoes (plum and cherry). I'm primarily looking for ripe, plump, and sweet type of tomatoes. Beefsteak covers all bases. I'd also add that use of quality ingredients is paramount whether we're talking about cucumbers, peppers, herbs, or vinegars.
What should the consistency/texture be like?
I'm one who believes texture is a matter of preference when it comes to gazpacho, but I know the purists in the world favor a smooth, almost smoothie-like consistency. I'm more of a texture guy and love a mouthfeel that includes a thicker, chunkier texture with bits and pieces of the vegetables. If you prefer a smoother consistency then you should use a fine-mesh sieve to drain the blended ingredients then garnish with vegetables chopped to your liking. Alternatively
You can pulse using the blender settings and add some water or vegetable juice until its smooth enough.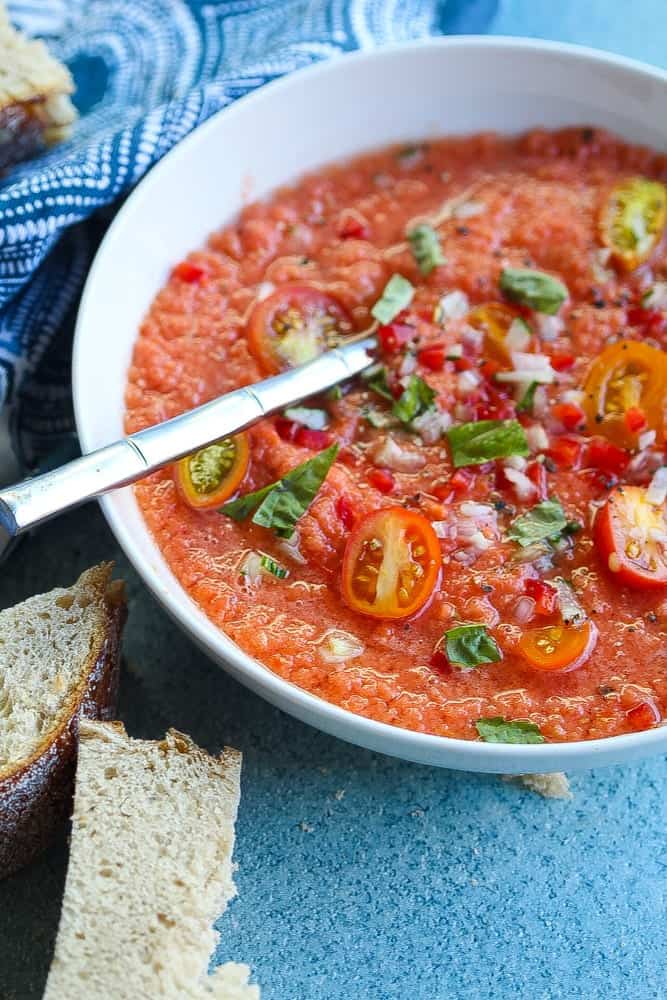 How do I get the Gazpacho really cold?
Refrigerate for a good amount of time after blending the ingredients

Place bowls in the freezer before serving
What goes well with Gazpacho?
Bread is always a consideration. I've made it with and without, as part of the recipe or as a topping. Either way is good, it's just a preference thing as well as calorie consideration if you watch such things. Gazpacho buy itself is pretty low calorie and carbs, but bread, whether it's homemade croutons or slices of breads obviously, will increase the carb/calorie count a great deal. That being said, there is nothing like a good rustic piece of bread with a good heirloom tomato gazpacho.
Easy Heirloom Tomato Gazpacho
If you make this refreshing and easy gazpacho recipe please come back and leave me a comment below with your feedback. Definitely take a photo of the dish and be sure to tag #foodfidelity so that I can see them. You can also keep up with my food exploits as well as original recipes! You can find me on Instagram, Facebook, Twitter, and Pinterest. If you like any of the music you find on the site, visit me at Spotify to find curated monthly playlists.
For another simple tomato-based recipe try this Tuna Tomato Salad or Peach Gazpacho with corn.
Dope beats, fresh eats. Enjoy this refreshing summer Heirloom Tomato Gazpacho recipe!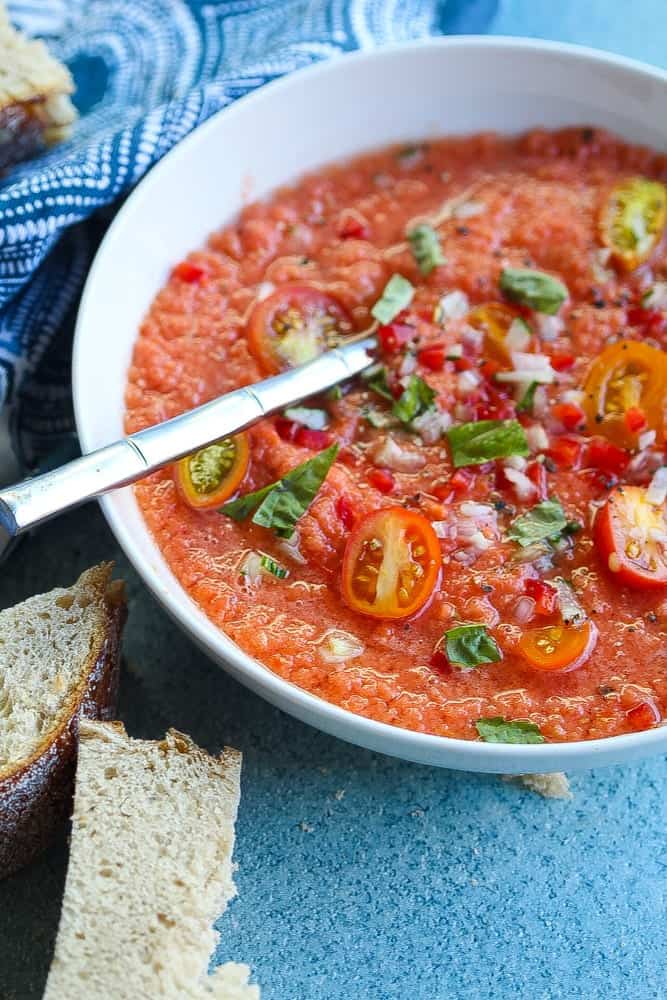 Ingredients
4

large very ripe tomatoes

cored and cut into rough chunks

1

medium cucumber

peeled, seeded, and cut into rough chunks

1

medium red onion

peeled and cut into rough chunks

1

medium bell pepper

(color of your choice), cored, seeded, and cut into rough chunks

2

cloves

garlic

peeled and smashed

½

tablespoon

kosher salt

½

tablespoon

freshly ground black pepper

2

slices

of bread crusts removed

torn into rough 1-inch pieces

1

cup

extra-virgin olive oil

plus more for serving

2

tablespoons

sherry or balsamic vinegar

plus more for serving

Basil

amaranth, or parsley for garnishing
Instructions
Place bread pieces in a small bowl.

Combine tomatoes, cucumber, onion, pepper, garlic, pepper, and salt in large bowl and mix well. Let sit for 30 minutes.

Pour the juices off into the bowl with the bread allowing the bread to soak up the juices.

Transfer mixture and bread to processor/blender and pulse for 15-20 seconds depending on your preferred consistency.

Remove from blender and put in a large bowl. Taste and add additional seasoning as needed. Refrigerate for at least 2 hours. Freeze serving bowls during this time as well.

To serve drizzle each bowl with olive oil, a few sprinkles of vinegar, extra cracked black pepper, and strips of herbs.
Notes
Two key things with this recipe is to choose very ripe tomatoes and to make sure the soup is absolutely chilled.
Nutrition
Calories:
104
kcal
|
Carbohydrates:
11
g
|
Protein:
2
g
|
Fat:
5
g
|
Saturated Fat:
0
g
|
Cholesterol:
0
mg
|
Sodium:
883
mg
|
Potassium:
506
mg
|
Fiber:
3
g
|
Sugar:
6
g
|
Vitamin A:
2010
IU
|
Vitamin C:
59.7
mg
|
Calcium:
35
mg
|
Iron:
0.8
mg
Subscribe To My YouTube Channel
Subscribe To My YouTube Channel for full length recipe videos. Click the bell icon to be notified when I post new videos.
My YouTube Channel
SaveSaveSaveSaveSaveSave
SaveSave
SaveSave
SaveSave
SaveSave
SaveSave
SaveSave
SaveSave
SaveSave
SaveSave
SaveSave