Roasted Celery Root Steak- easy meatless main dish dinner recipe that is as stunning as it's delicious.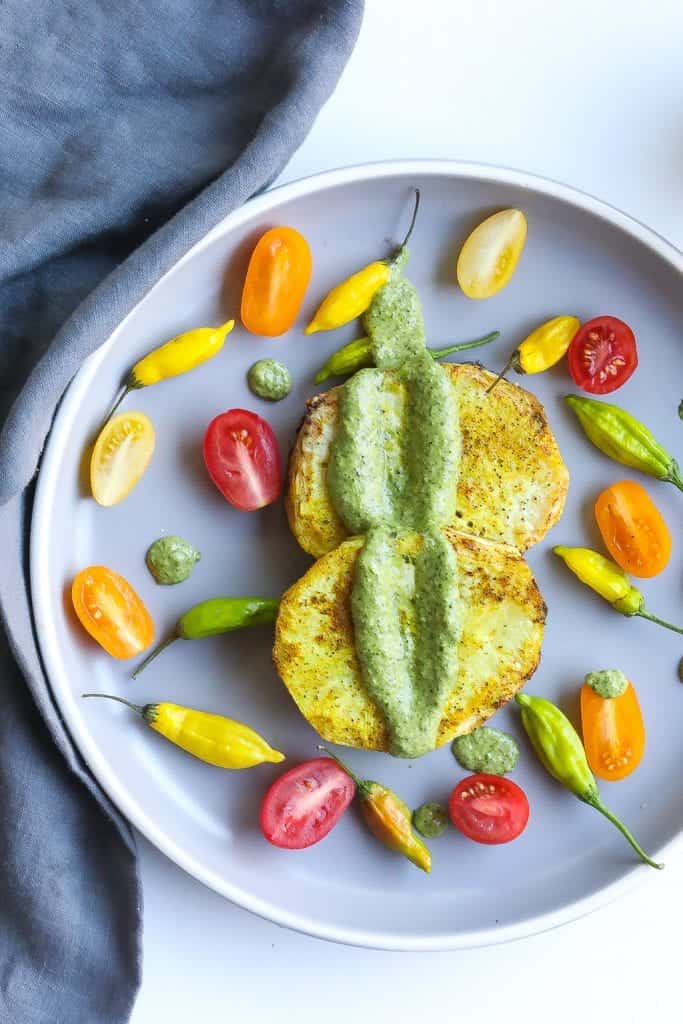 What Is Celery Root?
This non-starchy root vegetable, in its original raw form is as ugly as they come. It's a knobby and gnarly hairball, and definitely doesn't invite the risk averse to take a chance and dance with this unpretty veggie. In the produce section it's that lonely dancer on the dance floor everyone avoids eye contact with for fear of having to say no. The reality is, if you can get past its surface skin, celery root, or celeriac can be transformed into a tasty thing of beauty.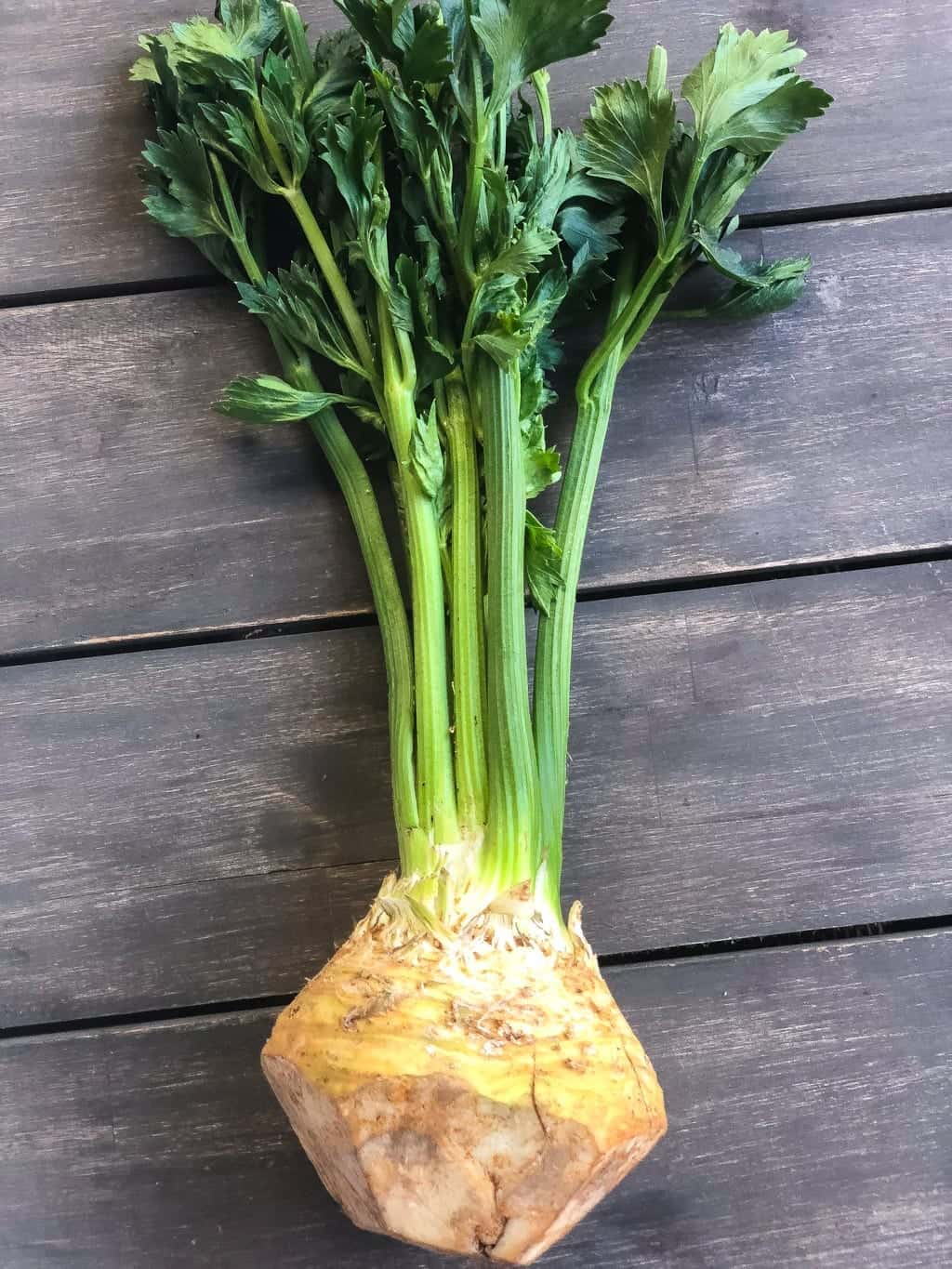 Rather than run from it, I was curious as to whether I could develop easy, tasty Food Fidelity quality celery root recipes. In the past I've had vegetable steak from portobellos, onions, and cabbage so figured the celery root's denseness would make it an even better candidate for steak hood. I also immediately thought it'd be a great pairing with the leftover collard greens salsa verde.
What does celery root taste like?
I typically avoid eating celery in any form unless it's part of stock. Thankfully celery root has a much more mellow flavor than it's above ground stalk of a cousin. Its flavor is celerish, gentle with hints of parsley.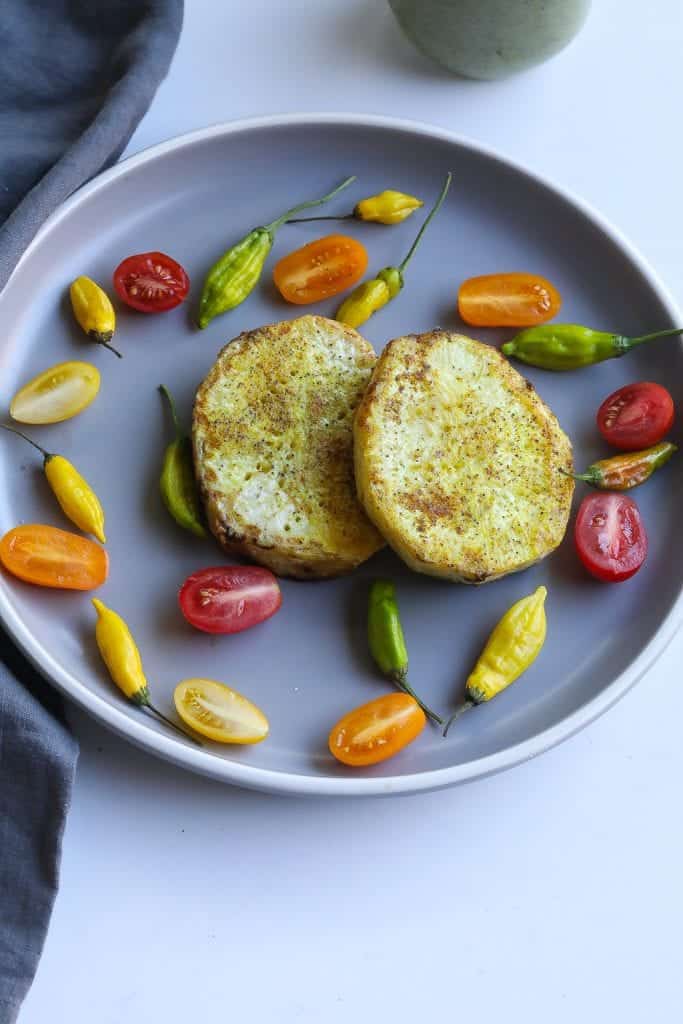 Where to buy celery root
You can find celery root in most mainstream groceries. You've probably seen it before and ignored it, as it ain't the prettiest girl on the shelf. It is highly seasonal so limit your search to Fall and Winter. When shopping consider a few things:
Softball sized root is preferred
Choose a firm root, one that feels heavy for its size. For good measure squeeze for firmness
Health benefits of Celeriac
Celeriac differs from other root vegetables in that it is not very starchy, which makes it a great option for those trying to reduce carbs in their diet. Not only is it low in carbs, but also saturated fats which makes a heart health ally. Celeriac also contains a considerable amount of potassium, which helps in preventing hypertension by regulating your blood pressure. For more details on celeriac's health benefits try this article on The Seven Benefits of Celeriac. So with all this goodness, most celery root recipes tend to skew healthy unless you lace them with heavy doses of butter.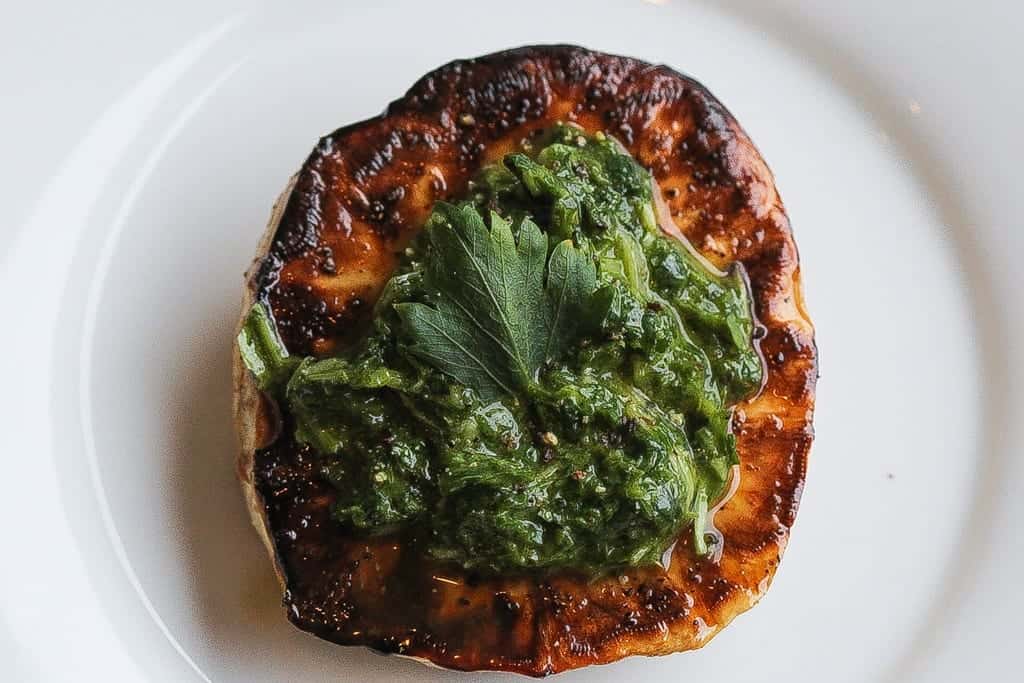 Roasted Celery Root Steak Cooking Tips
Look for celery roots that feel heavy for their size. If any greenery or stalks are discernible on the top of the root, they should be fresh looking and neither dried out nor slimy nor wilted.
Cooking time will depend on thickness of your cut. Recipe is for 1 inch thick steaks. Increase cooking time if you prefer thicker cuts
Be aggressive when you peel it, expecting to sacrifice some of the flesh. The peel has a harsh taste, that's unforgiving so don't play around.
Celery root does begin to brown pretty quickly once it's sliced, so immerse the steaks into a bowl of water with a squeeze of lemon juice or vinegar.
Roasted Celery Root Recipe
Take a chance and embrace celeriac's under-root vegetable status. For your entry into celery root recipes, start with this simple and rewarding roasted celery root steak. Now that I have an appreciation for it, stay tuned for other celery root recipes.
If you make it, please come back and leave me a comment below with your feedback. Definitely take a photo of the dish and be sure to tag #foodfidelity so that I can see them.
You can also keep up with my food exploits as well as original recipes! You can find me on Instagram, Facebook, Twitter, and Pinterest. If you like any of the music you find on the site, visit me at Spotify to find curated monthly playlists.
For another simple roasted vegetable recipe try this Roasted Jerk Onion Steaks or Smoky Roasted Eggplant with Cuban Mojo Sauce.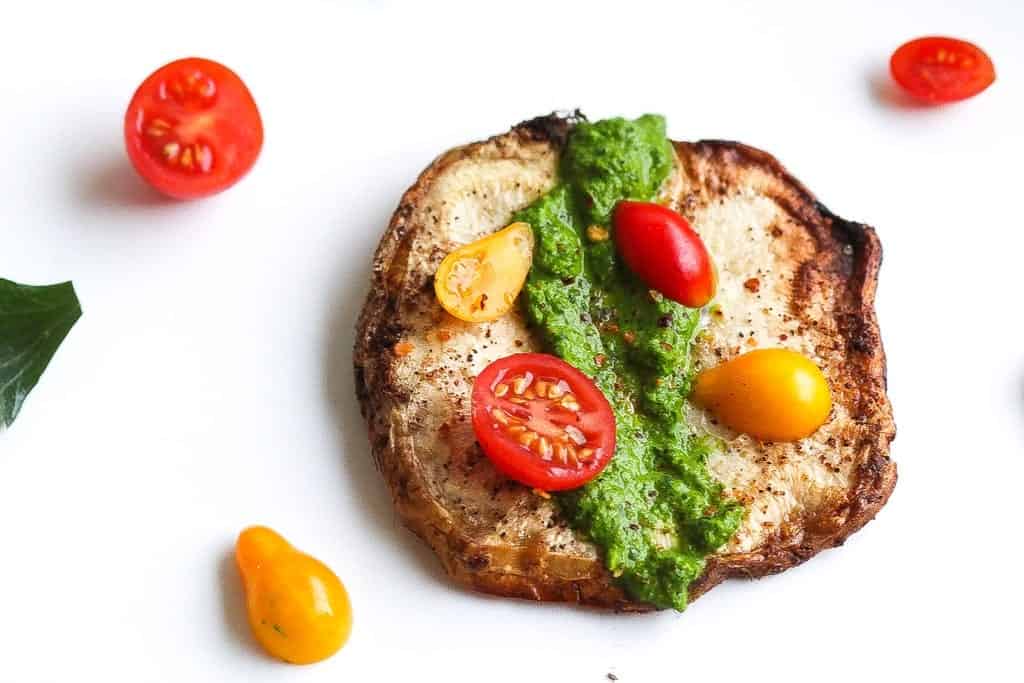 Ingredients
Kosher salt

1

large celery root

celeriac, peeled

Freshly ground pepper

½

tablespoon

garlic powder

2

tablespoons

vegetable oil

¼

cherry tomatoes
Instructions
Slice celery root into four 1"-thick slices; season with salt, pepper, and garlic.

Heat vegetable oil in a large ovenproof skillet over medium-high and cook celery root steaks until golden brown, about 4 minutes per side.

Transfer skillet to oven and roast celery root until fork tender, 8-10 minutes.

Serve celery root steaks with salsa verde spooned over.
Nutrition
Calories:
135
kcal
|
Carbohydrates:
16
g
|
Protein:
2
g
|
Fat:
7
g
|
Saturated Fat:
5
g
|
Cholesterol:
0
mg
|
Sodium:
164
mg
|
Potassium:
521
mg
|
Fiber:
3
g
|
Sugar:
2
g
|
Vitamin A:
450
IU
|
Vitamin C:
16.4
mg
|
Calcium:
91
mg
|
Iron:
1.2
mg
Subscribe To My YouTube Channel
Subscribe To My YouTube Channel for full length recipe videos. Click the bell icon to be notified when I post new videos.
My YouTube Channel