This shrimp stew has it all – layers of flavor, hearty ingredients, and simple preparation.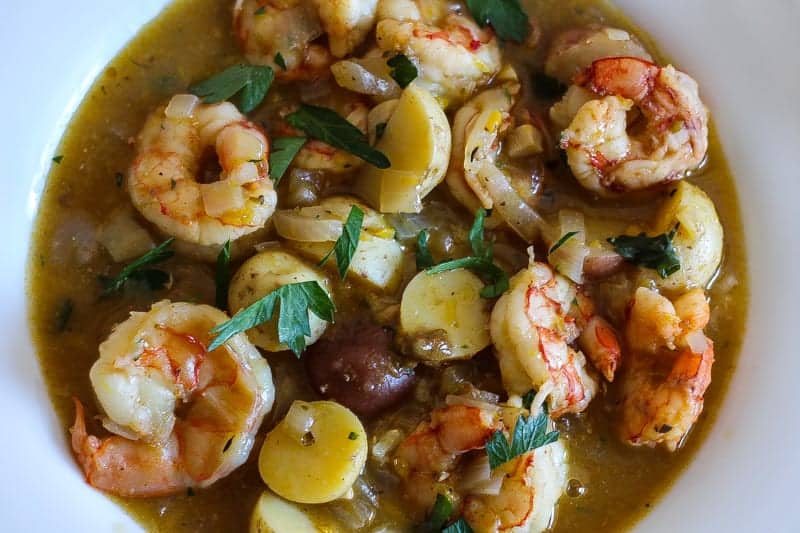 I've been craving soup, so I made this comforting stew. I got a late start in making this dish, so decided I'd refrigerate it and enjoy for dinner the following dinner. It was 11:06 pm when I finished and I needed to start the wind down for bed. Letting stews sit overnight is never a bad thing, right. It's one of those things where sometimes the leftovers actually taste better than the original dish.
Not sure how the weather behaves in your location, but down here in Austin it's been downright schizophrenic. It's like it can't decide if it wants to be Winter or Springish. During the days leading up to my decision to make shrimp stew temparatures had been in the low 30s. However the day after cooking the stew, temps had risen to the 60s. It didn't matter, it could have been Texas summers hot, as I was already 100% committed to devouring it regardless of what was going on outside.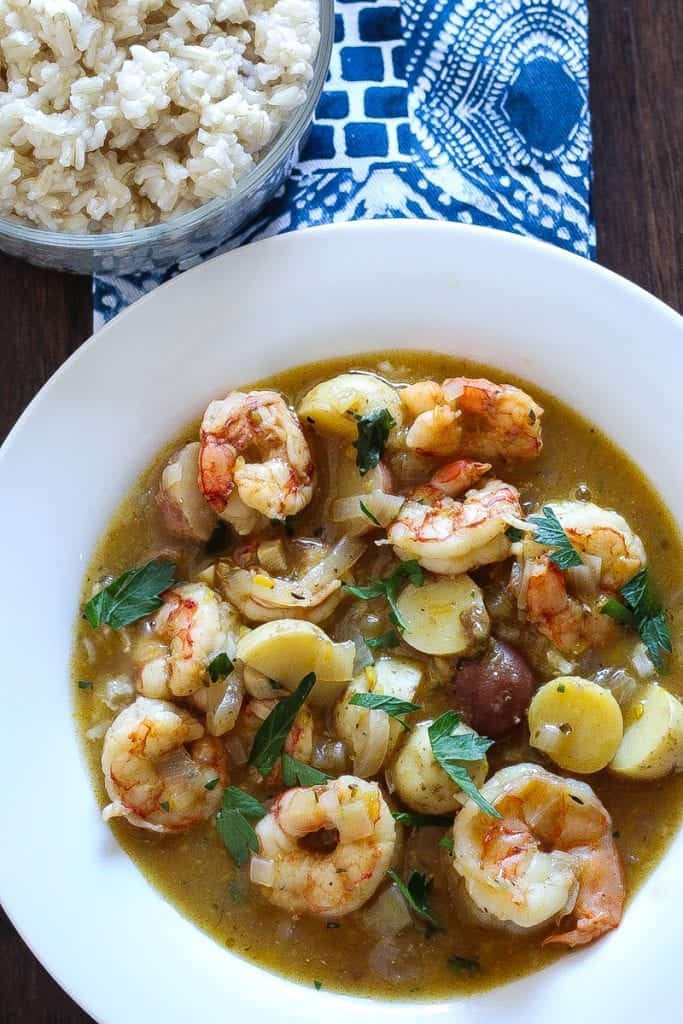 The secret behind this shrimp stew recipe is layering the ingredients within the herbal and savory flavor of the stock. Adding the potatoes early in the cooking process gives it the needed time to break down and disintegrate so they actually blend into the stew and absorb all that silky rich shrimp flavor. The beauty of the dish is despite its comfort, warming elements, it's not really a heavy dish. The stew's thickness comes from the disintegrated potatoes which replaces the roux typically featured in most versions. Also, the chile pepper paste cuts through and adds some lightness to balance things out.
I like making shrimp stew because it's very easy to customize. The main ingredients pair well together and lend themselves to working with different combinations of flavors. For example, I've used cauliflower in place of the potatoes for a lower carb/starchy option. You can also tweak the heat level depending on your preference.
Dope beats, fresh eats. Enjoy this deliciously simple shrimp stew!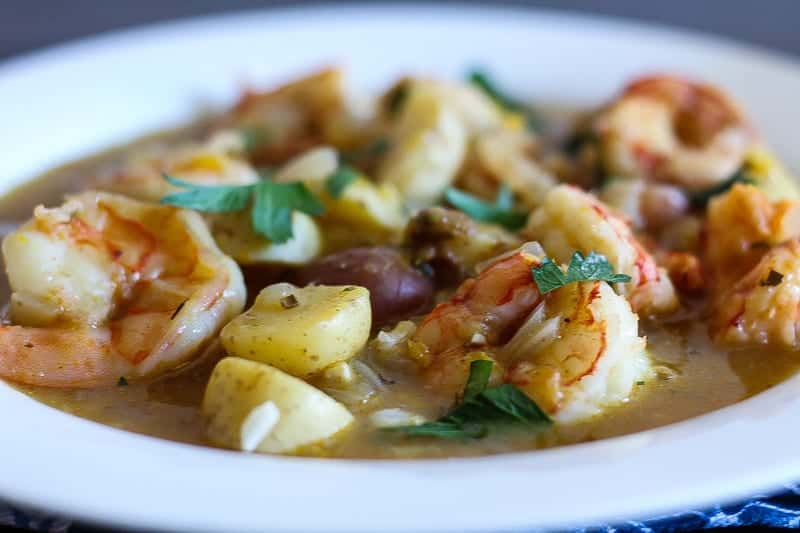 Ingredients
3

tablespoons

olive oil

1

red onion

chopped

4

cloves

garlic

minced

1/4

tablespoon

cumin

1

tablespoon

salt

1

tablespoon

black pepper

1

tablespoon

paprika

1/4

cup

chili paste (canned chipotle adobe sauce or commercial chili paste

4

cups

shrimp stock

1

pound

white potatoes

cut into 1/2 cubes

25-35

medium shrimp

peeled and de-veined (use shells to make the stock)

Fresh parsley leaves

chopped

3

sprigs of oregano
Instructions
Heat two thirds of the oil in a pan over low heat. Add onions and garlic and sauce for 3-4 minutes. Onions should have softened.

Add spices and chili paste then cook for 5 minutes stirring on occasion. Paste should thicken somewhat.

Add the shrimp stock, potatoes and oregano. Bring to a simmer and cook for 10-15 minutes. Potatoes should be tender, if not then cook a little longer.

Heat the remaining oil in a separate pan. Season the shrimp to your preference and sauce in the pan for 2-3 minutes until cooked.

Add shrimp to the stew pot with the potato mixture. Mix in the parsley and serve with rice.
Notes
Recipe takes only about 20 minutes to cook, but the longer it sits the better it gets the flavors are allowed to come together.