This spinach chimichurri recipe is a great way to sneak fresh greens into any dish while also enhancing the flavor of the dish.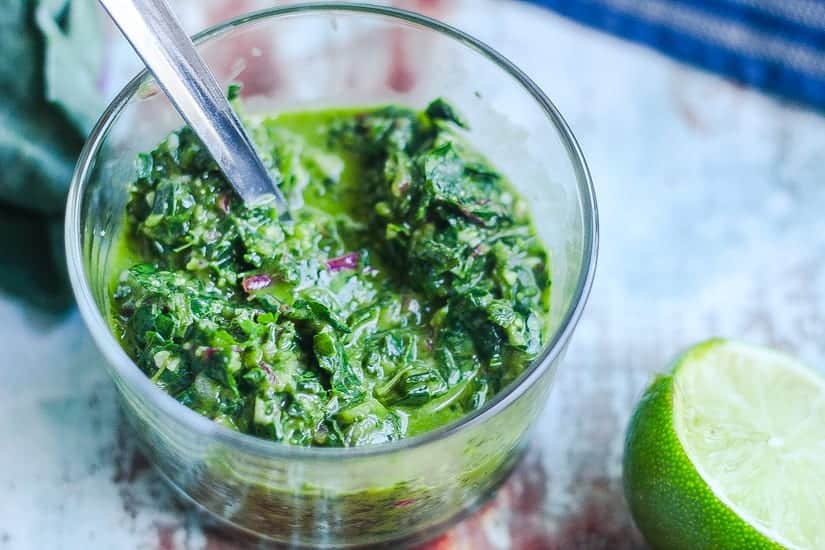 Spinach chimichurri is one of two sauces along with roasted red pepper sauce that I keep on hand regularly. Both are easy to make, rely on a few ingredients that I regularly have on hand, are extremely versatile, and most of all taste great! I use the chimichurri as a dressing for salads or as a sauce for meats and vegetables.
One of my early jobs back in the day was working for Kraft Foods on their BBQ sauce and salad dressing businesses. Like most commercial products in these two categories, sugar in some form drives most of the flavor. This was especially true for lower fat versions as sugar amount is typically increased to offset the flavor loss from the reduced fat. The beauty of this spinach chimichurri is there is no sugar, but you do get a substntial amount of healthy greens from the spinach.
Note if you're making this dish, baby spinach variety actually works best as its sweeter and the leaves are more tender than regular spinach. Don't fret if you don't have any on hand as regular spinach works just fine. Another consideration is using greens from any root vegetables you may have on hand. I'm at my local farmer's market each week so have plenty of carrots, beets, etc. which all their green tops in tact. When I was a kid my grandparents would save the greens for my uncle to use on his hog farm. We don't have any hogs at my home so we find ways to add them in recipes whether it's stocks, salsas, or salads. They all have different flavor profiles but work with the base recipe for the Spinach Chimichurri.
Dope beats, fresh eats. Make this spinach chimichurri recipe for the week and enjoy on a range of recipes!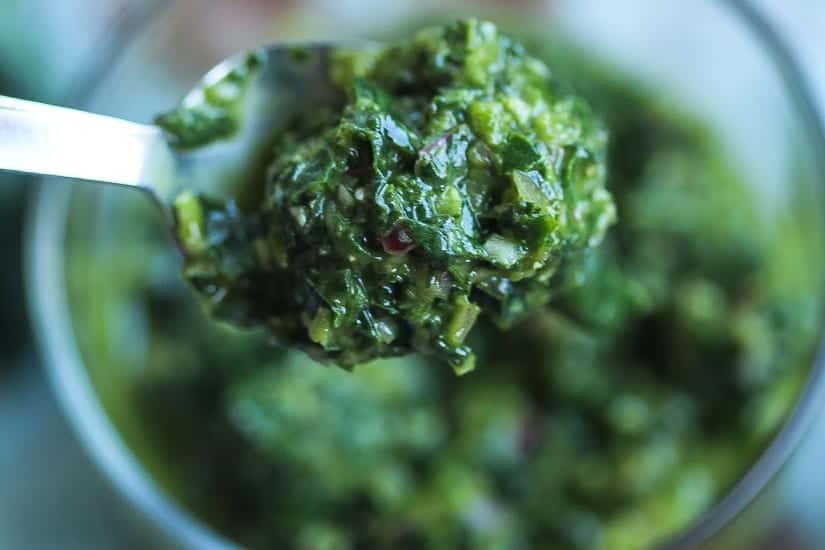 Quick and Easy Spinach Chimichurri Sauce
This spinach chimichurri recipe is a fresh take on your traditional Argentinian chimichurris used on grilled meats. This healthier version uses spinach as the primary ingredient.
Print
Ingredients
1

large spinach bunch

2

tablespoons

cilantro

2

mint leaves

Leaves

from 2 thyme sprigs

Zest and juice of 1 lime

2

cloves

garlic

Kosher salt and pepper to taste

2

tablespoons

Red wine vinegar

1/4

cup

olive oil
Instructions
In a small food processor, combine all ingredients except olive oil. Pulse a few times and scrape down sides. With motor running, drizzle olive oil into mixture and process until almost smooth.
Recipe Notes
Root vegetable greens make a great substitute for spinach.
Baby spinach preferred to regular spinach due to sweeter profile.