Peruvian street food featuring chicken chunks marinated in fruity, spicy sauce, skewered then grilled.
These fiery Peruvian chicken kebabs (anticuchos) are an easy way to transform a simple, cheap cut of meat into something spectacular. Chunks of chicken, marinated in a hot and fruity yellow pepper sauce and quickly grilled on wooden skewers for a game day pleasing appetizer or quick, easy mid-week dinner entree with the family ready in minutes.
Like most, I'm no stranger to kebabs but I'm very fond of these Peruvian chicken kebabs which are basically street food you'd likely find in the streets of Lima. I had them about 3-4 years ago for the first time during my first and hopefully not last trip to Peru.
My wife and I had run our first triathlon together as a couple. It was a pretty remarkable day for a lot of reasons. Besides completing a grueling race that began early that morning, our two kids were taking an unaccompanied flight from Austin back home to Chicago, the local Chicago Jackie Robinson Little League Baseball Team was on it's way to winning the Little League World Series, and our flight to Lima was scheduled for three and half hours after we were due to finish the triathlon. I won't bore you with all the details, but you can imagine the amount of planning and stress went into our family of four making that flight.
After swimming, biking, and running around Chicago for a few hours in what was a historically high humid day my wife and I met at our rendezvous point then walked back to the starting station to retrieve all our gear and bikes before carrying it all to the parking garage. We loaded everything up on/in our SUV, then navigated heavier than normal crosstown traffic from downtown Chicago to O'Hare International Airport only to arrive late and have to work to find our kids. We were greeted by a judgmental American Airlines agent along with our two freaked out kids who were thrown off by their parents; salty, un-showered post race frantic bad-ass look.
After reassuring the kids we were in fact just mommy and daddy vs. some version of the Incredibles we got them to the car and fought more traffic to our house. Once home we showered, changed clothes, arranged for taxi, consumed copious amounts of water, ran through the travel checklist, combed our daughter's hair, and checked our son'ss luggage for underwear all with the baseball game on in the background. After more traffic back to the airport we made it through boarding relatively smooth but with only minutes to spare.
Finally seated, up in the air and having completed my mental worry checklist of all the things we might have forgotten I settled in for the flight. Settled relatively speaking, as I was still sweating from the triathlon and the resultant activity to make the flight as well as frequenting the bathroom about every 45 minutes to empty my bladder since I had yet to have a meal and had drank so many fluids.
Needless to say after burning a few thousand calories that day, I was starving by the time we arrived in Lima. I was so hungry I couldn't wait to get checked-in at the hotel before having a meal so I had our driver stop on a corner so we could get food from a street cart vendor. I bought empanadas, chicken anticuchos, and anticuchos de corazn (cheap cuts of cow hearts skewered on a stick and grilled then spiced with hot sauce). I was more partial to the chicken kebabs, but at the time I attributed my fondness for them to my intense hunger. However, for the next few days I awoke with a craving for them and eventually would have them daily during my stay.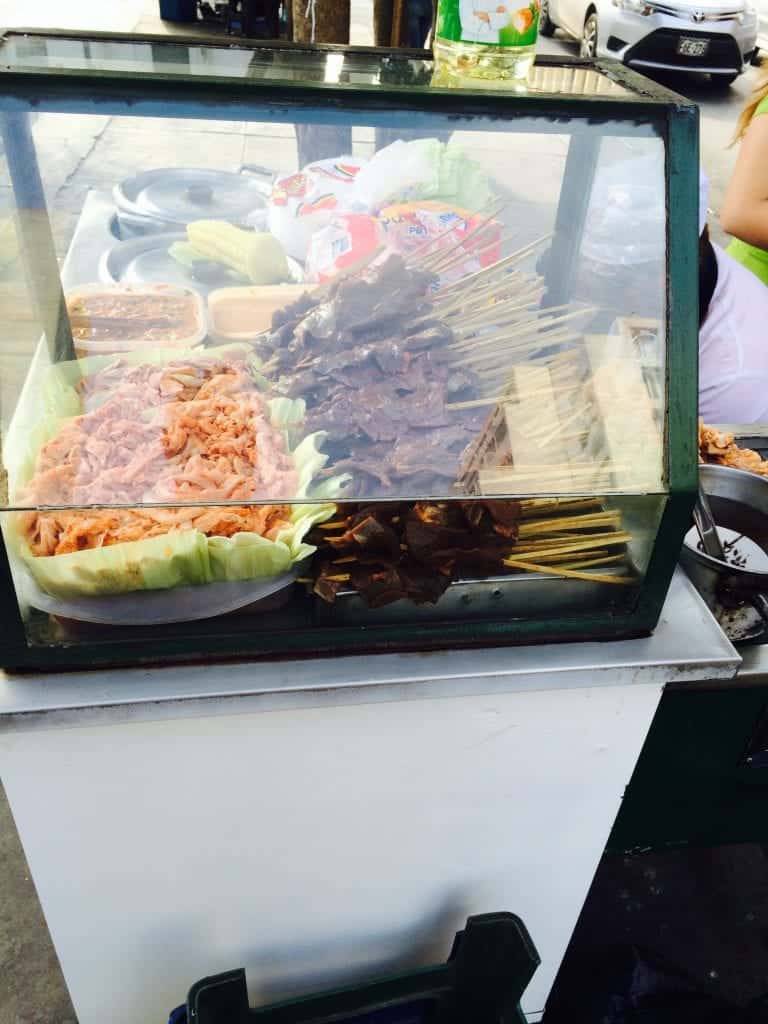 Peruvian Chicken Kebabs (anticuchos): Flavor Profile
Despite their simplicity, Peruvian chicken kebabs are incredibly tasty. The sauce provides a slight kick with the chili pepper, but it hits more like a snare vs.a bass drum kick. Aji amarillo chiles are fruity so there is also a tinge of sweetness to go with the pepper. The garlic, oregano, and cumin combine to give it a nice aroma. The net effect of all is a very vibrant (in both color and flavor) dish.
Peruvian Chicken Kebabs (anticuchos): Cooking Tips
Make them as hot or mild as you want especially if spicy ain't your thing. In this case just forgo the chilis altogether or just remove seeds/veins.

You can use any sauce recipe you like. The key is to marinate the chicken beforehand to ensure its moist when cooked through. And be careful to not overcook or else they become stringy and chewy.

Use two skewers for the kebabs to make it easier to flip when grilling

Soak the skewers in cold water for an hour in advance to keep the wood from burning during cooking.

Feel free to substitute other meats including shrimp, fish, and lamb. If using fish choose thicker and firm types.
making Peruvian chicken skewers
If you make this recipe, come back and leave me a comment below with your feedback. Definitely take a photo of the dish and be sure to tag #foodfidelity so that I can see them.
You can also keep up with my food exploits as well as original recipes! You can find me on Instagram, Facebook, Twitter, and Pinterest. If you like any of the music you find on the site, visit me at Spotify to find curated monthly playlists.
For other Peruvian recipes try this Ceviche or Lima Bean Salad.
Ingredients
Chicken Kebabs
2

chicken breast fillets

cut into bite sized pieces

Kosher salt

Yellow Pepper Marinade
Yellow Pepper Marinade Ingredients
2

cloves

garlic

minced

1

tbsp

aji amarillo paste

store bought or homemade

1

tbsp

olive oil

1

tsp

dried oregano

1/4

tsp

cumin

1/4

black pepper
(Optional) Homemade Aji Amarillo Paste Ingredients
6-8

aji amarillo chiles (stemmed and deseeded)

substitute 2 habanero and 1 large yellow bell pepper

3

tbsp

vinegar

1/4

cup

sugar

1

tbsp

canola oil
Instructions
Aji Amarillo Paste Instructions
Place chiles in a pot of cold water and bring to a boil. Reduce heat and simmer 30 minutes until ajis are soft. Strain ajis and place in blender and add other ingredients. Blend to form a creamy paste. Strain in a mesh sieve.
Yellow Pepper Marinade Instructions
Place all ingredients in bowl and mix well
Chicken Kebabs Instructions
Marinate chicken in yellow pepper marinade for at least 30 minutes.

Remove pieces from marinade. Sprinkle with salt. Thread 3-4 pieces onto two skewers each.

Grill chicken kebabs on high heat about 4 minutes per side, brushing with the marinade.