Cabbage poblano posole makes for a hearty, warming and delicious soup!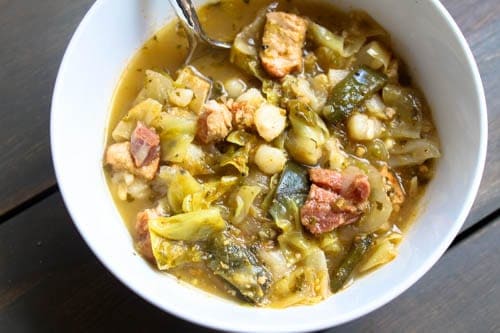 I've heard all the chatter about a cabbage soup diet being this miracle weight loss regimen. I'm not making that claim here, nor do I know if its true, but this cabbage poblano posole is delicious. Simple in execution, but complex in flavor profile. Cabbage is pretty much a staple in our house – pickled red cabbage, cabbage soup, cabbage stew, Caribbean cabbage sauté, and Cabbage and Ground Beef.
I'm a big fan of posole which is essentially hominy. And if you're not up on hominy peep the Huffington Post article for detailed description. In a nutshell its corn kernels that have been puffed out by a mineral lime soaking process. Hominy is a close cousin to grits. You find posole primarily in Mexican cooking as its a traditional soup/stew that typically includes hominy, some type of meat and a variety of garnishes including chile peppers, radishes, salsa, limes, etc. Broth is also key to a good posole recipe. Feel free to use a commercial stock, but homemade  like this one https://www.foodfidelity.com/2017/05/31/homemade-chicken-stock/ would be so much better. Traditional soul food staples like cabbage and ham hocks are great fit if you want more of a Soul Food/Mexican fusion.
I feature many Mexican ingredients in my cooking. Given my many trips there and living in such proximity is easy for the influence to occur. Note the ingredients including posole can be found in my grocery stores. Posole is typically in the canned bean/vegetable aisle.
---
The crew at the local Fiesta Grocery Store know me as Jamal Fernandez due to the frequency of my trips; furthermore because of my knowledge and use of many of the more traditional ingredients I have earned some serious cred including enough to get 1st class treatment during my visits. My daughter thinks its hilarious that one they actually think my name is Jamal Fernandez despite my very limited Spanish and non-Hispanic features and two that I get so much love in a grocery store. As she walks the store with me witnessing the steady flow of "Buenos dias, senor" from the staff, she chastises me for "acting like we're friends", to which I respond, "why not, why can't we be friends? their my peeps!"
Great beats, better eats. Enjoy this cabbage poblano posole!
Cabbage Poblano Posole
Print
Ingredients
1

cup

water

2

cups

chicken stock

homemade or low sodium store bought

1

head of cabbage

shredded

1 12

oz

can of posole

hominy

1/2

cup

smoked ham hocks diced

optional

1/2

cup

yellow onions

diced

1/2

cup

poblano pepper

chopped coarsely

3

garlic cloves

chopped

1

tbsp

ground cumin

1/2

tbsp

ground coriander

1

tbsp

ground black pepper

1

tbsp

kosher salt

pinch

of red pepper flakes

1/2

tsp

dried basil

1/2

tsp

dried thyme

1/2

tsp

dried oregano

1

bay leaf
Instructions
Heat 2 tablespoons of olive oil in a large pot over medium heat.

Add onions and poblano peppers. Saute until slightly tender.

Stir in garlic and sauté an additional 2 minutes.

Pour in chicken broth and add bay leaf and ham hocks if using

Stir in cabbage.

Bring to a boil and then reduce heat.

Stir in dried herbs, red pepper flakes, and spices

Cook until cabbage is tender 20-30 minutes

Taste broth and adjust seasoning if needed.