Thai inspired lemongrass pickled celery which makes for a unique condiment or topping for both meats and salads.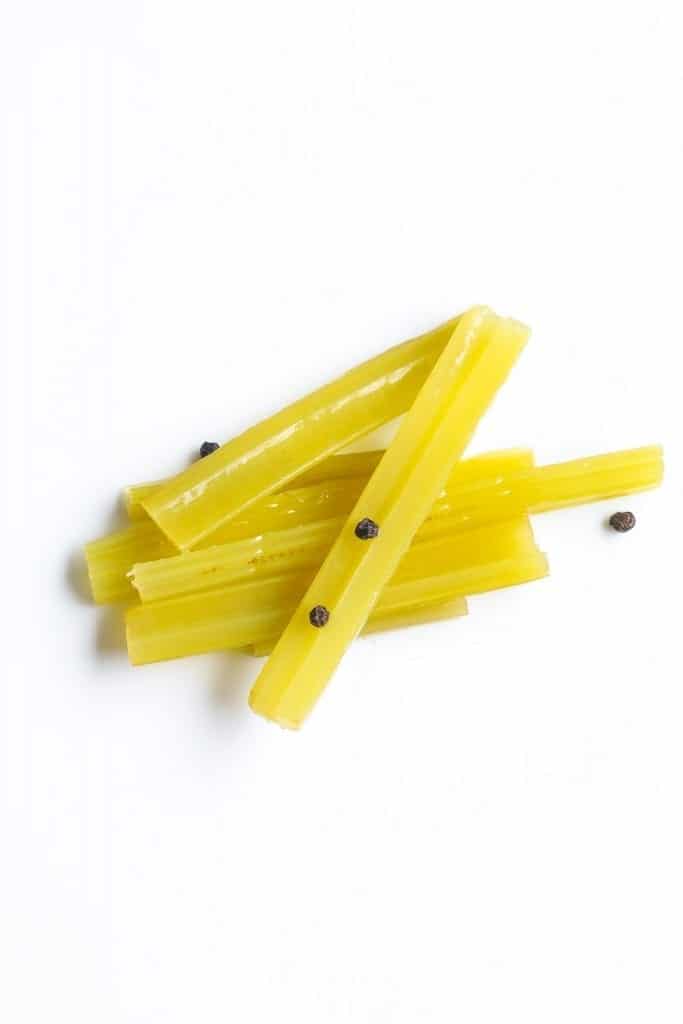 Now I'm not much of a celery guy. I use celery infrequently and usually in small amounts unless I'm flavoring a stock or sneaking them in a chicken or tuna salad where other items combined to hide that celery flavor I loathe. I still don't understand those who use it as a dip stick for sauces; carrots yes, celery no. But since I'm a glass half full kinda guy when it comes to food I continue to explore ways to make celery edible.
Interestingly enough I discovered this new pickling recipe that makes celery actually an enjoyable eating experience. A friend Traci Bermiss recently gave me a culinary book created by IBM (yes that IBM) and in it, they added lemongrass to their pickling recipe. I decided to try their recipe here with a few minor tweaks. The entire time preparing the dish, I was like - let this be the one. The lemongrass and coconut water pairing gives the pickling a Thai element. Rice vinegar is fairly mild relative to most vinegars, but it subtly tames the celery, muting that raw celery flavor while letting the lemongrass and coconut water shine in a balanced fashion.
I'm always looking to step up my condiment game. When you travel as much as I do you encounter all different types of sauces, dips, pastes, sambals, etc. and get inspired by so many flavors and techniques. Last month was about harissa paste, but today I'm on some lemongrass vibes right now.
What is lemongrass?
Lemongrass is a tall bamboo-like grass that grows in tropical and subtropical areas like Asia, Africa, and India. It has a lemon, citrusy taste to it. It is frequently used in teas worldwide and as an herb. Lately it's appearing in more and more cocktails. In Thai cuisine where it's a staple, you'll find it in many seafood dishes and soups.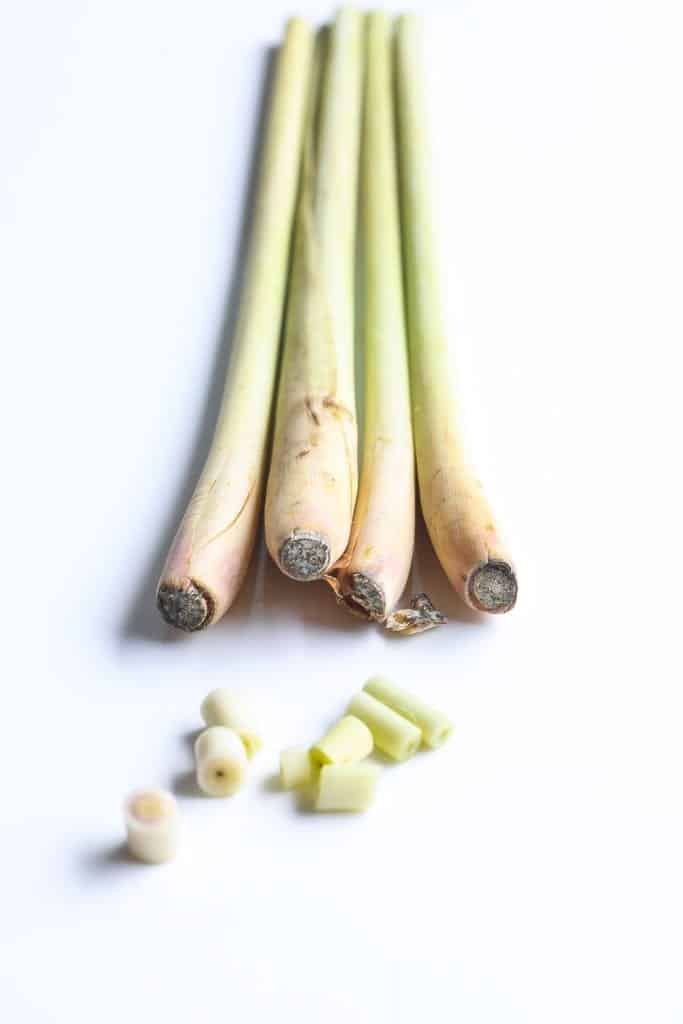 Where to find lemongrass?
Because it's popular in Asian cuisine your best bet to find it is at Asian markets. I also see it at most specialty grocery stores like Whole Foods and Trader Joe's. It's always stocked in the refrigerated produce section.
How to choose lemongrass?
Firm is best. Stay away from the softer rubbery stuff.

Upper stalks should be green, lower should be yellow. Brown is not good
How to store lemongrass?
I buy one stalk typically and just plan on making 2-3 recipes featuring it over a two week period. In this case, I just wrap it in saran wrap and refrigerate. If you don't have a repertoire of recipes to use it all up before drying out, you can always plant it in a pot of soil and grow it back over a 2 week period. I have a container based herb garden I use to regrow my used lemongrass.
What to use pickled celery with?
Lemongrass pickled celery is so tasty it can be its own snack. It's my most common way to eat pickled celery. However, it is a great condiment to hot dogs, meats like chicken or steak, and as a salad topping. I have visions of putting them into a potato or pasta salad.
Pickled Celery Tips
Slice the celery according to your plan for using them. I varied mine since I have a few different purposes (snack, relish, topping). Keep in mind for thicker cuts you'll need to let them marinate in the brine longer, perhaps a full day or two.
Save the brine and use to blanch green vegetables
Making Lemongrass Pickled Celery
Make this pickled celery recipe today and enjoy it for a few weeks! If you make it, please come back and leave me a comment below with your feedback. Definitely take a photo of the dish and be sure to tag #foodfidelity so that I can see them.
You can also keep up with my food exploits as well as original recipes! You can find me on Instagram, Facebook, Twitter, and Pinterest. If you like any of the music you find on the site, visit me at Spotify to find curated monthly playlists.
For unique flavorful condiment recipe try this Southern Chow Chow Relish or Roasted Red Pepper Sauce.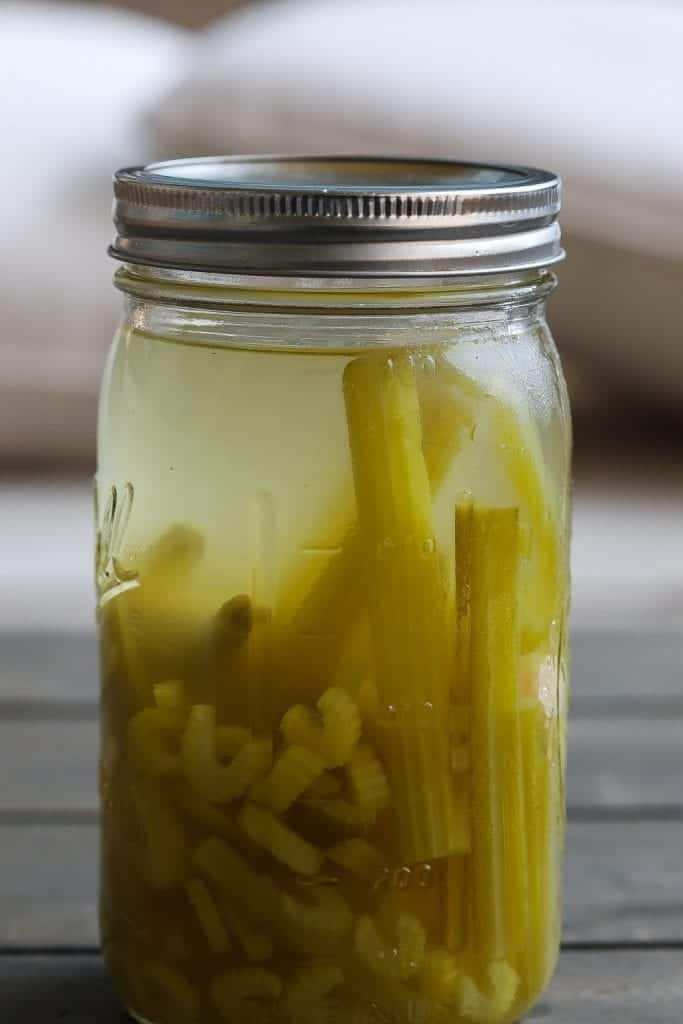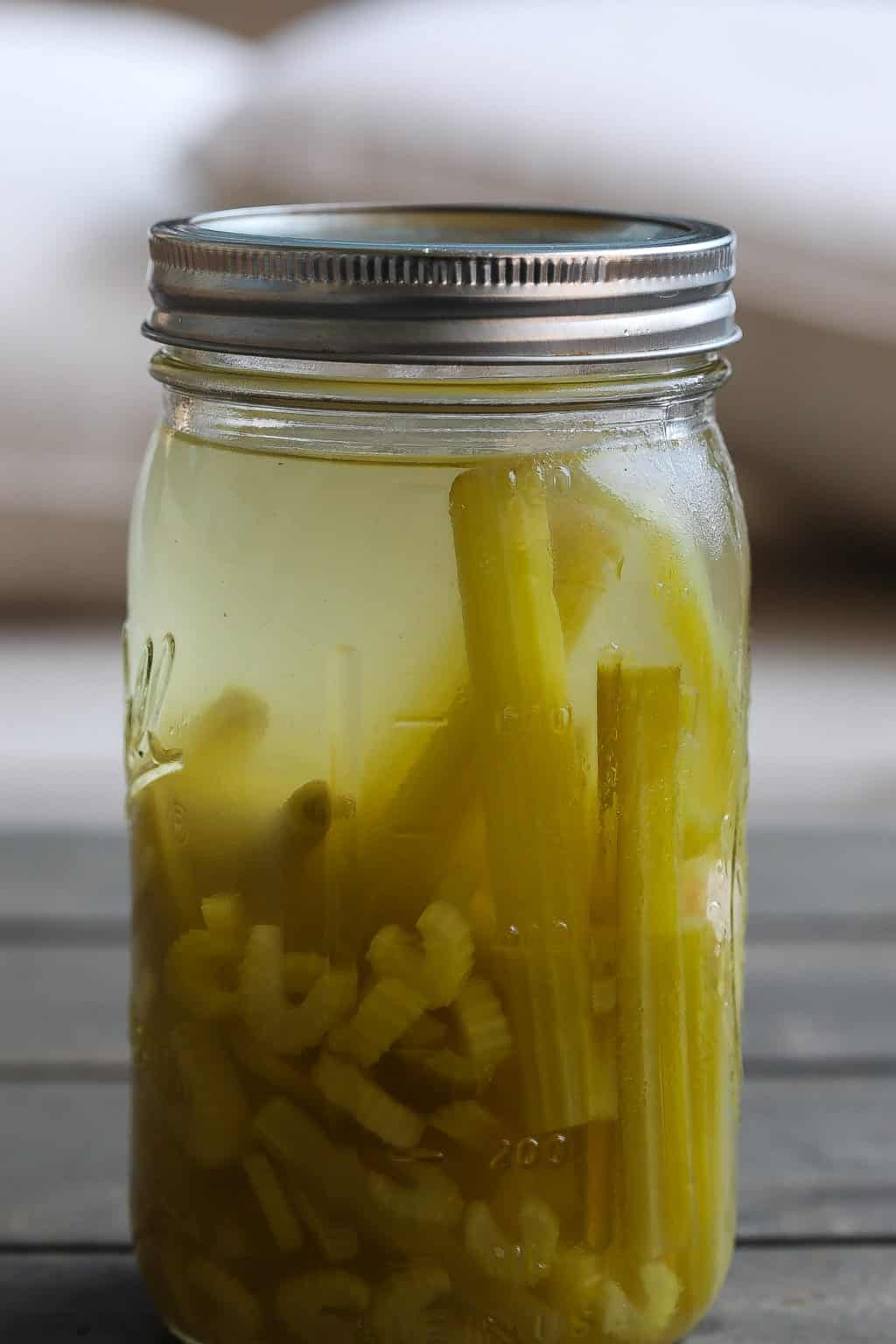 Ingredients
½

cup

celery

sliced

½

teaspoon

sugar

½

teaspoon

kosher salt

¼

cup

coconut water

½

cup

rice vinegar

1

garlic clove

smashed

1

stalk lemongrass

cut into 2 in pieces

1

bay leaf
Instructions
Lightly blanch the celery by bringing pan of water to a boil and dropping the celery in for about 30 seconds.

Remove the celery from the heat and let stand for a few seconds, then place directly into a bowl of ice water to stop the cooking process.

Place the celery in a jar with a lidded top.

Place all remaining ingredients in a medium sauce pan and bring to a simmer, stirring to dissolve the salt and sugar.

Remove from heat and add to the jar of celery. Allow to cool to room temperature and then refrigerate.

Let sit overnight for best results, but if you can't wait, try them after an hour.
Nutrition
Calories:
60
kcal
|
Carbohydrates:
8
g
|
Protein:
1
g
|
Fat:
0
g
|
Saturated Fat:
0
g
|
Cholesterol:
0
mg
|
Sodium:
1269
mg
|
Potassium:
317
mg
|
Fiber:
1
g
|
Sugar:
4
g
|
Vitamin A:
225
IU
|
Vitamin C:
4
mg
|
Calcium:
35
mg
|
Iron:
0.4
mg
Subscribe To My YouTube Channel
Subscribe To My YouTube Channel for full length recipe videos. Click the bell icon to be notified when I post new videos.
My YouTube Channel