Roasted Leeks with Fresh Thyme Recipe
I'm a huge fan of roasting vegetables due to their simplicity n making and complex intense resulting flavor. Roasted leeks are true to this form and are perfectly scented with fresh herbs in this recipe.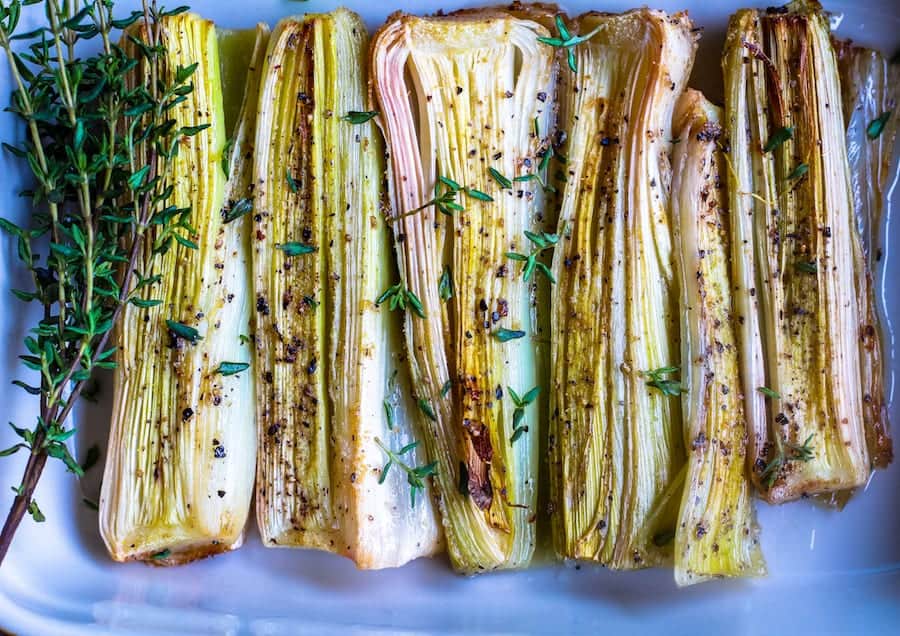 This is post #8 of this month's all things Dallas posts. My first experience with leeks did not go well. As a kid I had observed my grandfather eating raw green onions pretty much daily. I mean, he would eat the bulb and stem! During one of our weekly trips to the Dallas Farmer's Market one of the vendors my grandfather did business with was promoting these "big" green onions. Looking to impress "Pops" I offered to taste test the big green onions. Pops remained stoic and nodded to the vendor to let me try them. I went from happy go lucky kid to bitter beer face in a matter of seconds. I literally felt like I was at the Laural Land Cemetary gates.
Later I would learn that those big green onions were not in fact green onions, but the bigger cousin "Leeks" which are very different texturally and tastewise. Leeks are slightly milder, but the stems are much tougher. Despite their slight bitterness, roasting them brings out their natural sweetness and make for a delicious side. Best of all they don't require much – it's as simple as adding olive oil, salt, and pepper and roasting. Lemon zest, fresh parmesan, garlic, and thyme are all great flavor enhancer options.

Listening to a lot of Def Jam back in the day opened me up to a lot of 80s/90s heavy metal. Rick Rubin pretty much produced all the early acts including Beastie Boys and LL Cool J which featured a lot of metal samples. You combine this with my metal heads from both college and high school there are a few metal groups I rock with. Led and founded by fellow Dallasite drummer Vinnie Paul, Pantera is one of those groups. I never had a mullet, but I may have had a "shag" which is the black man equivalent during my toddler years.
These roasted leeks are tasty and simple. Make these as well as a few other roasted vegetables and fruit on this site.
Great beats, better eats. Enjoy these roasted leeks scented with fresh thyme!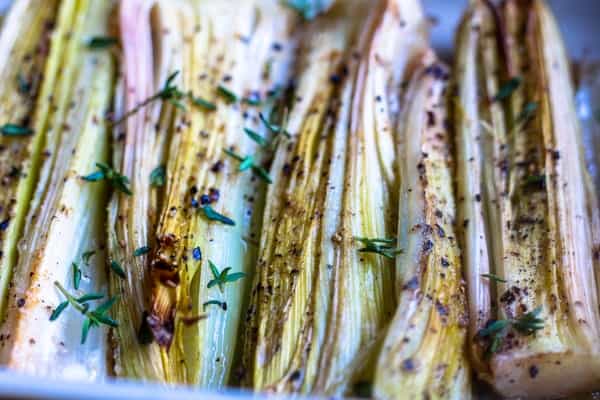 Cook Time:
1
hour
55
minutes
Ingredients
4

leeks

white and pale-green parts only, cut in half lengthwise

1/4

cup

olive oil

Kosher Salt

Pepper
Instructions
Place a rimmed baking sheet in oven and preheat to 400°F.

Rinse leeks well and pat completely dry. Toss with 1/2 cup olive oil; season with salt and pepper.

Arrange leeks, cut side down, on hot baking sheet and cover loosely with foil.

Reduce oven temperature to 300°F. Bake until leeks are lightly browned on cut sides and very tender, about 1 1/2 hours.

Uncover leeks and turn cut side up. Increase oven temperature to 400°F; roast leeks until golden brown, 15-20 minutes.

Add fresh thyme