Simple and elevated side dish for roasted onions that have been marinated in a mild Jerk sauce and then slow roasted creating deep, intense flavor.
There are some recipes that are so easy to make yet so delicious you keep them in heat rotation, likely weekly. For us these jerk marinated roasted onions qualify.
This roasted onions recipe was stolen from the mental vault of the great chef and my grandfather, Mr. James Napoleon Brown. He loved onions, particularly raw onions -green, red, white, yellow it didn't matter. This love for and daily consumption of raw onions was the source of his frequent yelling at my brother and I to look at him when he spoke to us. We'd keep our heads down to avoid the onion infused halitosis while straining simultaneously to lift our eyes up to make contact with his.
He'd say all eyes on me boy, before I cut that knot for you. We were never brave enough to ask what in the hell cutting that knot meant, but we figured it was doomsday for us. Occasionally when my uncles fired up the grill they'd reserved some space on the grill for my grandfather to grill some vegetables.
One particular day he smoked really thick onion slices that had been covered in a mustard-vinegar based sauce. I assumed it was mustard because the sauce was yellow, but he never really wrote anything down or talked about what he was doing. Gramps was strictly freestyle all the time. But he put the onions away from direct heat and let them cook in the smoker while occasionally basting them with the sauce. My brother as usual passed in favor of just meat, while I jumped right in and ate as much as was allowed.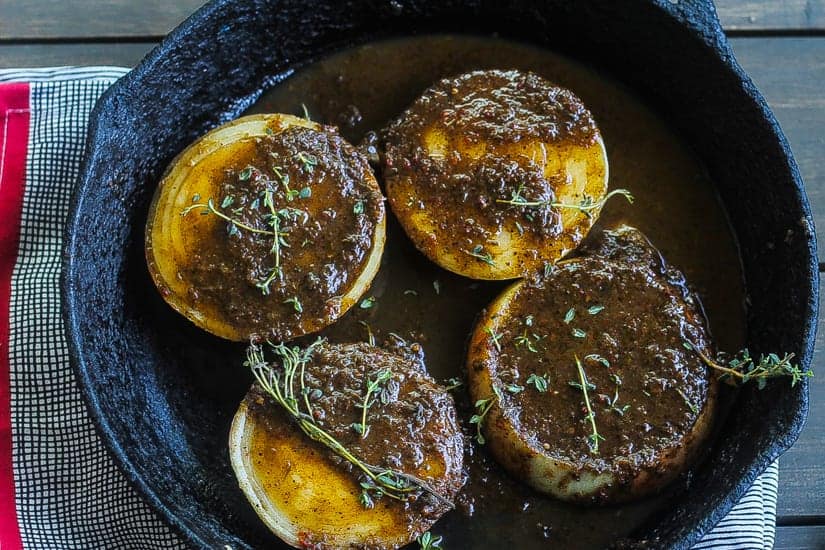 Over the years I've made a version of marinated smoked or roasted onions. I often lament the fact that my grandfather, never wrote anything down. Luckily with this dish, you don't really need one. It's as simple as slicing onions, dropping them in your preferred marinated overnight, and then slow roasting them for an hour or so. The flavors in these are intense. The natural sweetness in the yellow onions is concentrated as the onions caramelize in the jerk marinade during roasting.
Texturally, the interior is soft and creamy, with the edges slightly crispy. I used a mild Jerk marinade as I wanted a more mellow flavor that enhanced and complimented the sweet onions. If you prefer more heat know that the stronger the marinade then the more of that flavor is impaired on the onions. In other words a little goes a long way, so reduced the amount of heat you use.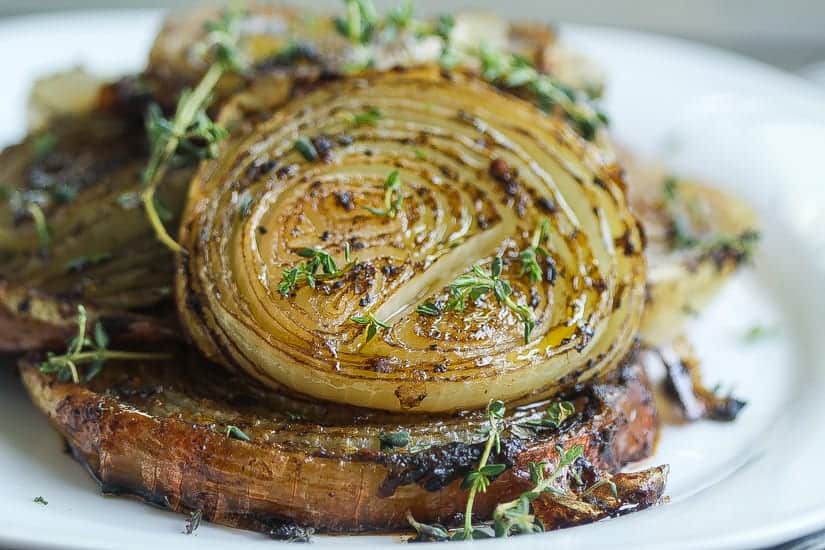 Cooking Tips for Jerk Marinated Oven Roasted Onions
If using small onions just slice them in half, otherwise for larger ones just slice them in thirds crossways so all of the slices roast evenly.

Leave the skin on as they will help keep the onions intact when cooking.

Keep the marinade as simple or complicated as you prefer
Special Equipment or Ingredients Used for Jerk Marinated Roasted Onions
Walkerswood Jerk Marinade Bundle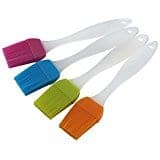 Dope beats, fresh eats. Enjoy these simple and over the top delicious jerk marinated roasted onions as an elevated gourmet side! For other vegetable based "steaks" try these cauliflower tapas.
For other jerk based recipes try these Jerk Chicken Leg Quarters or Jerk Baby Back Ribs
Keep up with my food exploits as well as original recipes! You can find me on Instagram, Facebook, Twitter, and Pinterest. 
Total Time:
1
hour
5
minutes
Ingredients
12

oz

lager beer

1/2

cup

water

2

cups

jerk marinade

2

tsps 

fresh thyme chopped

1/2 

tsp 

kosher salt

1/4 

tsp 

black pepper

2

large yellow onions

ends trimmed and sliced into 3/4 inch slices horizontally
Instructions
Mix beer, water, and jerk marinade in small bowl and pour into a baking dish that will hold all the onions.

Place onions down in marinade. Marinate overnight covered in refrigerator.

Preheat oven to 400°F. Flip the onions over in the marinade, and lay on the flat bottom of each side. Using half the fresh thyme, top each onion slice with some.

Roast in oven for 1 hour or until golden brown, basting once or twice during roasting. Remove from heat, spoon reduced sauce over and sprinkle with remaining fresh thyme. Remove from skins and serve.
Notes
If using small onions just slice them in half, otherwise for larger ones just slice them in thirds crossways so all of the slices roast evenly.

Leave the skin on as they will help keep the onions intact when cooking.

Keep the marinade as simple or complicated as you prefer