Bell Pepper Salad - Refreshingly simple salad of fresh, ripe bell peppers minimally seasoned to highlight the bright flavors.
This is that quick, salad to compliment any meat dish whether grilled, fried, or roasted.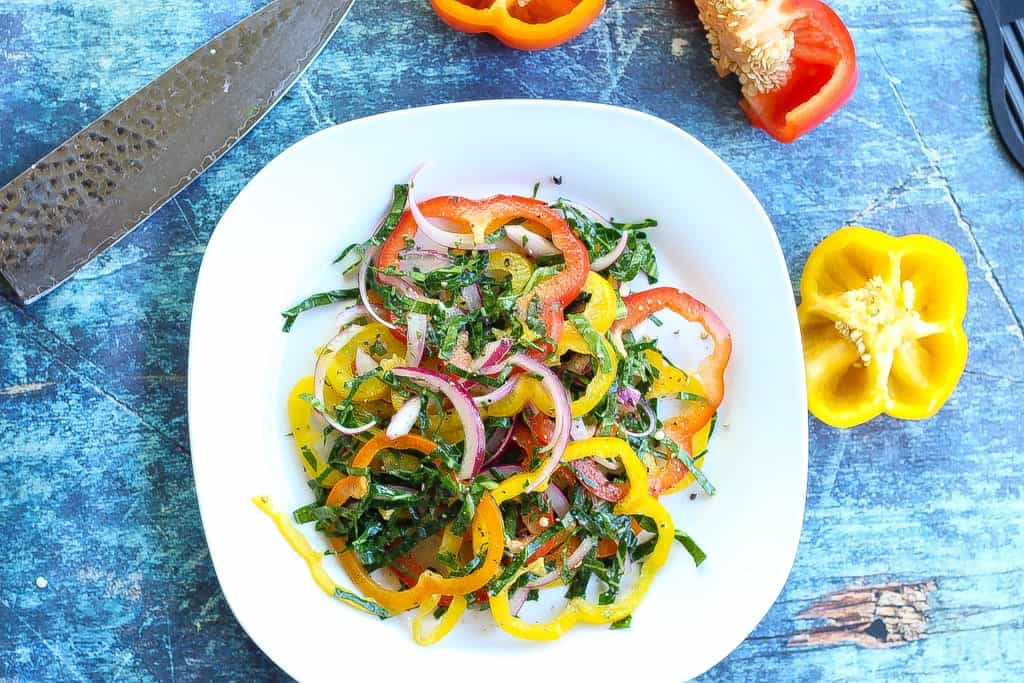 MOOD MUSIC
A Bell Pepper Salad is the quintessential James Brown salad. My grandfather was all about the ingredients and making simple touches to allow them to shine. In his mind, if you bought quality ingredients then you shouldn't need any fancy add-ons to make a good dish.
Quality didn't necessarily mean expensive, as we easily fit the government's definition of poor and his choices in whiskey reflected our socio-economic status. We were Wild Turkey vs. Pappy Van Winkle. Pops knew from his childhood days working the land that using seasonal ingredients provided fruits and vegetables at their best and was also a more cost-efficient way to shop.
Bell Pepper Salad Ingredients
Between the garden and the Dallas Farmer's market, peppers of different sorts were easily available to us. We had different color bell peppers, sweet peppers, and a host of different chili peppers. The chili peppers were used extensively to make vinegar-based pepper and hot sauces. The sweet and bell peppers were used in every side or side salad you could think of from potato salads and slaws to bean salads. But it was the bell pepper salad that was my favorite. It was spartan but soooo tasty. Just thinly sliced bell peppers and onions with vinegar, oil, salt, and pepper.
Multi-colored bell peppers
Vinegar
Olive Oil
Kosher Salt
Black Pepper
How To Make A Bell Pepper Salad
This is a raw salad so there is no actually cooking involved. It's simply just assembling for the most part.
Next cut the peppers in half lengthwise and then cut each halve into thin strips. Transfer sliced bell peppers to a large mixing bowl.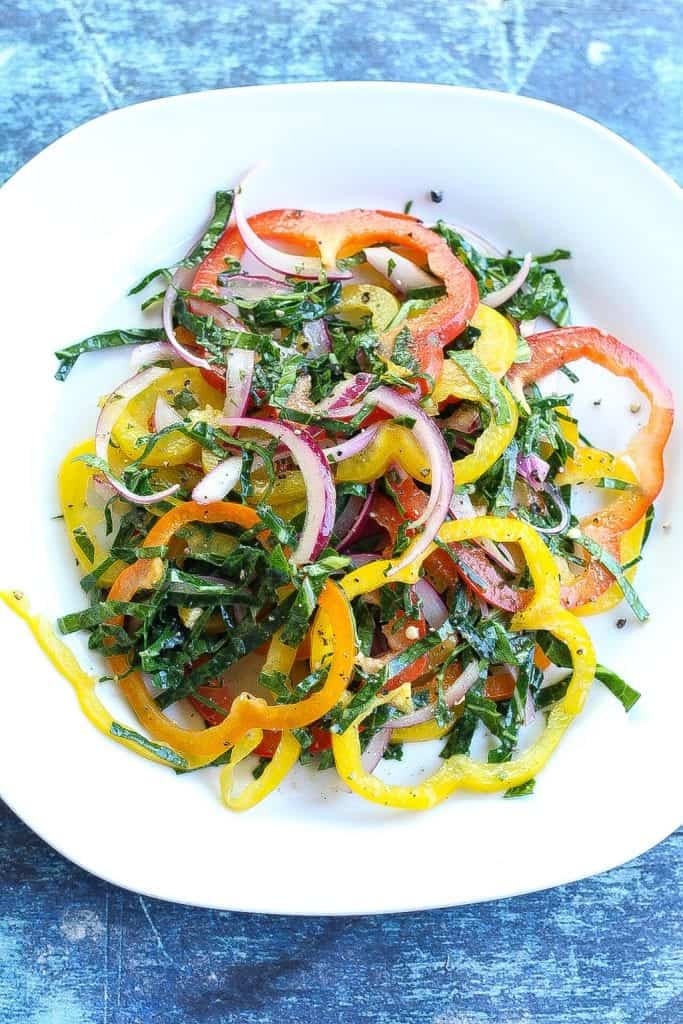 Cooking Consideration and Tips
I kept this salad as simple as possible, but feel free to dress things up a bit. Elevate the vinegar choice from simple white to red wine, cider, or rice vinegar.
Make the vinegar ahead of time to allow the flavors to mellow a bit and become more balanced.
I tweaked the original pepper salad recipe by adding some raw collards. The vinaigrette essentially pickles or cooks the raw ingredients in the same fashion lime juice is used in ceviche; it's a similar process and result. And like good ceviche, ingredients matter, and make the difference in a good ceviche vs. a great one.
You can sequence the vegetables. I prefer to allow the vinegar time to pickle the red onions and collard greens a bit before adding the peppers. I prefer my peppers crunchy and letting sit in the vinaigrette too long softens them too much for my taste.
More similar recipes
make the recipe
If you make this bell pepper salad recipe or any other from the site, please come back and leave me a comment below with your feedback. Definitely take a photo of the dish and be sure to tag #foodfidelity so that I can see them.
You can also keep up with my food exploits as well as original recipes! You can find me on Instagram, Facebook, Twitter, and Pinterest. If you like any of the music you find on the site, visit me at Spotify to find curated monthly playlists.