Grilled cheese with andouille sandwich made w/ gooey sharp cheddar cheese and elevated with andouille sausage, pickles, & caramelized onions.
Grilled Cheese and Sausage Sandwich
Toasted bread, check. Melted cheese, check. Add sausage and you have the makings of this delicious grilled cheese with andouille sausage sandwich. If the spicy andouille isn't enoough throw in some tart sour pickles and caramelized onions to take this sausage sandwich over the top.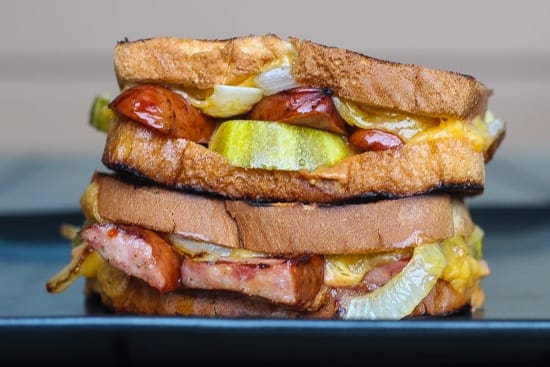 Life is a good today, but it wasn't during the days leading up to the Thanksgiving holiday. I had a bad case of those cheesy rat blues rapper and 2018 Rock and Roll Hall of Fame Nominee LL Cool J rapped about on his "Mama Said Knock You Out" album. The song is one of my all time favorites both for it's dope use of samples by Maceo and Kool and the Gang and it's lyrical content/subject matter. Who can't relate to floating on cloud nine one day and struggling the next. Needing comfort and in anticipation of our upcoming family trip to my favorite U.S. city New Orleans I resorted to this grilled cheese with andouille.

Part of me was like why not wait till I'm in the big easy before getting my taste of Nawlins, but I had NOLA on my mind well before leaving Austin. Having the blues is a dangerous time for me. If I'm having cheese I'm going all out, afterall grilled cheese is serious business. Now with ingredients like andouille sausage, caramelized onions, and pickles I'm off to a great start. However, more important than ingredient list is technique. If you want that golden and crusty exterior combined with an oohy goohy center a few steps have to be taken.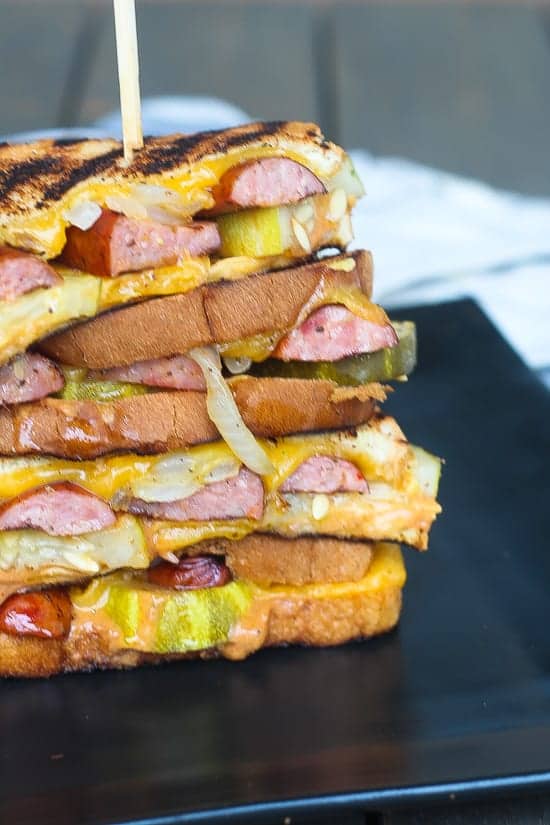 Cooking tips for Grilled Cheese Sandwiches
One, make sure the heat isn't too high. Play the long game and go low and slow with the fire. Starting with too high a heat nets a burned exterior and barely melted cheese. Essentially you want the bread to toast at the same rate as the cheese melts.
Brown the sausage before making the sandwich
I also have a small but heavy cast iron skillet I use to enhance the crust. I use the skillet as a make shift panini press. The extra weight helps with toasting further. A spatula can work just as well if you apply enough pressure.
Lastly, make sure you have chosen a good melting cheese. Back when I worked for Kraft Foods, Grilled Cheese sandwiches featuring Velveeta was one of our most popular recipes. Velveeta's melt was unmatched and thus it was often preferred against more natural cheese for its melting qualities. For me strong cheese taste is as important as melt so I prefer a sharp cheddar cheese.
grilled cheese with andouille sausage sandwich
Give this tasty sausage sandwich a try for lunch. If you make it, please come back and leave me a comment below with your feedback. Definitely take a photo of the dish and be sure to tag #foodfidelity so that I can see it.
You can also keep up with my food exploits as well as original recipes! You can find me on Instagram, Facebook, Twitter, and Pinterest. If you like any of the music you find on the site, visit me at Spotify to find curated monthly playlists.
For another yummy sandwich recipe check out this Beef Neck Bones Sandwich.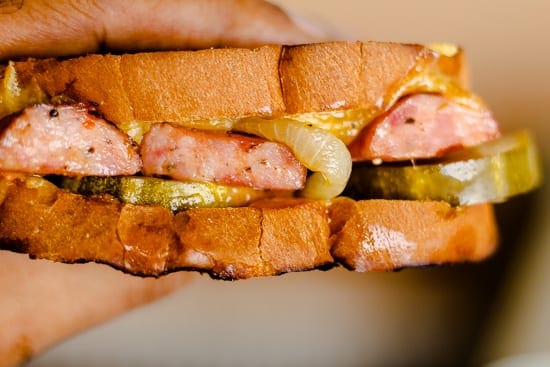 Ingredients
4

slices

hearty white bread

1/2

pound

cheddar cheese slices

Andouille sausage split into 4 links

Sliced pickles

1

Small onion sliced

Salt
Instructions
Making the Sandwich
Grill links on both sides until completely cooked, then set aside.

Place bread slices on the counter and cover each slice of bread with a total of 2 cheese slices on each slice of bread.

Place two of the split links of andouille on one of the slices of the prepared bread slices and then repeat for the other slice.

Add pickles and caramelized onions to each of the andouille topped slices of bread.

Close the sandwich by layering on top the remaining bread slices. The sausage, pickles, and onions should be sandwiched between two slices off cheese on each side.

Place indoor grill pan on stovetop and heat on medium low heat.

Place both sandwiches on the grill pan. And grill 3-4 minutes. For the last minute place heavy cast iron skillet on top of sandwich. Remove the skillet and flip the sandwiches. Grill for another 3-4 minutes repeating cast iron skillet step for last minute of grilling.

If the cheese is not fully melted, turn the heat down to low. Just be careful not to burn the bread.
Caramelized Onions Instructions
Start with sliced onions and olive oil in a sauté pan on medium-high heat. You want a big pan so the onions have room to do their thing. And make sure you have plenty of sliced onions. They're going to shrink down significantly when caramelized.

Hit them with some salt. This will draw out the moisture. As they cook, they'll first get soft, then juicy. Then, this concentrates and they begin to brown, or caramelize, making them sweet and delicious. It will take about 10 to 15 minutes.
Notes
Choose you preferred cheese, but just make sure its a good melting cheese.