This Vegan BLT Sandwich recipe is a take on the classic version. Portobellos or "Bella" slices replace bacon. They are marinated in a smokey chipotle-maple sauce, then roasted to concentrate flavors and give it that "bacon like" texture.
Vegan BLT Sandwich
This vegan BLT sandwich is the TRUTH! Fresh tomatoes and a killer smokey sauce elevate this BLT to the head of the class.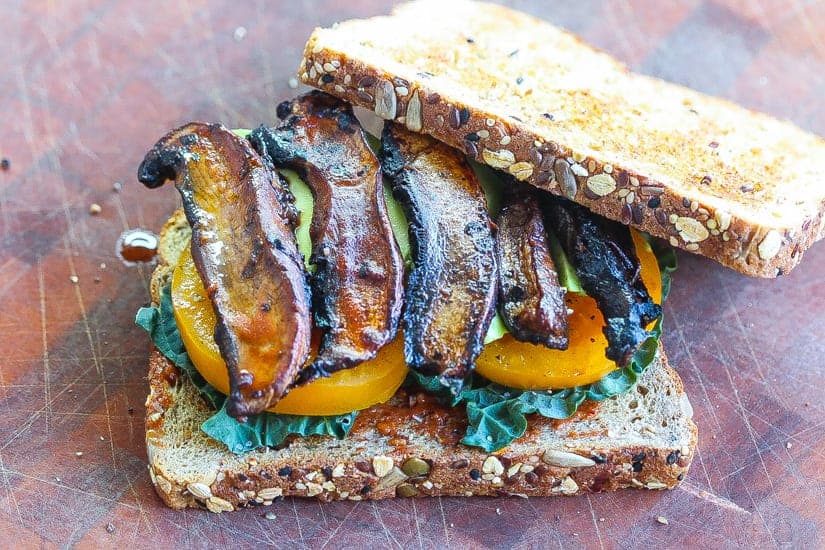 Musical Inspiration for Vegan BLT Sandwich
Some years ago when I was working for Kraft Foods I had a research assignment where we visited Velveeta Cheese consumers to discuss and observe their Velveeta consumption habits. I remember visiting this African American gentleman in Kansas City. His profile said he was 45 years old, but physically he could have passed for 65. Besides this, there were a few other things about the visit that stuck with me. One – he had a crazy vinyl collection which he observed me admiring to the point of handing me a vintage copy of Pink Floyd's "Wish You Were Here" album. It isn't lost on me that two heavy and black Pink Floyd fans were in the same room in Kansas City, but the title track on that album actually refers to the absence of their frontman Syd Barrett who was away battling heavy mental health issues something my respondent was struggling in with along with many others open or not about it. The other thing that stood out was the size of guy's pill collection. At 45 he already had a crazy regimen involving at least 15 pills. His warning to me at the time was don't ever start. He mentioned that in his thirties he began taking medication for high blood pressure and that it wasn't long before he was popping prescribed pills for a host of other illnesses which eventually led to depression and the relayed pills to treat that. We didn't talk much about Velveeta except that he made a mean BLT with cheese and the melt was perfect!
Vegan BLT Sandwich Health Tips
The "B" in BLT is actually for portobello mushrooms aka "Bellas" while the "L" is actually for Laccinato Kale aka "Black Kale" which I substitute for traditional lettuce. Mushrooms make for a good meat substitute given their mouthfeel, texture, protein count, and low-calorie status. Because they are so low in energy density you can eat a lot without taking in many calories. "Fake" meat options like seitan and tofu have more protein but I'm not that guy as far as eating processed artificial meats.
It's widely accepted in research circles that there is a link between gut and mental health. Leafy greens such as "Black Kale" are high in folic acid and deficiencies in folate, as well as other B vitamins, have been linked with higher rates of depression, fatigue, and insomnia. Lastly, when making this BLT sandwich, go for whole grain bread. They contain more of the complex carbs that fuel the brain. Complex carbs release glucose slowly, helping you feel full longer and provides a steady source of fuel vs. that crash and burn feeling you get from sugar rushes.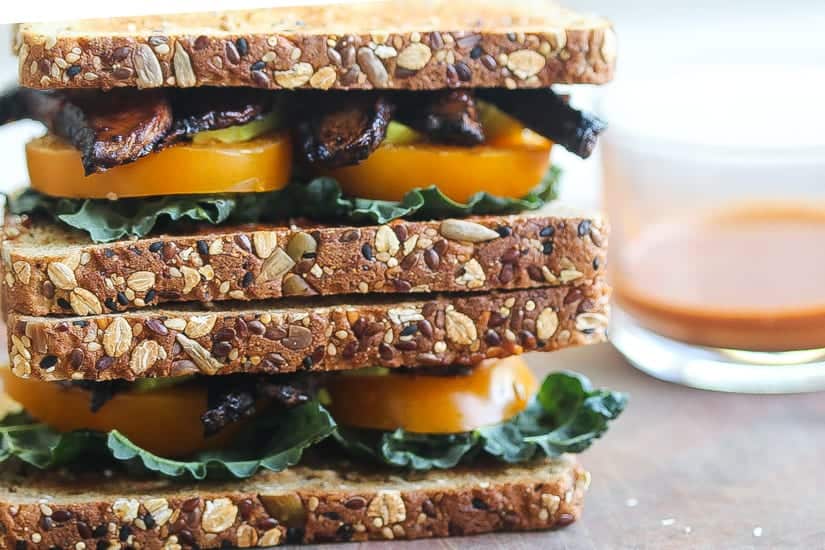 Flavor Profile of This Vegan Sandwich
I don't believe in calling anything that's not made with pork "bacon". Bacon is pork and only pork, of this I am absolutely certain. There is no turkey bacon, Vegan bacon, etc. Let's stop the madness! Given this, I won't pretend in any way that portobello mushrooms taste better than bacon. That being said this version of a BLT sandwich wins and wins BIG. My son, the skeptic and similar holder of the bacon is pork ideology, is a believer in this BLT. The smokey sauce is the key. I wanted to mimic the flavor you get from maple hardwood smoked bacon. I relied on smoke from two sources – the chipotle chiles and the paprika. Maple syrup gives the sweetness to balance them against the heat. These ingredients when roasted help provides that meaty essence from a flavor/taste standpoint. The mushrooms lose their moisture and the flavor is concentrated.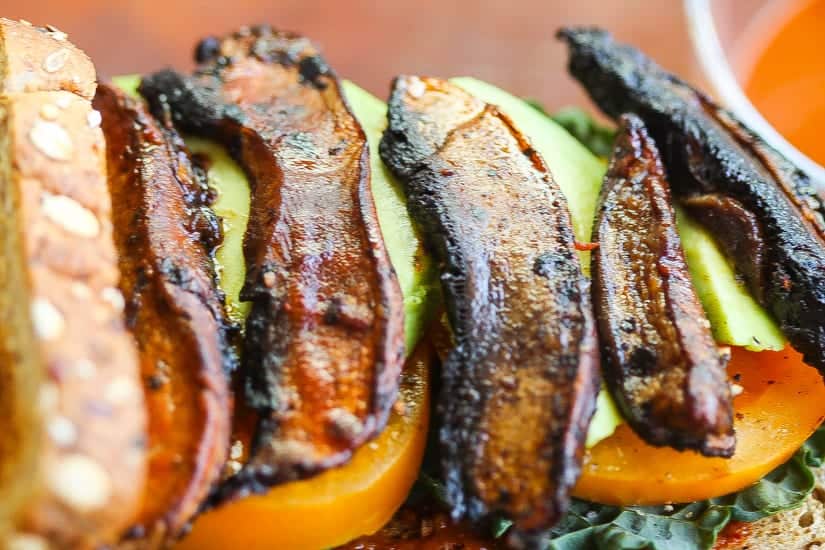 Vegan BLT Cooking Tips
Marinate all sides of the portobellos fully

Reserve some of the marinade to use as a sauce on the sandwich

To clean avoid rinsing with water, otherwise, they'll become soggy when cooking. Just wipe them off with a damp cloth or paper towel.

Cook longer than recommended cook time if you prefer a dryer, harder texture closer to crispy fried bacon

Toast the bread before building the sandwich
Vegan BLT Meal Planning Tips
When buying Portobello mushrooms, select ones that are firm and solid and smell fresh and earthy.

Stems are edible so don't throw them away. Save them for another recipe especially in a stock

Cover mushrooms with dry paper towels before refrigerating. Make sure to place them in a spot where they can breathe which help them last longer.

I recommend making extra marinade to use as a sauce for the sandwich, however, another option would be to use this roasted red pepper sauce which I make weekly and keep on hand as an everyday condiment.
Dope beats, fresh eats. Enjoy this simple and tasty vegan sandwich!
For other portobello recipes try this Grilled Portobello Mushrooms or Stuffed Portobellos. 
Keep up with my food exploits as well as original recipes! You can find me on Instagram, Facebook, Twitter, and Pinterest.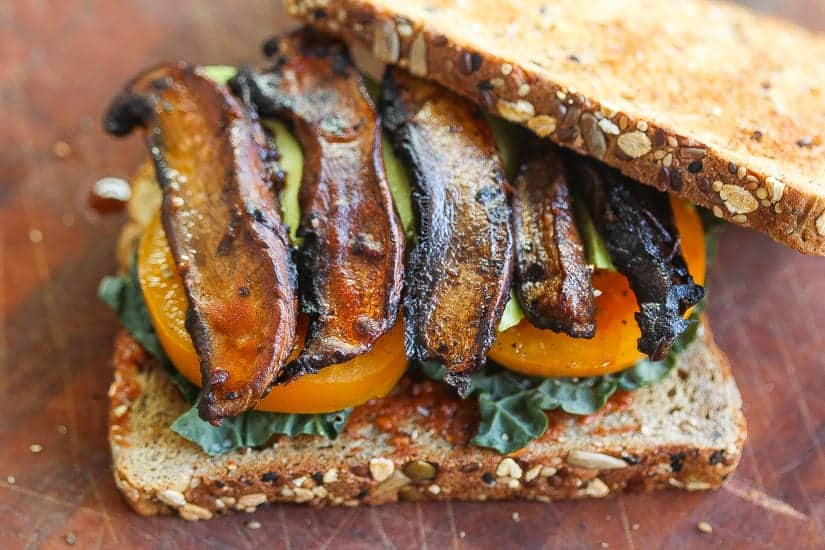 Ingredients
1

large

Portobello mushroom cap

cut lengthwise into 1/2 inch slices

1/4Â 

cup 

maple syrup

2

tbsp

Worcestershire Sauce

1

tbsp

adobo sauce

from a can of smoked chipotles

1/2

tbsp

smoked sweet paprika

1

tsp

kosher salt

1

tsp

Pepper

1 to

mato

sliced

1/2

tsp

dried basil

1

bunch of lacinato kale

stems removed and leaves chopped roughly
Instructions
Combine the maple syrup, Worcestershire sauce, adobo sauce, paprika, salt, and pepper in a bowl and mix well. Pour sauce over mushrooms and let marinate in the fridge for an hour. Flip as necessary to ensure all sides of the mushrooms marinate.

Preheat oven to 400 degrees F.

Remove mushrooms from marinade and spread on a foil lined baking sheet. Bake for 20 minutes flipping the mushrooms half way. Alternatively heat coconut oil in a medium skillet and cook the mushrooms for 3 minutes, flip and cook for 3 more minutes.

While mushrooms are cooking, season tomatoes with salt and pepper and dried basil.

Assemble the sandwich using the reserved sauce as a sandwich spread.
Notes
Toast slices of bread before assembly.
Nutrition
Serving:
0
g
|
Carbohydrates:
0
g
|
Protein:
0
g
|
Fat:
0
g
|
Saturated Fat:
0
g
|
Polyunsaturated Fat:
0
g
|
Monounsaturated Fat:
0
g
|
Trans Fat:
0
g
|
Cholesterol:
0
mg
|
Sodium:
0
mg
|
Potassium:
0
mg
|
Fiber:
0
g
|
Sugar:
0
g
|
Vitamin A:
0
IU
|
Vitamin C:
0
mg
|
Calcium:
0
mg
|
Iron:
0
mg