Baked Purple Kale Chips Recipe
These baked kale chips are as good as they look. Crispy, healthy, and flavorful they satisfy that similar salty crunchy snack fix of a cracker or potato/tortilla chip.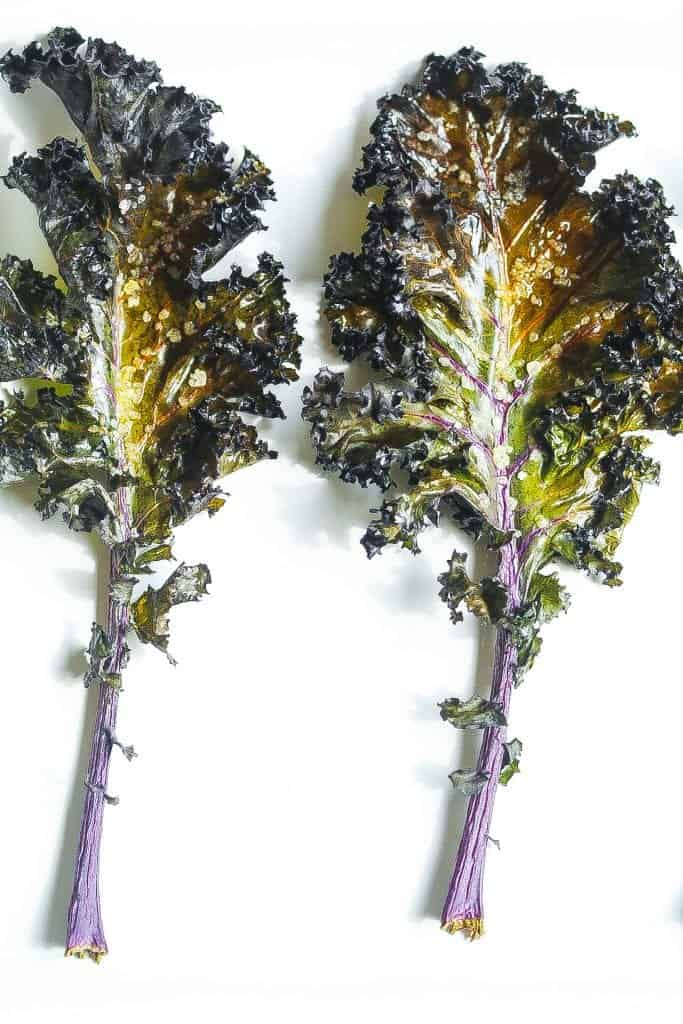 My son when he was much younger came home from school one day and asked if we had any kale chips. My first reaction was what does a Chicago city kid know about cow chips. It became storytelling time and I shared my glorified tales of my childhood neighbor Fred Ferguson's prowess as cow chip tossing champion. I couldn't understand why he was giving me the 8-year-old equivalent of a wtf look. When I finished what I thought was a fascinating tale of a true black cowboy he looked at me, and said, I'll ask mom. As a side note, though I grew up a city kid, there were pockets of old-school rural East Texas dispersed throughout the neighborhood. It was nothing to see real black cowboys rolling through the park on horseback geared up in cowboy hats and boots. My guy Fred represented that click.
My wife later passed to me my son's school newsletter which detailed the fact that "kale chips" would be on the menu as part of the school lunch. I know I know, kale chips for school lunch are kind of extraordinary. My kids at the time attended a local Public Arts Magnet School. We had a very progressive principal and great parent community which included several of Chicago's top chefs. This combination led to a broader definition of the arts to include culinary arts. So once a month Chicago area chefs worked with the school's faculty to create an integrated curriculum that included food. For example, a social studies lesson may include food sourcing. My son given his culinary interests was chosen to be secretary at the planning meetings so he sat in on discussions between chefs and teachers regarding lesson planning.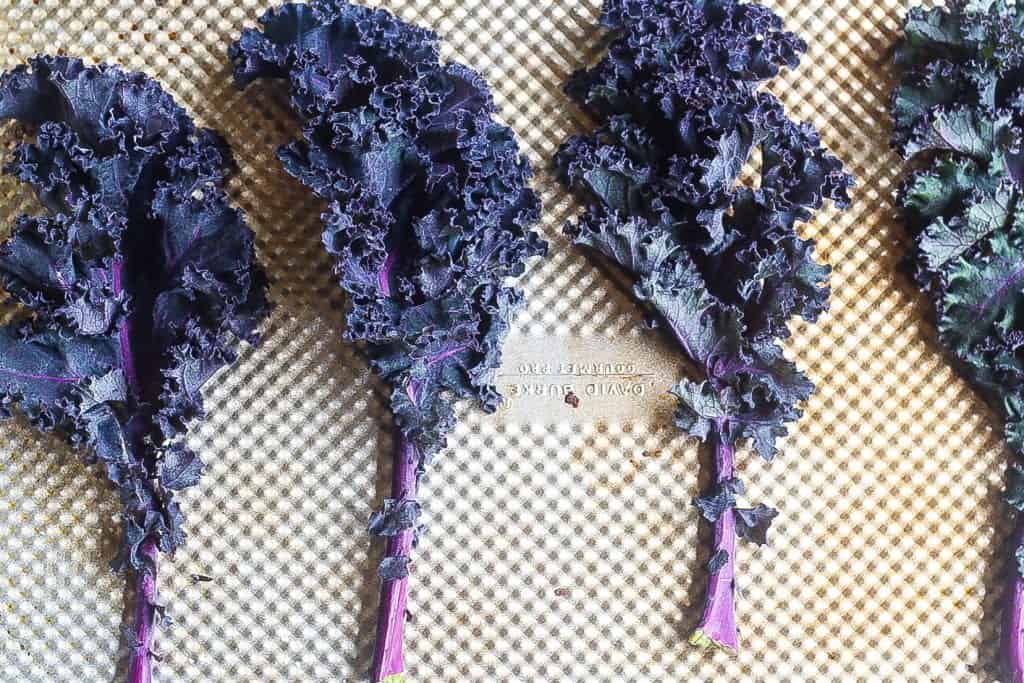 Now that I was grounded in kale chips instead of dried cow dung discs I went into the backyard and harvested some purple kale from the garden. Though I was excited to share the Herculean feats of my neighbor Fred Ferguson slinging cow dung with my son, kale chips was a much easier conversation to digest and have with my son where the only explanation needed was to ensure him that purple kale chips would be as good as the green ones he had at school. I overlooked the fact that the tone of his questions hinted at the fact that he thought his Chicago Chef mentors were better cooks than his dear old dad. Luckily I have no ego! Given his bias it did take some convincing that using the entire leaves, stems included, would be better than using only the leafy parts. Though the stems don't have the same crunch of the leaves which are crisped to perfection when baked right, the stems present awesome and allow you to eat the kale chips on a stick as you would a corn dog, lollipop, or cotton candy. Explained in these terms to an 8 year old nets no complaints. Now if you're thinking of making kale chips for on-the-go then you should remove the stems as they don't fit easily into plastic bags/small containers.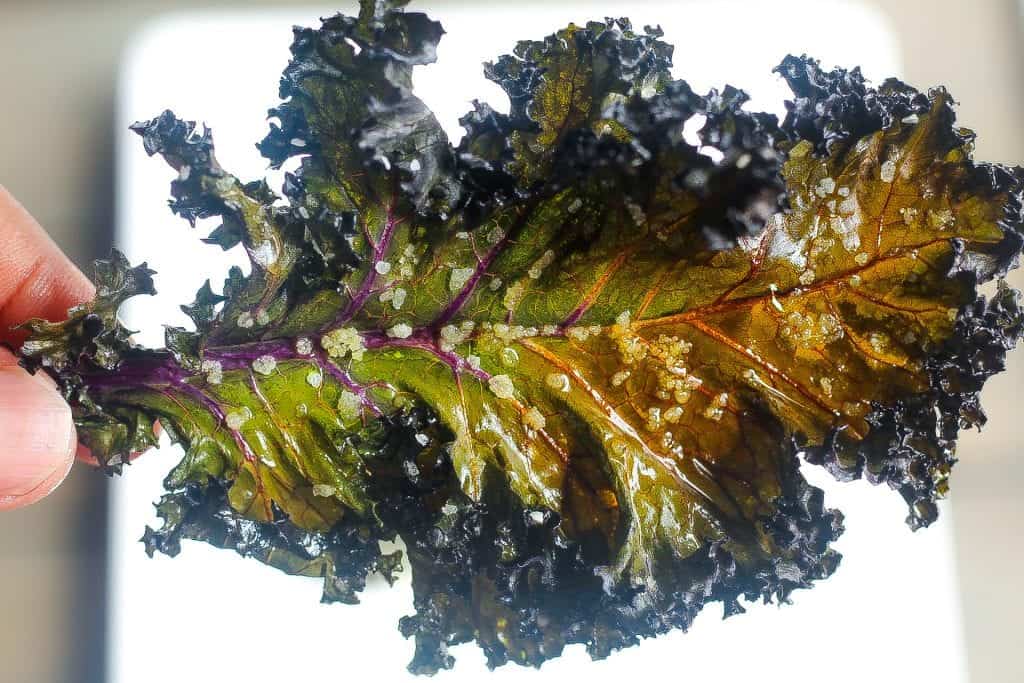 These purple kale chips are simple to make, as a matter of fact my son has long made them himself after our one lesson. All you need is fresh kale, olive oil, and sea salt. If preferred you can definitely jazz things up with different seasonings, but it's not necessary. Simple is great when it comes to this recipe as they allow the flavor of the kale to come through. Don't worry it's not the same tough, bitter flavor of raw kale. Baking the kale to a crisp removes that bitterness and creates an addictive crunch that melts/dissolves almost like a Pringle chip.
Baked Kale Chips Tips
DO NOT use too much salt. Baking will shrink the kale and concentrate the flavor.

Chips is probably a poor description, as they are more like paper crumbles or crunchy wafers.

It's easy to burn them, so be mindful of temperature and time. Ovens vary so monitor cooking.

Make sure the leaves are well dried before tossing them in oil and baking them. Otherwise they will NOT crisp well when cooking.

All varieties of kale work, but obviously will have different flavors and textures.
Recently, my son randomly asked me, "whatever happened to that black cowboy dude?" Sensing my opportunity I shared the story of the many ignored and forgotten black cowboys that helped shape the American West including Bill Pickett, "Stagecoach" Mary Fields, and Bass Reeves who was the original "Lone Ranger". Many cities nationwide host Black Rodeos to pay tribute to the culture and heritage. The city of Houston has one of the largest celebrations with it's Annual Black Heritage Day Rodeo.
For other healthy greens recipes try this Collard Greens Slaw or Vegan Gumbo Z' Herbes.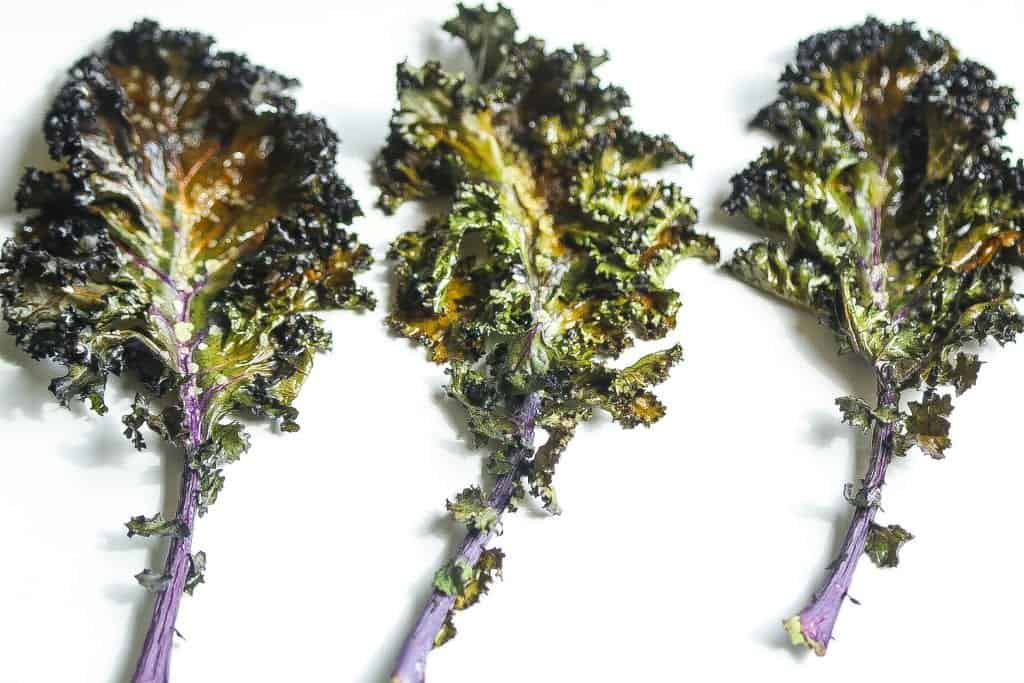 Ingredients
1

bunch

kale

1

tablespoon

olive oil

Sea salt

to taste
Instructions
Preheat oven to 300°F.

Rinse and dry the kale

Toss with olive oil in a bowl then sprinkle with salt.

Arrange leaves in a single layer on a large baking sheet lined with parchment paper (this is strictly to make clean-up easier)

Bake for 20 minutes, or until crisp. Let cool.
Subscribe To My YouTube Channel
Subscribe To My YouTube Channel for full length recipe videos. Click the bell icon to be notified when I post new videos.
My YouTube Channel