Stop playing! Make this baby kale pesto and put it on just about everything you like to grub on.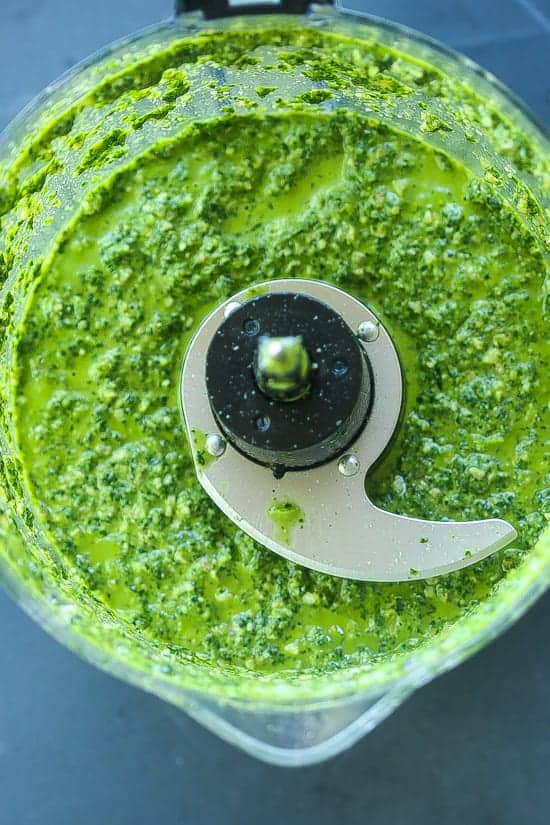 My meal prep is as basic and simple as it gets. I make a few different sauces every Sunday such as this baby kale pesto or my favorite roasted red pepper sauce which you can find here. I decide on my four or five main dish items and sides I plan to make which are typically easy prep, easy cook no fuss recipes for pasta, chicken, fish, greens of some sort and grains like rice, couscous, etc. I simply lace them with one of the mostly vegan sauces I've prepared earlier. Bam complete meals come together and are done just like that! Talk about a time-saver, listen up.
MOOD MUSIC
Though I meal prep on Sundays, I like for my Sundays to be laid back easy days spent mostly outdoors. So as mentioned before my meal prep is simple and basic and I bang through it with speed, agility, and intensity. I'm trying to get that shit done, so I can enjoy my day. Believe me, I spend enough time in the kitchen all the other days.
Electronica, hardcore rock, and banging hip hop rules the day! Run The Jewelz featuring one of my favorite emcees Killer Mike offer many tracks that fit the bill. I dialed up "Get It" to dash madly through my weekly sauces this week.
KALE PESTO INGREDIENTS
Garlic Cloves
Baby Kale and Spinach mix
Fresh herbs (basil, parsley, cilantro)
Pepitas (Pumpkin seeds)
Lemon Juice
Kosher Salt
Pepper
Olive Oil
Grated Parmesan Cheese
CONSIDERATIONS AND TIPS
Kale Pesto Recipe Options
Traditionally pesto is just basil, garlic, pine nuts, and oil. Simple ingredients, great taste, and can be used on pastas, salads, and meat proteins. I have a pretty liberal view of pesto and just go with this basic formula for what I think makes a good pesto; it's greens + herbs + nuts + garlic + oil.
This recipe calls for baby kale, but that's only because that's what I had on hand. Swish chard, spinach, beet greens, any kale varietal, etc. all work and can be plugged into the formula. Same goes for nuts; I chose pepitos but pine nuts (super pricey!) or walnuts are easy plug-ins.
Kale Pesto Flavor Profile
My herb garden is heavily skewed towards basil, parsley, and cilantro. So I used them all in this recipe, as I really like that fresh herbal flavor in my pesto. Having the additional parsley and cilantro vs. only basil adds a lighter note which I prefer. Garlic tends to be that ingredient that really can have a dramatic impact on the taste profile.
Garlic as an ingredient helps to balance things out in a pesto, but if you want you can easily make it the dominant flavor in your pesto. A little garlic goes a long way, so for a more garlicky pesto bump up the number of cloves to at least three.
Olive oil matters in pesto! Don't skimp on the good stuff and I'm not talking price necessarily but more so flavor. For example, I keep two types on hand - one basic bland one for everyday stovetop cooking and then another I use as an ingredient in recipes for vinaigrettes, pesto, etc. where the flavor is critical to the dish. You don't have to break the bank, but just choose one that has a flavor you like.
Cooking/Meal Prep Tips
Cleanliness is everything! Unless you prefer a dirt grainy mouthfeel in your pesto, take the time and clean the greens and herbs well before blending. Use a good salad spinner to dry them or go old school and just use paper towels

Toast the nuts first in a small skillet over low heat first regardless of what types you use. Be careful not to burn them.

Chop up your ingredients well, especially if you're using larger oily nuts which tend to release their oils when processed creating a more pasty consistency in your pesto.

I excluded parmesan cheese which is a common pesto ingredient as I wanted to keep this vegan. If you decide to include cheese just be sure to grate the cheese into the pesto after the blending process.
Make more pesto than you need. It freezes just fine so you can have on hand for later dishes. I have these large rubber ice cube trays commonly used for chilling cocktails.

If using in leftovers remember pesto doesn't heat well (it will brown) so let it thaw and come to room temperature then heat the food you plan to use with it if necessary.

For a nut-free option use hemp seeds which also have many important health benefits including being a great source of plant-based protein. For more information on hemp seed health benefits click here.
Food Pairings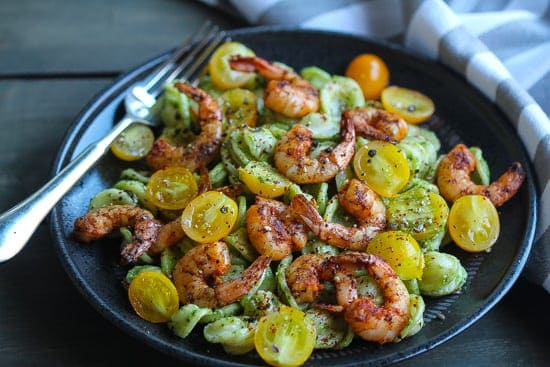 MORE RECIPES
MAKE THIS RECIPE
If you make this kale pesto recipe or any other from the site, please come back and leave me a comment below with your feedback. Definitely take a photo of the dish and be sure to tag #foodfidelity so that I can see them.
You can also keep up with my food exploits as well as original recipes! You can find me on Instagram, Facebook, Twitter, and Pinterest. If you like any of the music you find on the site, visit me at Spotify to find curated monthly playlists.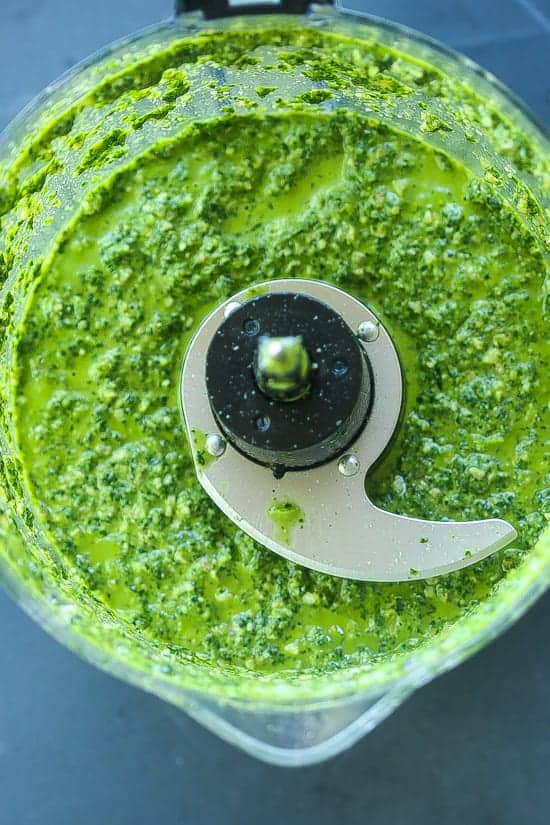 Ingredients
2 to 3

cloves

garlic

chopped

3

cups

pre-packaged baby kale and spinach mix

1

cup

mix of fresh basil

parsley, and cilantro

¼

cup

pepitas

pumpkin seeds, toasted

1

whole

lemon

juiced

1

teaspoon

kosher salt

1

teaspoon

ground pepper

¼

cup

extra-virgin olive oil

¼

cup

grated Parmesan cheese

optional
Instructions
In a food processor, add the garlic, baby kale leaves, herbs, lemon juice, salt and pepper. Turn on the food processor and drizzle in the oil.

Add the pepitas and process until the pesto reaches your desired consistency, stopping to scrape down the sides as necessary. Taste and adjust by adding more lemon, salt or pepper.
Notes
Toast the nuts first in a small skillet over low heat first regardless of what types you use. Be careful not to burn them.
Chop up your ingredients well, especially if you're using larger oily nuts which tend to release their oils when processed creating a more pasty consistency in your pesto.
Nutrition
Serving:
0
g
|
Calories:
99
kcal
|
Carbohydrates:
3
g
|
Protein:
3
g
|
Fat:
9
g
|
Saturated Fat:
2
g
|
Cholesterol:
3
mg
|
Sodium:
349
mg
|
Potassium:
148
mg
|
Fiber:
1
g
|
Sugar:
1
g
|
Vitamin A:
2695
IU
|
Vitamin C:
31
mg
|
Calcium:
79
mg
|
Iron:
1
mg
Subscribe To My YouTube Channel
Subscribe To My YouTube Channel for full length recipe videos. Click the bell icon to be notified when I post new videos.
My YouTube Channel