Related Posts:
Alright, y'all! Get ready to tantalize your taste buds with a dessert that'll have you swooning with delight. Today, I'm bringing you a classic treat straight from the heart of Mexican cuisine: Fresas con Crema! Picture this: plump and juicy strawberries, nestled in a luscious bed of creamy goodness.
It's a dessert that captures the essence of indulgence and the vibrant flavors of summer all in one delightful spoonful. This beloved Mexican dessert is a symphony of sweet and creamy, a melody of freshness and richness that'll leave you craving more. So sit back, relax, and get ready to dive into a world of pure dessert bliss with Fresas con Crema.
If you're ever in the mood for a delicious, classic Mexican dessert, try fresas con crema aka Mexican strawberries and cream. This quick dessert dish is made with fresh strawberries and cream, and it's the perfect sweet treat for a hot summer day.
Plus, it's really easy to make! So if you're looking for something simple and tasty, give fresas con crema a try. You won't regret it.
This popular Mexican dessert is easy to make, but hard to shake after trying a spoonful.
Despite its elegance Fresas con crema comes together in no time, as in ten minutes. You'll be craving it even on a cold day as it makes for a heavenly, sweet, hyper-delicious dessert or snack.
You can have a delicious, indulgent and easy dessert with less than five simple ingredients in almost the same amount of minutes.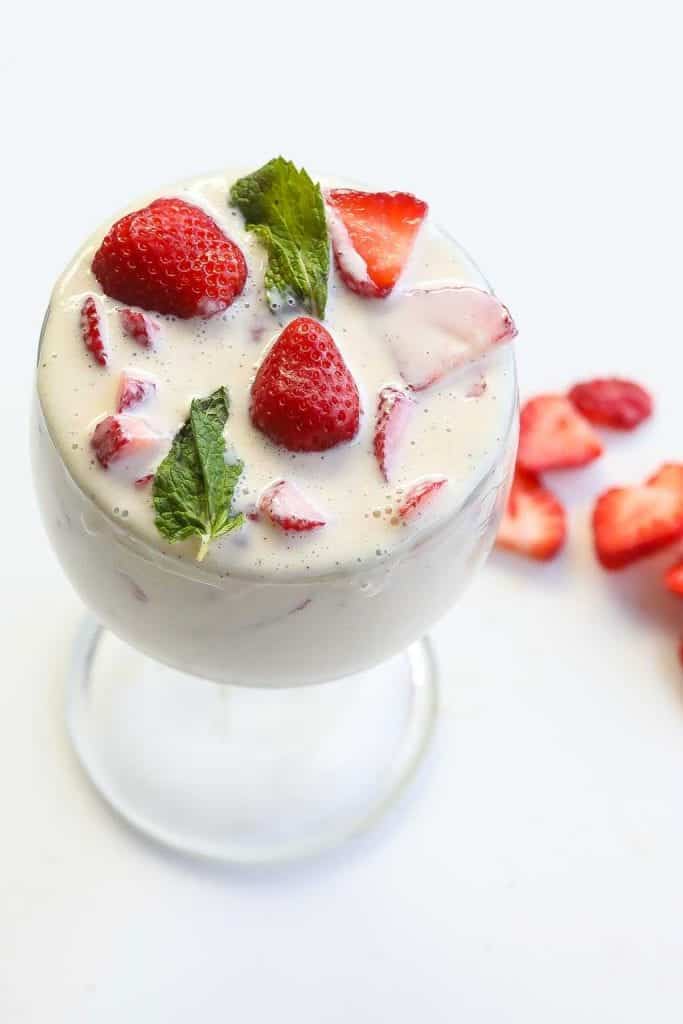 fresas con crema inspiration
I've been known to hit a Mexican flea market or two on occasion. The desserts are a big draw for me. One of my favorites that I can always find on hand is the fresas con crema or strawberries and cream as I call it given my very limited Spanish.
I have as many culinary alias names as rapper Ghostface Killah has personas; Lorenzo Wang, Denzel Rao, and Jamal Fernandez to name a few.Being a Texan I'm more often in a Jamal Fernandez state of mind which is the impetus behind this Mexican Strawberries and Cream recipe.
I had a bunch of strawberries from my weekly Farmers' Market haul and that sweet and creamy Fresas Con Crema flavor is perfect on a hot Texas summer day.
Beats and Eats (music to pair with fresas con crema)
Fresas con crema is a classic but feels brand new each time you eat it. In this way, it's like you're updating the recipe every time you make it. It's the same way I feel every time I hear a Ghostface track.
He makes classic old school beats feel new and at minimum refreshed or even refreshing depending on how you see it. The song "Holla" is a perfect example. It makes you fall in love all over again with the Delfonics' classic song "La La La Means I Love You."
What is fresas con crema
It's a simple dessert as common in Mexico towns as apple pie in America. It's basically a three-ingredient sweetened strawberries and cream dish that is rich, creamy, and refreshing.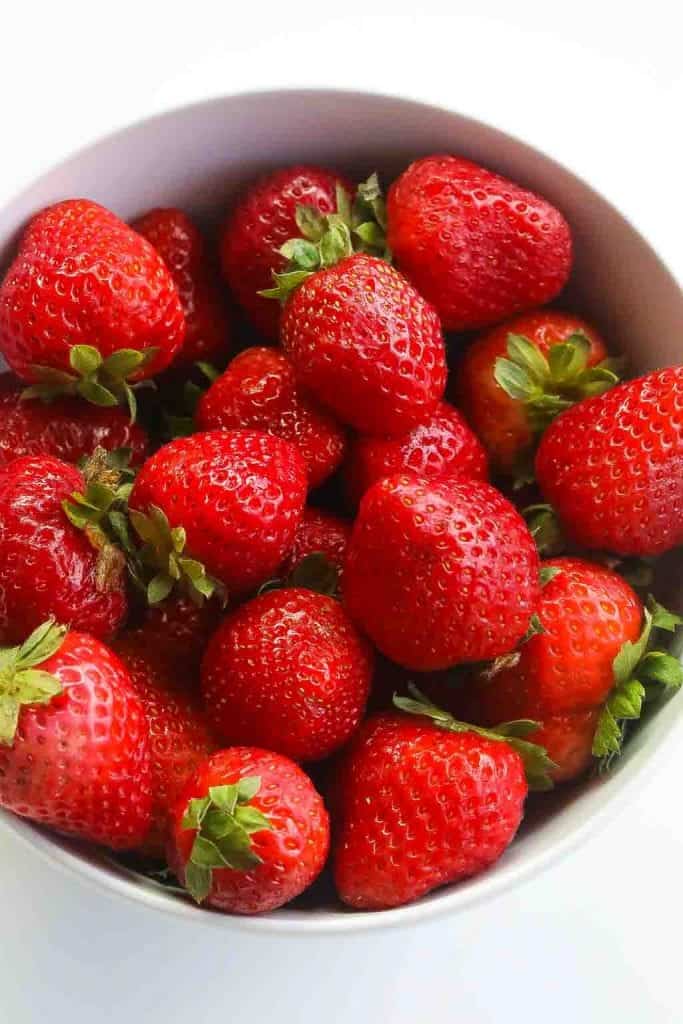 Fresas con Crema Ingredients
Strawberries with Cream is one of the easiest Mexican desserts to make but don't let that fool you because….Fresas con Crema is by far one of the most delicious desserts you will ever make. Key ingredients include: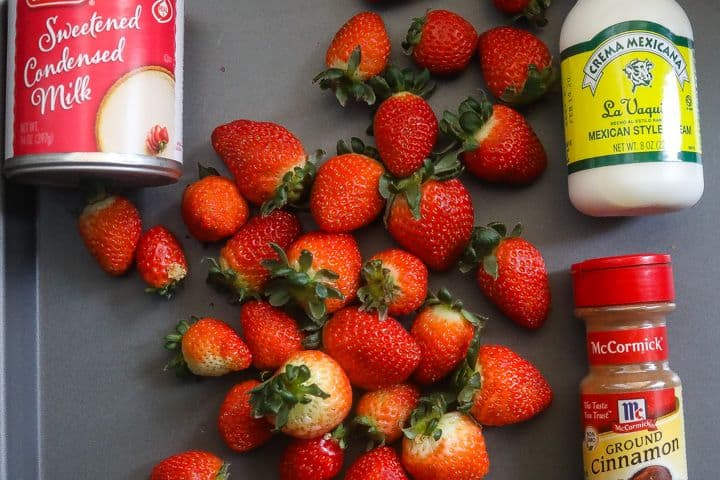 How to make fresas con crema (step by step)
Step 1: Make the Sweet Cream Mixture
In a mixing bowl mix the crema, condensed milk, and cinnamon in a bowl. Taste sweet cream sauce for sweetness. Add more condensed milk if needed. Set aside.
Step 2: Prepare the Fresh Strawberries
Cut strawberries into thin slices.
Wash strawberries with cold water from the faucet.
Step 3: Assemble in serving glass
Add in layers of the strawberries then the cream mixture, strawberries, and more cream sauce again.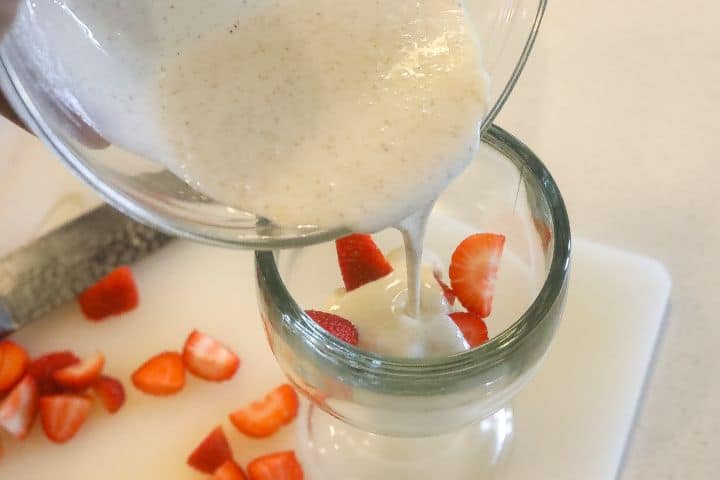 Step 4: Enjoy!
What better way to end the barbecue with a delicious treat after munching on ribs, potato salad, and baked beans lol.
Serve immediately!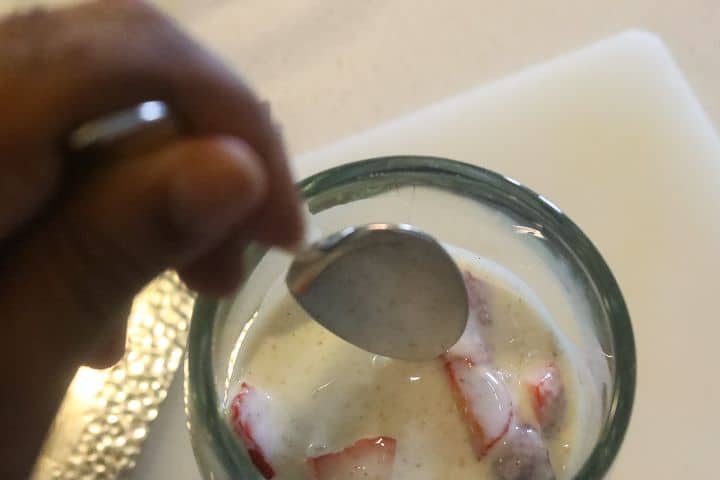 Serving Suggestions:
This is purely refreshing dessert, indulgence material. It's perfect on hot days, but so good I make it during the winters. Serve after a spicy dish like any of the following:
Frequently Asked Questions (FAQs) About Making This Mexican Dessert Recipe
What is sweetened condensed milk?
It is a thick, super sweet concentrated milk. Imagine regular cow's milk with the water removed and sugar added. I don't recommend drinking it however. The sugar is added to make it more shelf-stable.
Are sweetened condensed milk and evaporated milk the same thing?
I remember the first time my grandmother sent me to the store for sweetened condensed milk I returned with Evaporated Milk. They look the same and are even packaged similarly.
This was before the days of cell phones so it wasn't like I could call home. So of course I guess, and guessed wrong which netted me a few choice words from my dear Granny. I learned that granny was extremely tolerant except for when it came to her sweet potato pie sweeteners.
We don't have many shelf-stable products in the house, but it's not uncommon to find sweetened condensed milk. It's one of those habits from my childhood I haven't been able to shake.
My grandmother kept that stuff in the pantry and used it for everything from soul food pies and cakes to coffee. My brother and I would fight over who got the lid or leftover can as we licked them clean for that thick, sticky goodness.
The loser would always holler lovely brotherly insults. So as I went Jamal Fernandez mode, sweetened condensed milk was the sweetener of choice for this version of strawberries and cream.
Can I use whipped cream instead of sour cream or Mexican crema?
While the traditional recipe calls for sour cream or Mexican crema, some variations use whipped cream as a substitute. Whipping cream will add a lighter and fluffier texture to the dessert.
Can I prepare Fresas con Crema in advance?
Yes, you can prepare the components of Fresas con Crema in advance. However, it's best to assemble the dessert shortly before serving to maintain the freshness of the strawberries and the creaminess of the sauce.
Q: Can I use other fruits instead of strawberries?
Absolutely! While thin slices strawberries are the traditional choice, you can experiment with other fruits such as raspberries, blueberries, or diced mango to create your own variation of Fresas con Crema. I prefer fresh berries
Expert
tips for cooking fresas con crema
Making A Healthier Version Of This Fresas Con Crema Recipe
If you're looking to make a healthier version of Fresas con Crema, here are a few tips to consider:
Use a lighter creamy base: Instead of using traditional sweetened condensed milk and sour cream or heavy cream, you can opt for lighter alternatives. Substitute the sweetened condensed milk with a natural sweetener like honey or maple syrup. For the creamy element you can substitute plain Greek yogurt or a low-fat sour cream. These options will reduce the overall fat and calorie content while still providing a creamy texture.
Add a hint of citrus: Instead of relying solely on sweetness, you can enhance the flavor profile by adding a splash of citrus juice or zest. Lime or lemon juice adds a refreshing tang that balances the sweetness and brings a burst of flavor to the dessert.
Serve smaller portions: Controlling portion sizes is a key factor in making any dessert healthier. Instead of large servings, serve Fresas con Crema in smaller bowls or cups to enjoy the flavors without overindulging.
For other Mexican inspired dishes try one of these recipes:
For similar recipes try these:
Oatmeal Cooked In Orange Juice
Make This Recipe
And there you have it, folks—the grand finale to our sweet symphony: Fresas con Crema. From the first luscious bite to the very last, this Mexican delicacy has taken us on a soulful journey of flavor and decadence. The ripe, succulent strawberries dancing with the velvety waves of cream—it's a match made in dessert heaven.
Each spoonful delivers a burst of freshness, a hint of tartness, and a silky smoothness that melts on your tongue. Fresas con Crema is more than just a dessert; it's a celebration of the simple joys in life, a reminder to savor every moment, and an invitation to indulge in the pleasures of good food. So gather your loved ones, embrace the sweetness that life has to offer, and treat yourself to this delightful masterpiece.
If you make this quick and easy traditional Mexican dessert recipe please come back and leave me a comment below with your feedback. Definitely take a photo of the dish and be sure to tag #foodfidelity so that I can see them.
You can also keep up with my food exploits as well as original recipes! You can find me on Instagram, Facebook, Twitter, and Pinterest. If you like any of the music you find on the site, visit me at Spotify to find curated monthly playlists.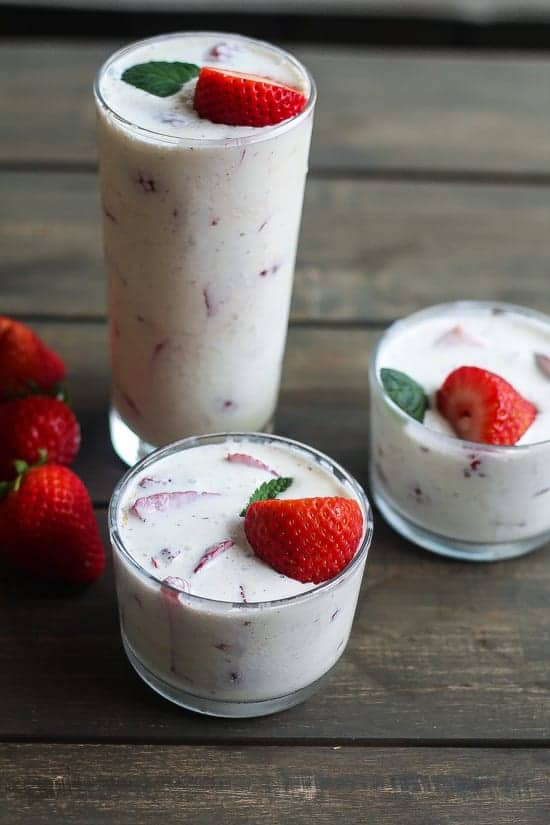 Ingredients
3

cups

of strawberries

rinsed and sliced

1

cup

Mexican cream

4

tablespoons

condensed milk

1

teaspoon

ground cinnamon

Fresh mint for garnish
Instructions
In a bowl, mix the cream, sweetened condensed milk and cinnamon. Taste for sweetness. Add more condensed milk if needed

Divide the cream mixture into 4 serving cups and add the strawberries mixing well. Garnish with more strawberries and fresh mint or basil.
Notes
Sugar is a perfect substitute for condensed milk. Use between ⅓ -½ cup depending on desired level of sweetness.
Fresh ripe strawberries are the key to to making high-quality fresas con crema. So hold up for strawberry season to use the absolute freshest strawberries! Go for the ones that are red all around showing little to no whites near the base.
Stick to fresh, frozen strawberries are a hassle. When they defrost they add a lot of liquid to the cream.
Thinly slice the strawberries, but be ready to eat immediately after cutting, because the countdown for the sweetness to dissipate starts as soon as you slice them.
Definitely go with Mexican crema, which you should be able to find in most grocery stores. It will be refrigerated but not in the expected dairy aisle. I find it most often near chorizo and Mexican queso. Creme fraiche and plain Greek yogurt could also work in a pinch
Use heavy whipping cream as a substitute vs. regular sour cream. Most sour creams will add too much tanginess and in some cases salt.
Taste and adjust for sweetness with either more sweetened condensed milk, sugar, or honey.
I'm partial to strawberries, but if you need to substitute other fresh fruit options I like peaches, nectarines, plums, or even other berries like blackberries, blueberries, or raspberries.
For increased complexity of flavor consider other adds like natural vanilla, honey, or maple syrup. Vanilla extract is also perfectly ok for ingredient substitutions. I occasionally will add some savory spicy elements with various types of chili powders. Ancho chili powder is a favorite.
For a bit more texture, add granola to get some crunch in the dish. Coconut flakes or nuts like sliced almonds also are a welcome addition.
Nutrition
Serving:
0
g
|
Calories:
190
kcal
|
Carbohydrates:
21
g
|
Protein:
4
g
|
Fat:
11
g
|
Saturated Fat:
1
g
|
Polyunsaturated Fat:
1
g
|
Monounsaturated Fat:
1
g
|
Cholesterol:
36
mg
|
Sodium:
264
mg
|
Potassium:
225
mg
|
Fiber:
3
g
|
Sugar:
15
g
|
Vitamin A:
322
IU
|
Vitamin C:
64
mg
|
Calcium:
166
mg
|
Iron:
1
mg
Subscribe To My YouTube Channel
Subscribe To My YouTube Channel for full length recipe videos. Click the bell icon to be notified when I post new videos.
My YouTube Channel