Watermelon radish paired with berry cream cheese on toast. This is a flavorful and healthy take on breakfast toasts. It requires little time and cooking so you can get your day started quickly.
The combination of fresh peaches, fluffy cream cheese, and peppery crunchy watermelon radishes makes for a wonderful eating experience.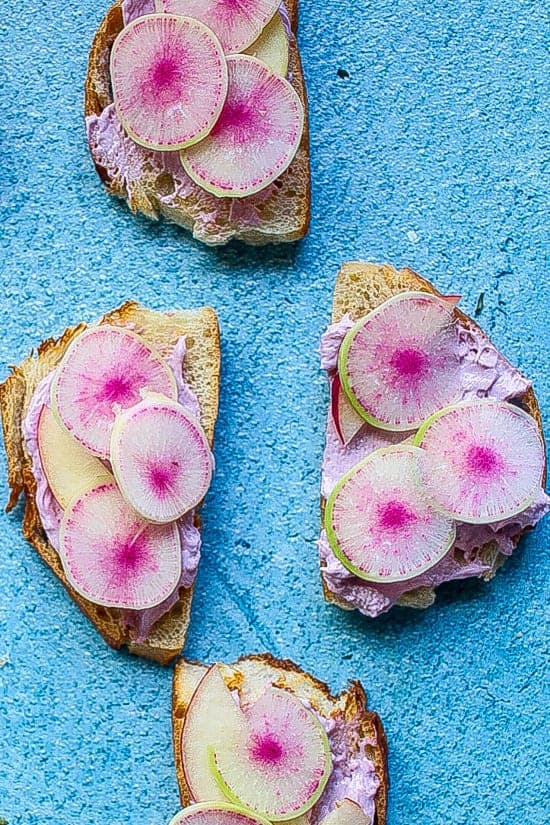 MOOD MUSIC
I've always made it point to eat breakfast, but these days now it seems like breakfast has a greater purpose than just providing fuel to get up and get out to do something. Lately, as I've been in full dream fulfillment mode, I've been waking up happy, impatient, and anxious after a night of chasin my dreams in my sleep. Breakfast now plays the role of grounding me mentally in addition to being fuel so that I can take the day on creative minded, mentally stimulated, and in attack mode with things under control.
WATERMELON RADISH TOAST INGREDIENTS
Whole grain bread
Berry Cream Cheese Spread
Peach
Watermelon Radish
BREAKFAST CONSIDERATIONS
Now I will admit that my breakfast habits have allowed me to develop some expertise in smoothie making and oatmeal cooking. More often than not I combine both such as this Oatmeal Blueberry Smoothie. Since this post is actually a recipe for watermelon radish toast, consider my smoothie and oatmeal comments a promo of future things to come.
The current trend in breakfast is avocado toast. Cream cheese on toast is a lot cheaper than avocado on toast. I've discussed previously that toast creativity has always been a kids' innovation. In my younger days, we made butter and sugar toasts. My kids have many versions of breakfast toasts with fruit. This watermelon radish toast was actually influenced by one of my kid's many toast versions.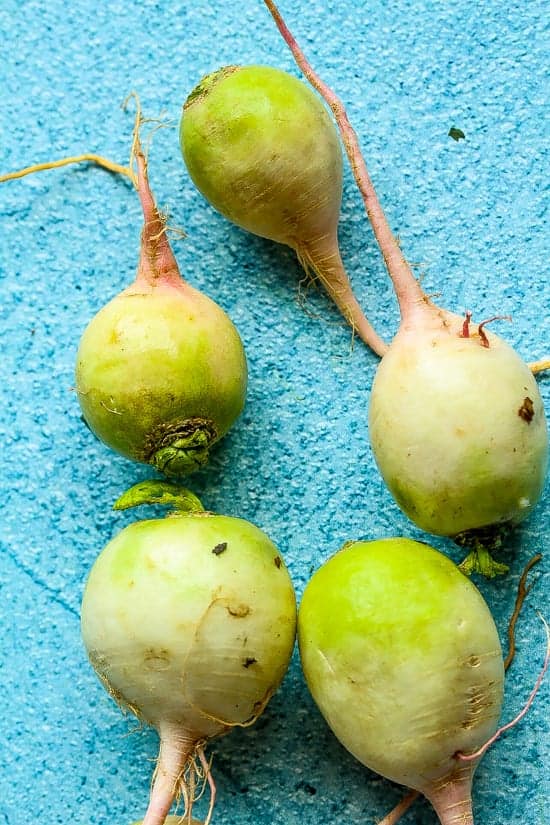 I'm always looking for ways to get more watermelon radishes on my plates. For one their just damn colorful and I love brightening my food/dishes with colorful produce. Despite its watermelon name, they are not fruity. Instead, they add a peppery kick to any dish as well as some all-important crunch.
So this watermelon radish recipe will add a little perkiness to your morning. The radishes provide unique flavor contrast to the tart and sweet peaches and berry cream cheese. I try not to overthink breakfast, especially since my brain doesn't actually start until 9 o'clock. Everybody in my house knows not to ask me anything of importance in the a.m. as even though I'm an early riser, my brain has about a 3-hour lag.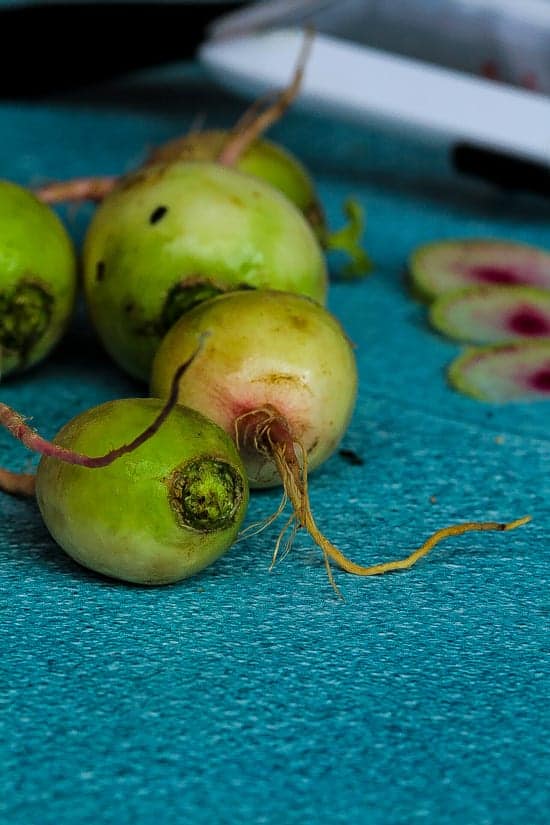 Watermelon Radish Health Benefits
Watermelon radishes are low in calories (1 cup = 16 calories), primarily because it's made up of nearly 90% water also making it a "hydrating" food. Hey with such a low count you can bank your calories for lunch and dinner. They are also a rich source of vitamins including both Vitamins A and C
Watermelon Radish Toast Meal Planning Tips
Add cut pieces of the radish to an ice bath to mellow the flavor if you prefer a milder profile.
You can also diminish the intensity of the watermelon radish flavor by allowing it to sit out for a while
Avoid watermelon radishes that feel spongy when gently squeezed.
Store them in the fridge or a cool place. Note also that partially used roots will store for several days in a plastic bag if kept refrigerated. You can also pickle the leftovers as they taste great pickled!
I've never seen a clean radish. Scrub and wash them well to remove all the dirt.
MORE BREAKFAST RECIPES
MAKE THIS RECIPE
If you make this cream cheese on toast recipe or any other from the site, please come back and leave me a comment below with your feedback. Definitely take a photo of the dish and be sure to tag #foodfidelity so that I can see them.
You can also keep up with my food exploits as well as original recipes! You can find me on Instagram, Facebook, Twitter, and Pinterest. If you like any of the music you find on the site, visit me at Spotify to find curated monthly playlists.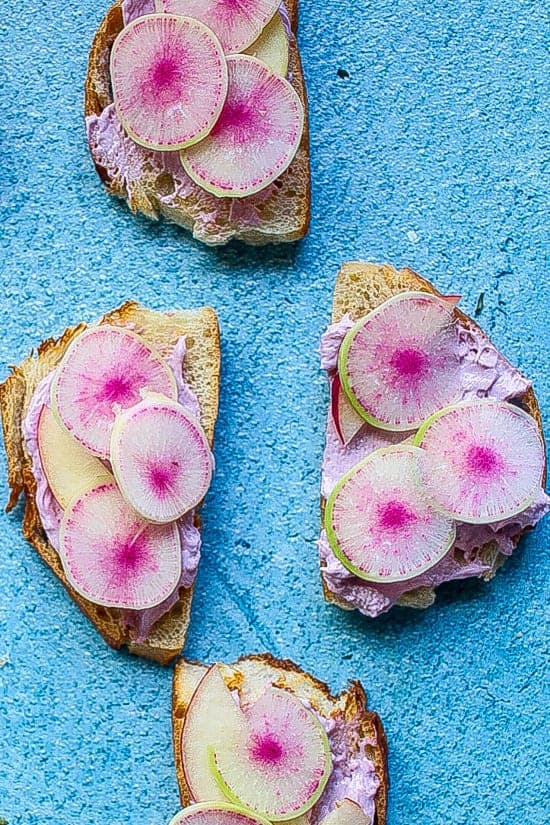 Ingredients
2

slices

whole-grain bread

2

tablespoons

berry cream-cheese spread

1

large peach

pitted and sliced thinly

1

medium watermelon radish

super-thinly sliced
Instructions
In a toaster lightly toast bread on both sides.

Layer berry cream-cheese spread on each piece of toast; top with sliced peaches and watermelon radish.

Use mandolin to evenly and thinly slice the watermelon radish.
Nutrition
Serving:
0
g
|
Carbohydrates:
0
g
|
Protein:
0
g
|
Fat:
0
g
|
Saturated Fat:
0
g
|
Polyunsaturated Fat:
0
g
|
Monounsaturated Fat:
0
g
|
Trans Fat:
0
g
|
Cholesterol:
0
mg
|
Sodium:
0
mg
|
Potassium:
0
mg
|
Fiber:
0
g
|
Sugar:
0
g
|
Vitamin A:
0
IU
|
Vitamin C:
0
mg
|
Calcium:
0
mg
|
Iron:
0
mg
Subscribe To My YouTube Channel
Subscribe To My YouTube Channel for full length recipe videos. Click the bell icon to be notified when I post new videos.
My YouTube Channel