Avocado toast recipes seem to be everywhere these days. Admittedly I'm not a "trendy" guy, but I do have those in my life such as my wife and kids, who will on occasion pull me out of the dark ages. This version of avocado toast is one of those times.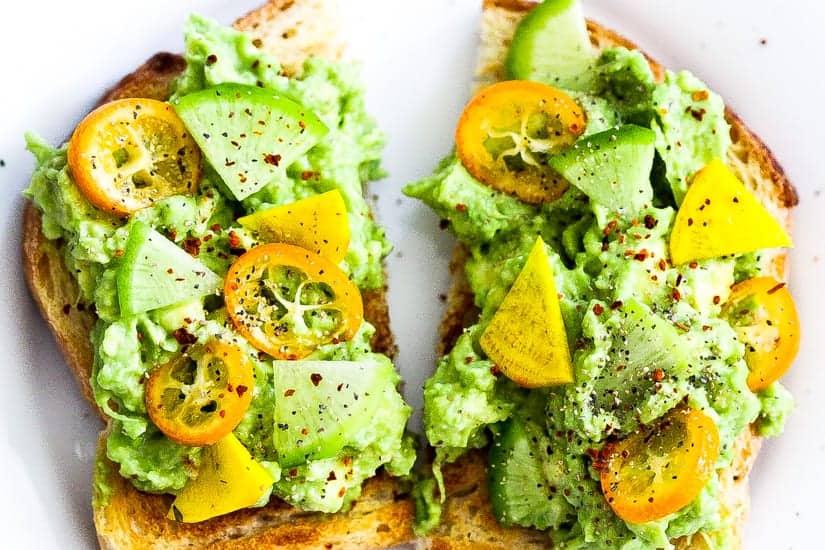 The idea of using an entire avocado as a spread on toast is one I'm not totally comfortable with. Avocados ain't cheap and in a family of four I think of avocado as "community" use. Granted part of my belief on this matter is shaped by the fact that back in the day, we had the same need for tasty, healthy and filling bread based snack, but used way more humble ingredients like bean dip or peanut butter.
My kids eat a lot of toast, particularly after they're gone from school and prior to dinner. They say I buy the worst snacks; translation no Oreos or Doritos. I do this intentionally because I want them to get in the habit of making their own from the stuff we have on hand which tends to be higher quality minimally processed. This is easy for my son who is like me in the kitchen, i.e. he makes up shit based on what's available. His creations are toast topped with peanut butter and fresh fruit or a slightly baked grapefruit half. My daughter not so much, she is more apt to follow the latest trends.
Today avocado toast is hot so she's been making that to my chagrin. Since she's spending my money, those avocado costs ain't real. They are now though after she was encouraged to create her own snack list and pay with her own loot. Avocados didn't make the cut as that sticker price stung like a mofo! However, I did appreciate what happened next. She made her case for why WE should ALL eat more avocados, offered a solution to be more economical in our avocado toast recipes, and working her baby daughter magic on dear old dad, asked me for help in developing recipes.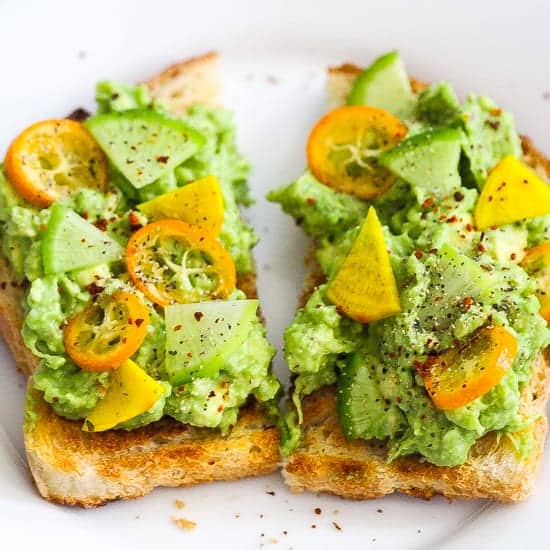 Why Avocado Toast?
I know nothing about avocado toast and roll my eyes at the thought. I'm from the world of sugar and butter toast. My brother and I would spread butter on the center of bread, toast it in the oven creating a buttery soggy center, and then layer on sugar leaving a blackened crispy crust with sweet buttery center.
So of course baby girl used my trips down memory lane shared during times of bonding against me and chastised me with calorie count estimates and pre-diabetic accusations. Then of course she lowered the boom of guilt by lamenting that she needed my support in trying to eat healthy. Then she closed with the facts on avocado health benefits: "good" fat that helps to protect against heart disease and lowers blood pressure and cholesterol, good source of antioxidant vitamin E, low in sugar and they contain fiber, which helps you feel full longer.
How to make Avocado Toast more economical?
My daughter in making her case suggested I develop a recipe that could make the avocado go farther, particularly so all four of us could enjoy. Her suggestion was to add more ingredients to stretch the recipe and to half two pieces of toasts so that every member could have a snack or appetizer noting the filling properties of avocados. So for this recipe, in addition to the base avocado, we added golden beets, green daikon radish, and citrus in the form of kumquats.
Since the daikon and beets were raw I sliced them super thin to avoid that strong bitter taste, but maintaining that crunch. For recipes like this I use a mandolin which is a en easy tool to use and guarantees uniform slices in your preferred thickness for fruits and vegetables including potatoes, beets, apples, carrots, etc. I use a simple mandolin slicer you can find here. Don't be limited to toppings I suggest in this avocado toast recipe.
These are suggestions or inspirations. I chose them to add to the health profile, to provide crunch as contrast to creamy avocado, and the citrus from the kumquats lightens the avocado sum. Lemon juice or zest would have the same effect, but the beauty of kumquats if you can find them is their skin is edible.
As I mentioned previously we eat avocado toast primarily on weeknights. However this is an easy option for breakfast as well. To cut down on time you can slice the vegetables and citrus the night before. It's also an appetizer, afterall it's just an alternative to bruschetta with avocado replacing tomatoes.
Be sure to choose just ripe avocados otherwise they will not be soft enough to smash and get the right texture. You don't want too ripe and you get that mushy mealy texture which you want to avoid as well. When choosing avocados just give them a light squeeze. There should be some give, but not too much. Also their color will help – bright green will be hard and firm; dark almost deep purple will likely be almost too soft.
Enjoy this simple, filling citrus avocado toast recipe! For other filling avocado recipes try this hummus stuffed avocado.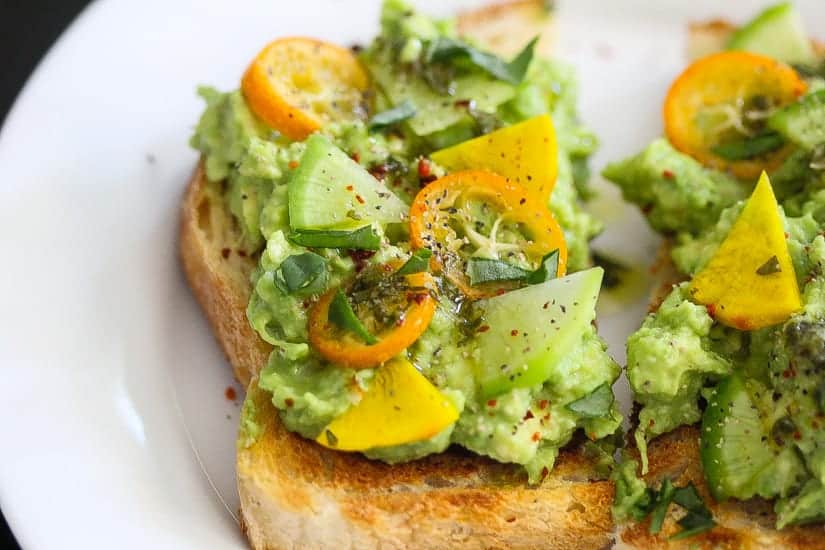 Ingredients
1

avocado peeled and seeded

1

small Golden beet

thinly sliced

1

small Daikon radish

thinly sliced

4

Kumquats

(optional)

1

tablespoon

chopped cilantro

optional

½

teaspoon

red pepper flakes

optional

salt & pepper to taste

1

slice

sourdough bread

or bread of choice
Instructions
Toast 2 slices of whole grain in toaster until golden and crispy.

In a small bowl mash the avocado adding salt + pepper to taste. Spread half of the mixture on each slice of toasted bread.

Top with beets, daikon, and kumquats

Garnish with cilantro and pepper flakes
Notes
I don't peel the vegetables since slicing so thin.
Eat as snack, appetizer, or breakfast.