Braised beef short ribs would likely be my last meal.
I'm about 75% plant based in my everyday diet, but perfectly cooked beef short ribs, oh my it's goin down! I choose them over any meat/fish option. I cook/eat a lot of different foods and generally spend a lot of time around all kinds of edibles, but it's like Goldie told Pretty Toney in that classic blaxploitation flick, The Mack, "Yo b**ch chose me!" This is how I rationalize any guilt I may have. Actually, I have no guilt, but this is in fact how I explain it to the family when I'm that one Brown who breaks from the program and they start to clown.

I don't just eat any short ribs. I'm actually quite the snob when it comes to them. Outside of Tom Coliccio's short ribs at Craft, I usually have to have a strong reco from my Culinary Cabinet which consists of a small group of similar snobs. I tend to focus on making my own, especially when an impromptu trip to my butchers at Salt and Time coincides with a beautiful selection on display. It's gotta be that their on display as it's not my way to interfere with the way of the short rib gods. Tempting fate never worked for the Greeks, so I stay in my lane.
For these ribs I tweaked the process a little bit and also adding a non-typical short rib ingredient to make the dish stand out a bit. I start the ribs off with a cold smoking before braising. This adds another level of complexity to the flavor profile. I don't smoke them too long, as I don't want the smoke to be the star and/or overpower the dish and get things off balance. I'm also a wine guy in terms of the braising liquid. I find that a nic Malbec or full bodied Cab pairs well. I added fresh fig to further elevate the dish. Admittedly, fig does come to mind when i think of braising beef, but it actually works out well. The sweetness is subtle and blends in went the rest of the flavors quite well.
Technique wise you can use a traditional approach – brown the short ribs on all sides first to release some of the flavor and slow cook in a dutch oven for a few hours in a braising liquid and with aromatics. Or you can follow similar steps but instead of cooking in a pot cook at low temperatures Sous Vide style for 24-36 hours. Both are quite effective, but nothing beats Sous Vide when it comes to slow cooking meat.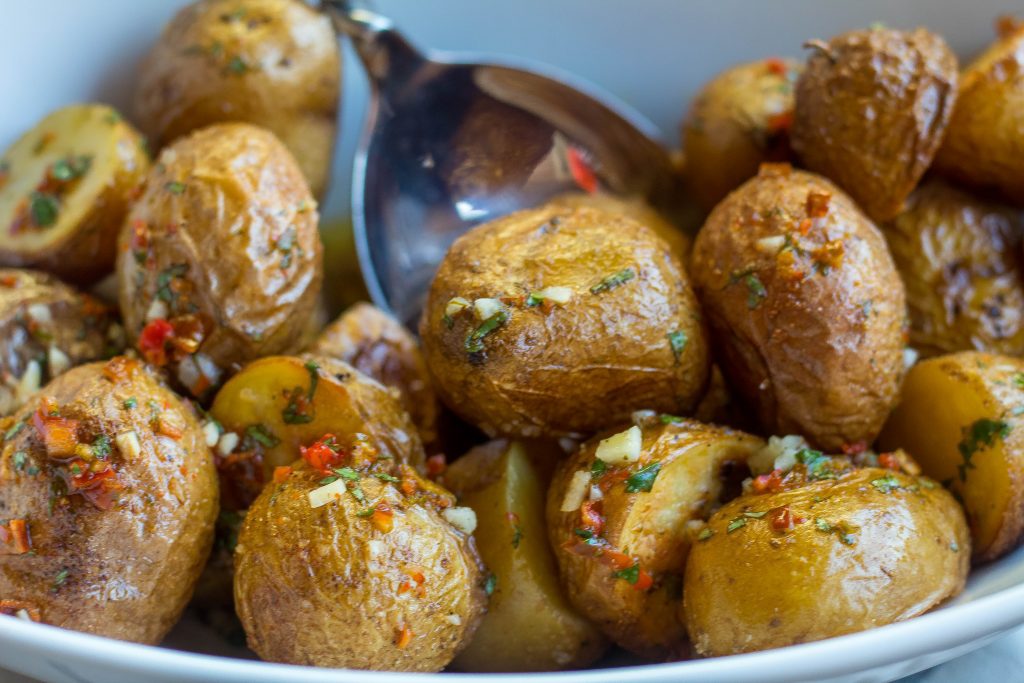 Most beef short rib recipes are paired with mashed potatoes. I'm not a big mashed potatoes guy unless its sweet potatoes or some other root vegetables, as regular potatoes tend to rely too much on butter and sour cream for flavor. I made roasted potatoes to go along with these short ribs and they work well together for a full, comforting meal.
Dope beats, fresh eats. Enjoy!
Red Wine and Fig Braised Beef Short Ribs
Print
Ingredients
4

lbs

beef short ribs

1

pound

fresh figs

preferably Black Mission, chopped into 3/4-inch pieces

1 12

oz

can of diced fire roasted tomatoes

1

tablespoon

balsamic vinegar

or to taste

1

medium shallot

chopped

1

whole Medium Onion

Diced

3

whole Carrots

Diced

2

cups

red wine

1

cup

beef broth

1/2

cup

water

1

teaspoon

salt

1

teaspoon

freshly ground black pepper

1/2

teaspoon

sugar

1

sprig fresh thyme
Instructions
Salt and pepper ribs. Set aside. Cold smoke ribs at 150-180 degree in your smoker for 30-45 minutes.

Add olive oil to large dutch oven pan and raise heat to high. Brown ribs on all sides, about 45 seconds per side. Remove ribs and set aside. Turn heat to medium.

Saute figs, shallots, balsamic vinegar and tomatoes in a skillet for 10 minutes. Remove and puree in a blender.

Add onions and carrots to the pan used to brown the ribs and cook for 2 minutes. Pour in wine and scrape bottom of pan to release all the flavorful bits from the browning. Bring to a boil and cook 2 minutes. 

Add broth, fig sauce, water, and 1 teaspoon kosher salt, sugar, and a good amount of black pepper. Mix well, then taste and add more salt if needed. Add ribs to the liquid; they should be almost completely submerged. Add thyme sprigs (whole) to the liquid. 

Put on the lid and place into the oven. Cook at 350 for 2 hours, then reduce heat to 325 and cook for an additional 30 to 45 minutes. Ribs should be fork-tender and falling off the bone. Remove pan from oven and allow to sit for at least 20 minutes, lid on, before serving.

If cooking sous vide style, place the browned ribs and the braising liquid in a ziplock back and cook at 135 degrees for 48 hours. Depending on how much water you lose in the process you may need to add more periodically over the two days.

Serve ribs with roasted potatoes, spooning a little juice over the top.
Recipe Notes
If slow-cooking sous vide cooking time is 48 hours.
Nutrition Facts
Red Wine and Fig Braised Beef Short Ribs
Amount Per Serving (0 g)
Calories 0
* Percent Daily Values are based on a 2000 calorie diet.