This grilled cedar plank salmon will wow with its color, fragrance, and flavor. The cedar smoke combined with the hibiscus based rub makes this easy grilled dish everything that is everything.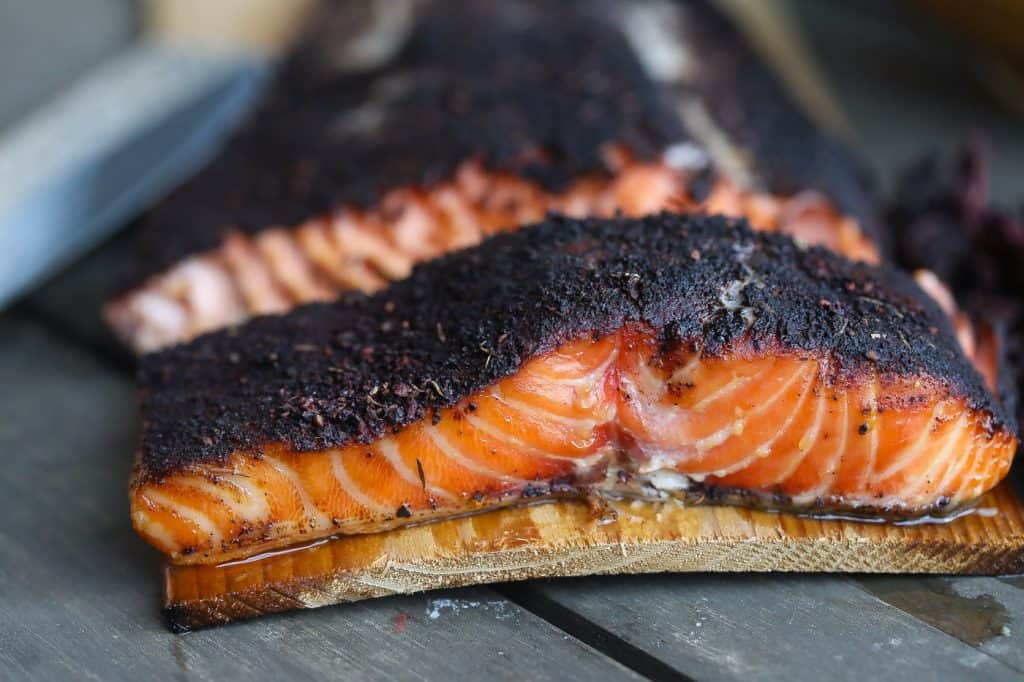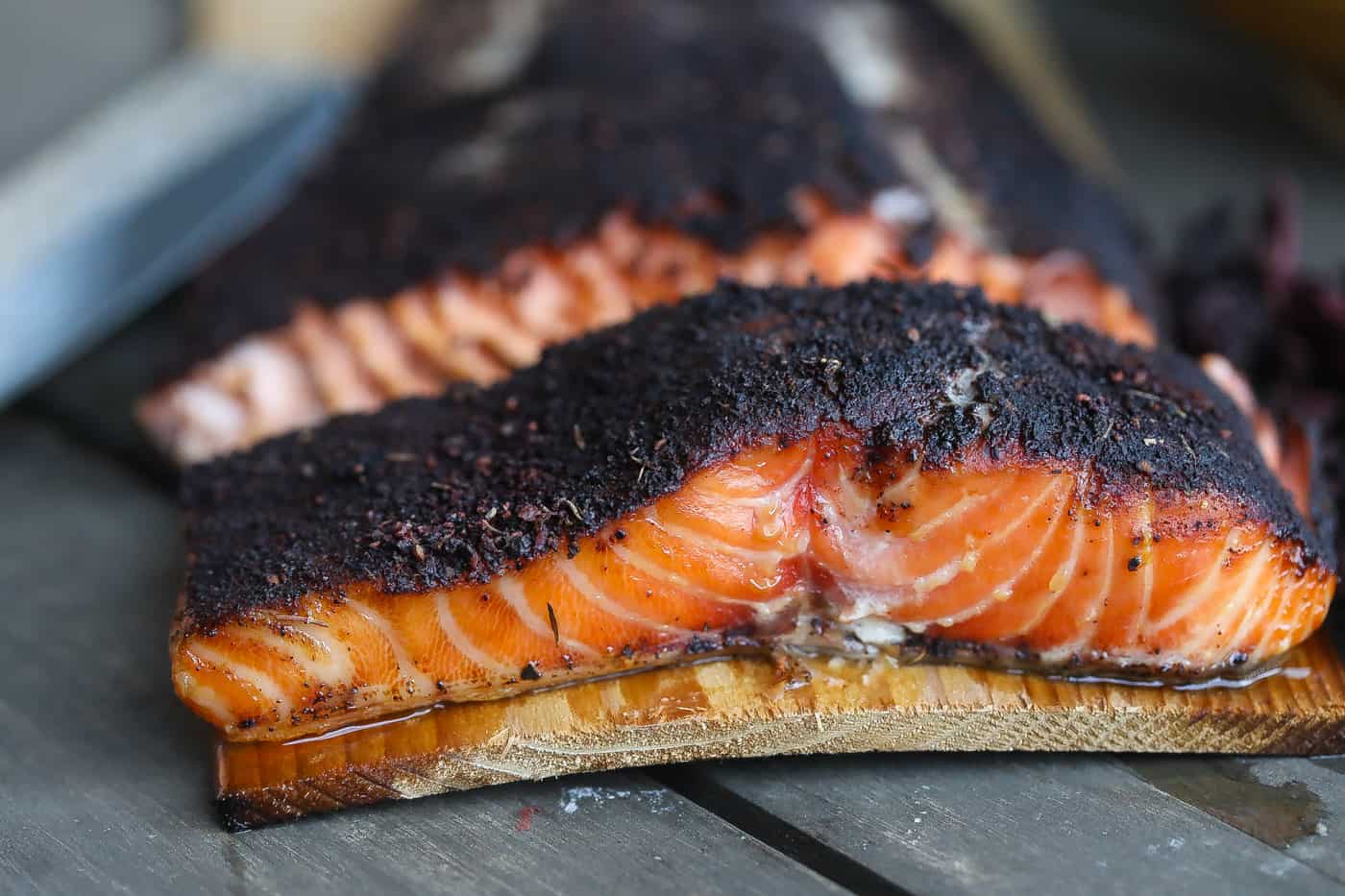 The fish has got it all. The flavor of the hibiscus combined with the chili powder is powerful, but not so much that it mutes the salmon flavor. The rub also adds a bit of texture. The cedar provides needed body armor protection while also adding that black man cool.
Grilled Salmon Ingredients
Hibiscus flowers
Paprika
Kosher Salt
Black Pepper
Garlic Powder
Ancho Chili Powder
Brown Sugar
What is hibiscus?
Hibiscus refers to the dried flowers from a hibiscus plant. These dried flowers are used to make tart dark red teas. They're common in Mexican and Caribbean drinks, particularly in Jamaica where they are used to make sorrel punch. Hibiscus has a tart flavor similar to pomegranate juice. For this recipe I grounded the dried flowers into a coarse powder and made a rub for the fish.
How To Grill Salmon On A Cedar Plank (Step by Step)
The flavor and results are complex, beautiful, and and tasty, but the prep and cook is as simple as things can get. The instructions are literally brine, rub, grill, and eat.
Step 1: Make the rub
Using a coffee grinder or mortar & pestle grind the hibiscus flowers to coarse powder. Add to a mixing bowl along with other rub ingredients and mix well.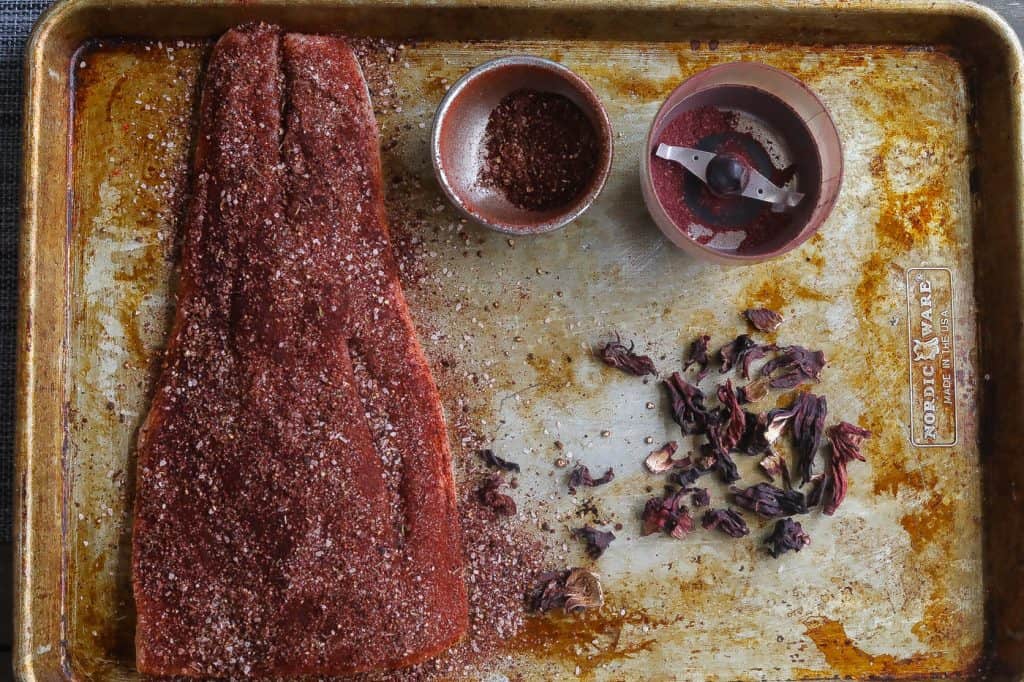 Step 2: Season the fish with rub
Generously apply the rub to the fish.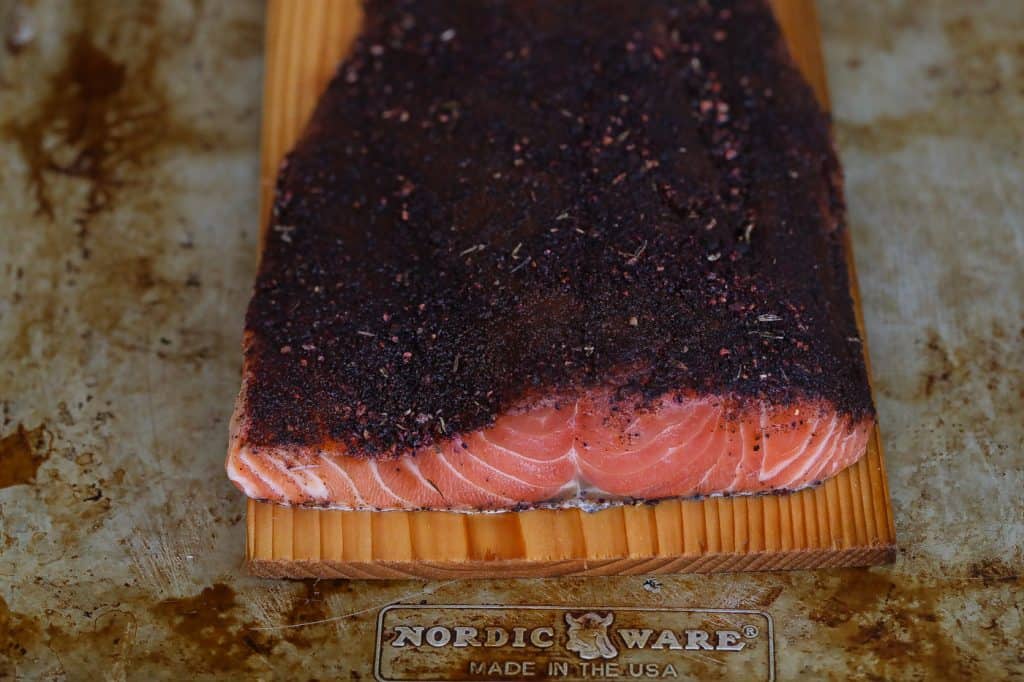 Step 3: Grill the fish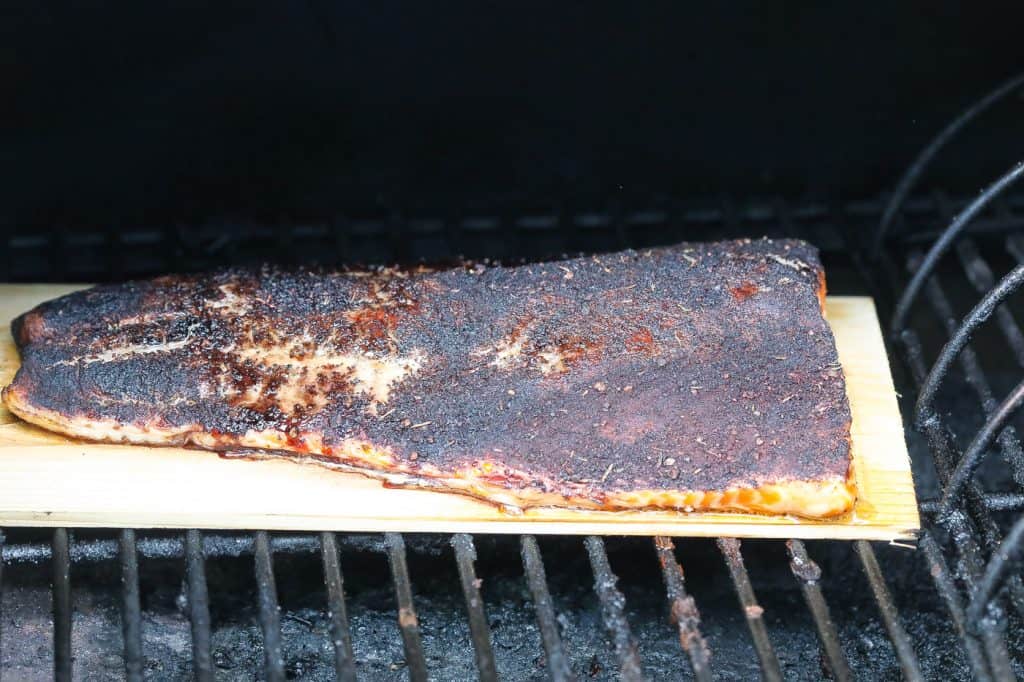 Serving Suggestions
This is great paired with rice and vegetables and rice for a nice grain bowl with salmon. Also consider as a main dish to any of the following side dishes:
Tips For Grilling Salmon On A Plank
Soak the planks in water at least 30 minutes
As an option brine the fish first to eliminate the white pulse (fish albumin) that forms when cooking fish. Not necessary but effective.
Salmon and trout (steelhead) are interchangeable in this recipe. You just want a thicker meatier cut to hold up to the heat and flavors
Don't cook at too high a temperature. 375 degrees is as high as you want to go. i stayed around 300. Anything else will cook the salmon too fast which can lead to uneven cooking with perhaps an uncooked center. Also, too fast cooking time prevents maximizing the cedar flavor.

As with any protein, allow it to reach room temperature before cooking

Splash the salmon with lime juice just before serving
Frequently Asked Questions
what if I can't find hibiscus?
I've used black and red teas in place of hibiscus before. Just go for ones that have a really floral aroma and tartness.
how can I grind the hibiscus without a coffee grinder?
The hibiscus doesn't need to be fine powder consistency; coarse is just fine. If you don't have a coffee grinder or mortar and pestle you'll just need a bowl (ceramic or metal) and a hard blunt object - the bottom of cup or smooth side of meat tenderizer will all work.
can you use planks in the oven?
Yes, but the flavor will be milder compared to grill use.
what food pairs well with plank grilling?
Fish (especially salmon) is the most common food cooked via planks. However, other foods like chicken, pork, and even hard vegetables like broccoli, portobello mushrooms, etc. all work well.
where to buy planks?
You can definitely order them online or from a specialty grilling or outdoor furniture stores, but plank grilling is so popular these days you can find at pretty much any grocery store or hardware places like Home Depot or Lowes.
can you reuse the planks?
You can definitely reuse grilling planks, but there are a few considerations before you do it. Only do it if the plank is good shape, recognizing that your second grilled item will take on the flavor from the first grilling. For second grilling you'll better off using a plank that was used for short-time grilling, unless it was used for indirect-grilling initially.
For other fish based recipes try these:
If you make this easy and delicious cedar plank salmon recipe or any other from the site, please come back and leave me a comment below with your feedback. Definitely take a photo of the dish and be sure to tag #foodfidelity so that I can see them.
You can also keep up with my food exploits as well as original recipes! You can find me on Instagram, Facebook, Twitter, and Pinterest. If you like any of the music you find on the site, visit me at Spotify to find curated monthly playlist.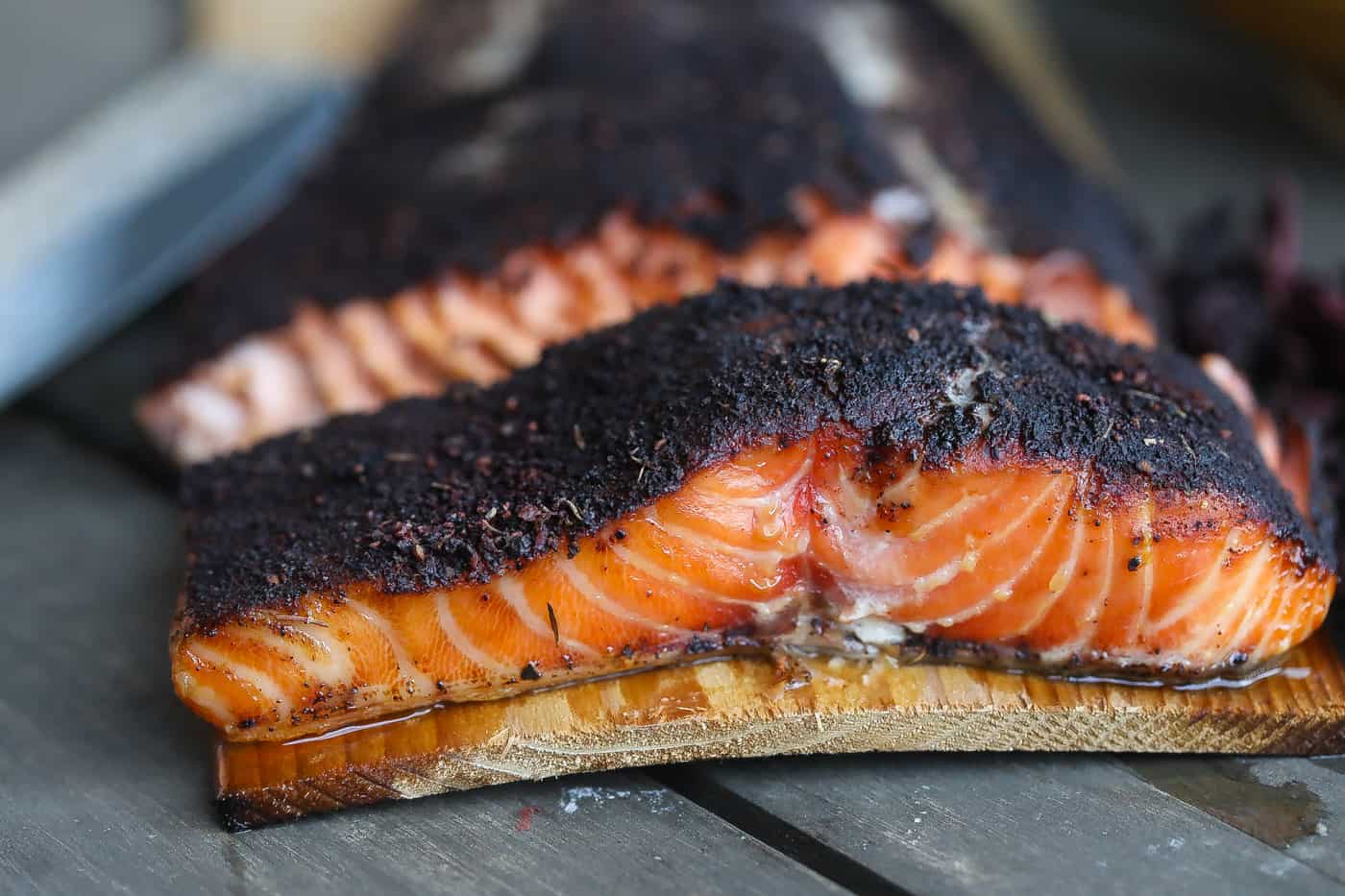 Ingredients
1

lb

Salmon fillet

½

cup

dried hibiscus flowers

¼

cup

brown sugar

2

tablespoon

kosher salt

2

tablespoon

black pepper

coarse

1

tablespoon

smoked sweet paprika

1

tablespoon

ancho chili powder
Instructions
For the rub
Grind the hibiscus flowers down to powder using a coffee/spice grinder. Add to a mixing bowl with all the other dry ingredients and mix well.

Place salmon in glass baking dish. Rub the salmon generously with the rub and refrigerate uncovered 2-4 hours. Remove fish from the refrigerator and allow to sit out until it reaches room temperature (about 30-45 minutes).

While fish is resting, soak cedar plank in water. This is so the wood burns slowly during cook time. You may need to weight the wood down with a plate or something heavy to keep it submerged fully. Soak for at least 30 minutes, but preferably an hour.

Pre-heat your grill for around 275-300 degrees. Remove the cedar plank from the water, add the salmon skin-side down. Place the cedar plank salmon in the smoker and close the lid. Smoke 15 - 20 minutes. Let cool and serve
Video
Notes
You can cook the salmon straight for 15-20 minutes if you prefer. I find that adding the rest time in between helps with texture and helps avoid the thick white proteins bleeding out the fish. Note it's not harmful by any means, but it does take away from the visual appeal. Brining fish beforehand also limits this.
Soaking the planks is critical. Not only does it prevent burning but it also serves to keep the fish moist.
Cooking time in the recipe nets medium fish with a slightly pink center. Cook longer if you prefer a more done fish.
If you don't have ancho chili powder, regular chili powder can be used.
Nutrition
Calories:
242
kcal
|
Carbohydrates:
20
g
|
Protein:
23
g
|
Fat:
8
g
|
Saturated Fat:
1
g
|
Cholesterol:
62
mg
|
Sodium:
3577
mg
|
Potassium:
693
mg
|
Fiber:
2
g
|
Sugar:
15
g
|
Vitamin A:
1604
IU
|
Vitamin C:
5
mg
|
Calcium:
49
mg
|
Iron:
5
mg
Subscribe To My YouTube Channel
Subscribe To My YouTube Channel for full length recipe videos. Click the bell icon to be notified when I post new videos.
My YouTube Channel