Simple and easy to prepare sous vide lobster tail. Fresh lobster seasoned well with jerk spices and poached in clarified butter for unique gourmet appetizer or special Valentine's/date night.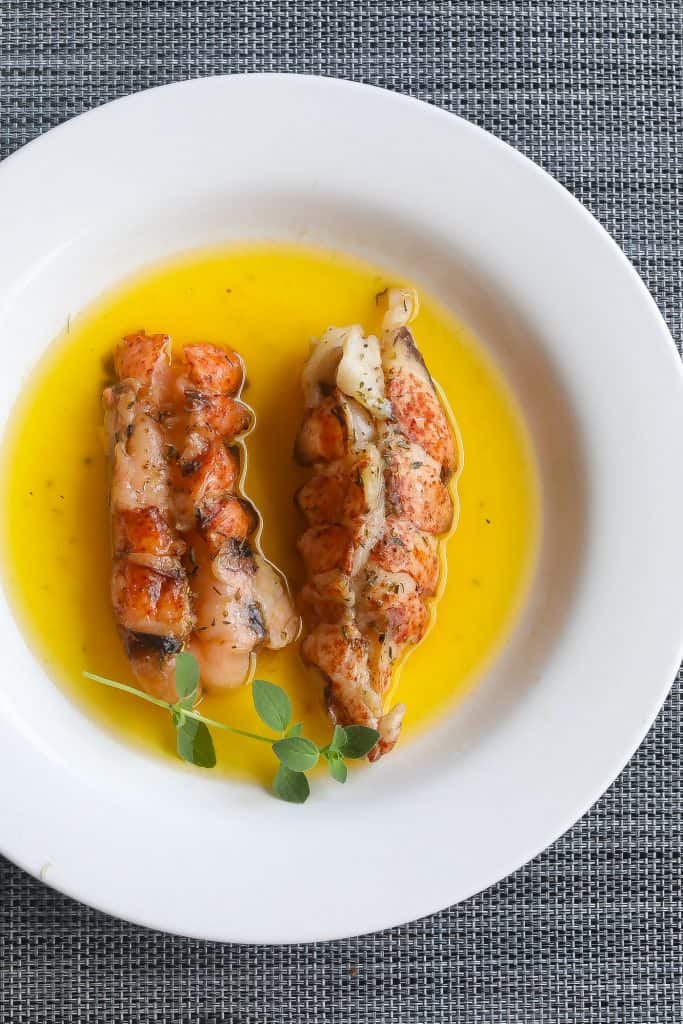 This recipe is one of my grandfather's that I created based on memory since he never wrote anything down. Pop's was a Korean War veteran and had seen the world beyond his small his small East Texas town. Because we lived in a very humble neighborhood he'd take me on field trips to Dallas' north side to get me to see beyond the hood. One of this trips was to a high-end grocery store for lobster.
Despite not being particularly busy, the fish guy ignored us - looking around and through us. Additionally, all of the customers despite clearly arriving after us, were content to skip us. They would have succeeded had my Pops not checked them and called out the fish guy. Because of circumstances of how the recipe came to be, I always associate lobster and wanting better for yourself with petitioning for a seat at a bigger table.
Poached Lobster Ingredients
How to poach lobster via sous vide (step by step)
You can't mess this recipe up it's so simple. Place seasoned lobster in a plastic ziplock bag with butter and fresh herbs then cook slowly in a water bath. Normal searing post cooking is not required for lobster.
Step 1: Remove the tail from the shell. Check-out this

simple video

if you need more visual instructions
Step 2: Add wooden skewers to keep the tails straight when cooking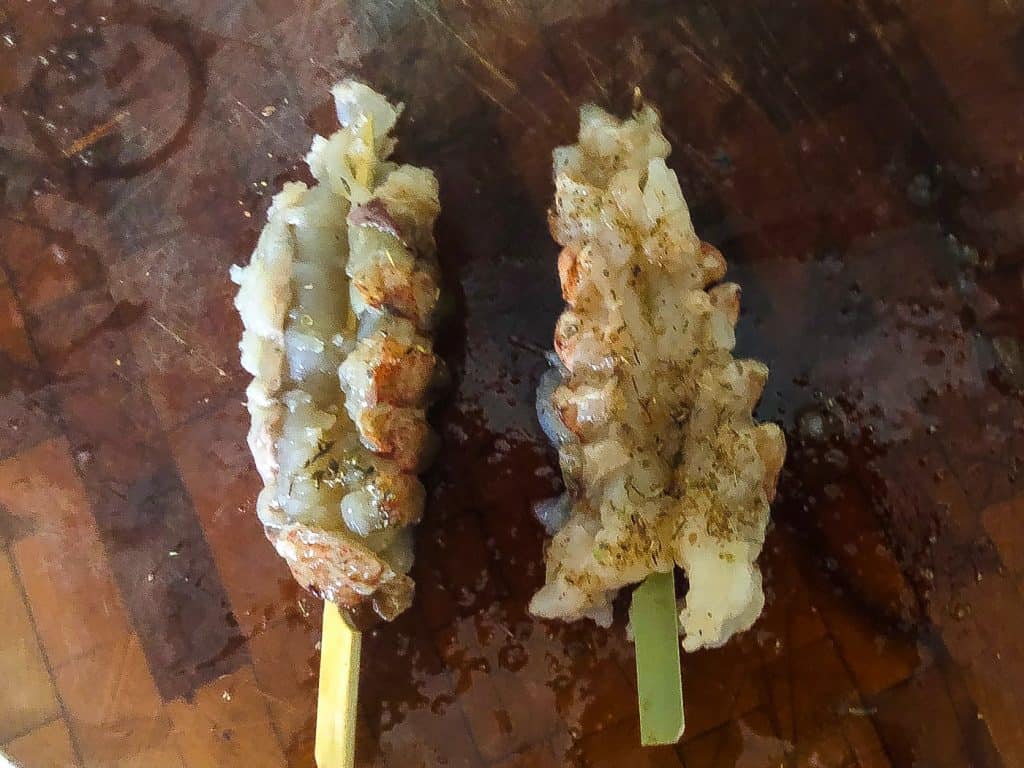 Step 3: Cook tails sous vide (130 degrees F for 45 -60 minutes)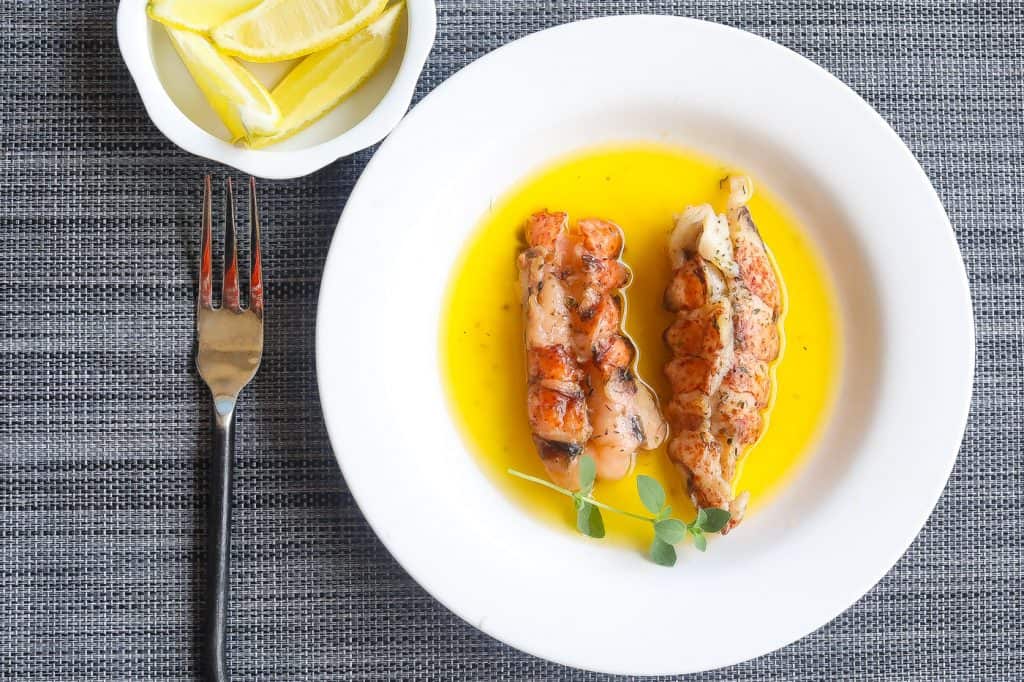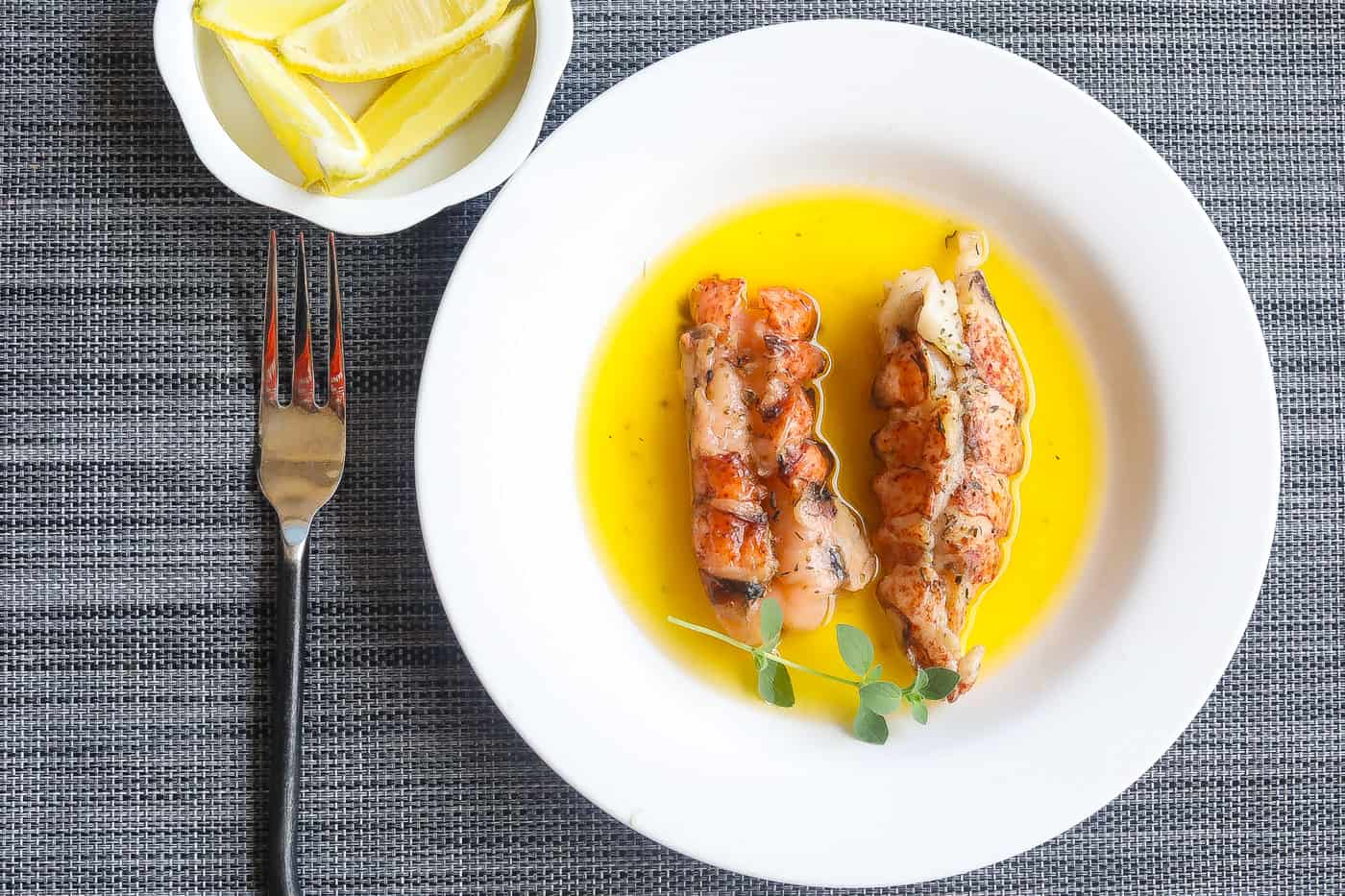 Serving Suggestions
These make for a great appetizer for a fancy dinner. Try any one of the following gourmet side dishes as pairing items:
Charred Asparagus with Harissa
Tips for cooking lobster sous vide
Use wooden skewers to keep lobster from curling

No need for vacuum sealing these, as ziplock and water method is perfect for lobster sous vide

Use weighted objects to keep lobster submerged in the water
Sous vide lobster frequently asked questions?
Why sous vide?
Broiling, boiling, etc. can easily lead to overcooking and a rubbery lobster tail which you want to avoid at all costs. Sous vide is precision cooking so it's basically foolproof.
Can I poach lobster without sous vide?
Yes, and people do it all the time. It's actually really simple and also much faster. Poaching lobster via traditional means takes about 10 minutes. You simply heat about a ½ cup of butter in a skillet or pan then cook the tails on each side for about 3 minutes each. The advantage of sous vide is you can't really mess up. You set the temp and can almost forget about it. Lobster is delicate and it's easy to overcook with a skillet.
What temps should I poach the lobster?
I cooked these at 130 degrees F. I find that anything lower leads to lobster that is almost too soft. At 130 they are tender, but maintain their structure.
Can I use fresh lobster?
Recipe works for either fresh or frozen lobster. With fresh, you'll just want to kill before cooking.
What is ghee?
Ghee is just clarified butter meaning the butter has been simmered and strained to remove all water. Ghee is the ultimate cooking oil - the taste/flavor is ridiculous, it's shelf-stable, has a high smoke point, and nearly lactose-free.
Can I Use Regular Butter?
No doubt you can use regular butter for poaching. However, ghee is next-level stuff. Trust me, once you use it you will look for ways to get more of it into your life.
For other sous vide recipes try these:
If you make this simple sous vide lobster tail recipe or any other from the site, please come back and leave me a comment below with your feedback. Definitely take a photo of the dish and be sure to tag #foodfidelity so that I can see them.
You can also keep up with my food exploits as well as original recipes! You can find me on Instagram, Facebook, Twitter, and Pinterest. If you like any of the music you find on the site, visit me at Spotify to find curated monthly playlist.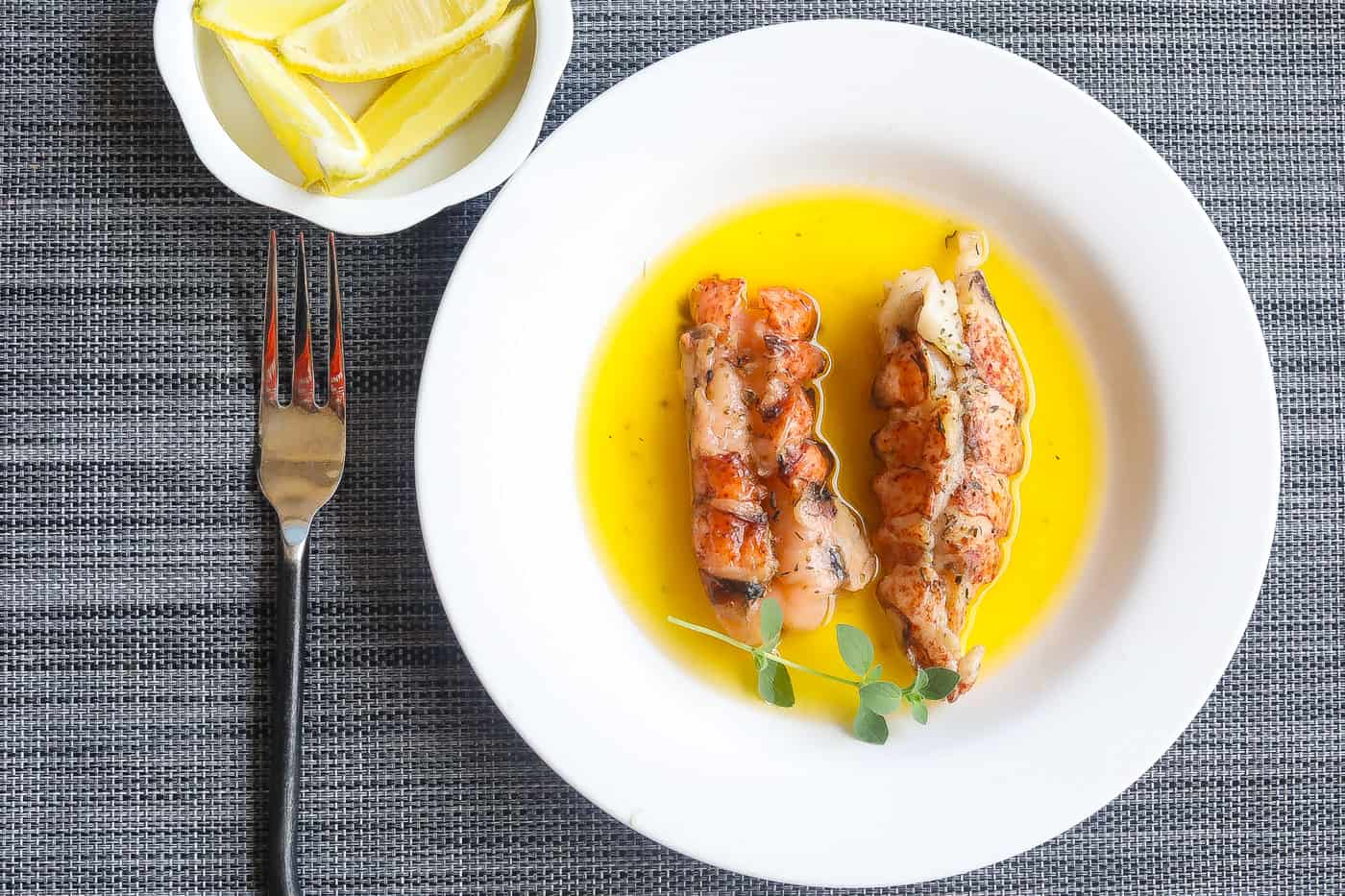 Ingredients
2

whole

lobsters

2

tablespoon

clarified butter

ghee

2

sprigs

fresh thyme

2

tablespoon

dry jerk seasoning

Lemon wedges

for serving

¼

cup

Clarified Butter

for serving
Instructions
Preheat water bath to 130 degrees F.

Cut shell down the middle with kitchen scissors/shears and carefully pull the shell apart. Be careful as to not rip the meat. Gently remove lobster meat from shell.

Season lobster with dry jerk spice or simply salt and pepper

Place lobster in a heavy-duty zipper-lock bag. Add 2 tablespoons ghee and thyme sprigs. Remove all air from bag using the water displacement method or a vacuum sealer.

Add bagged lobster to water bath and cook for at least 30 minutes and up to 1 hour.

Melt ¼ cup ghee in a sauce pan over medium heat. Serve clarified butter on plate beneath tail or as a dipping sauce. Top lobster with lemon juice.
Subscribe To My YouTube Channel
Subscribe To My YouTube Channel for full length recipe videos. Click the bell icon to be notified when I post new videos.
My YouTube Channel