Crowning the GOAT of R&B groups - March Madness Brackets for R&B music fans.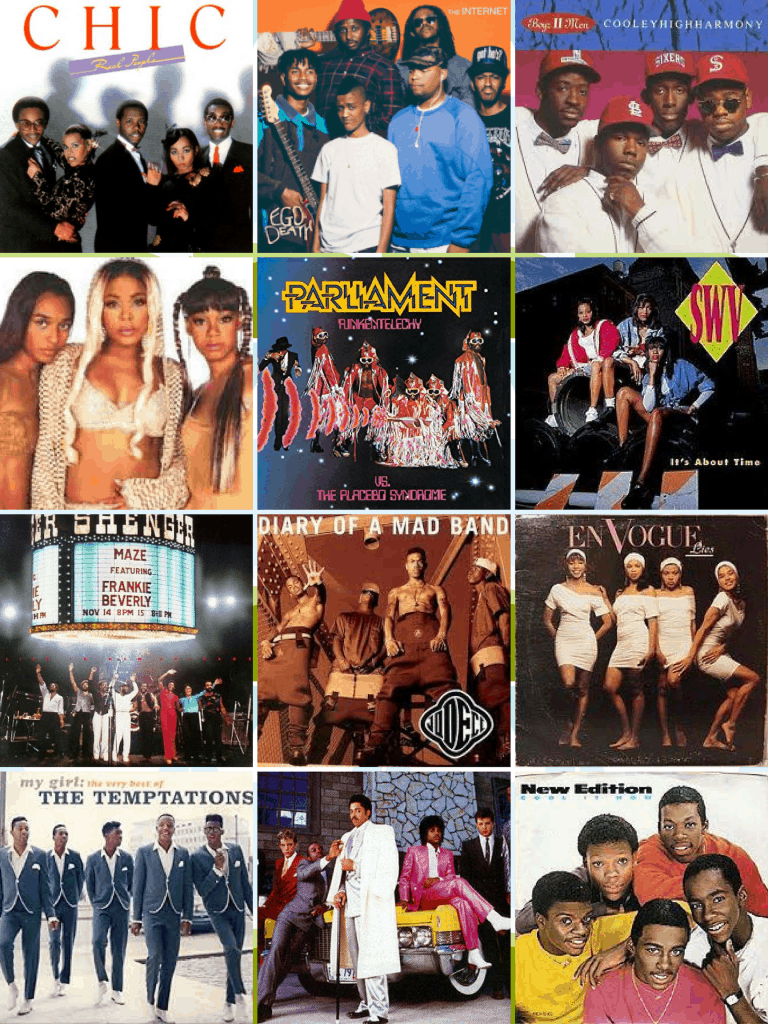 Now that your NCAA College Basketball brackets are busted, especially after Duke's loss to Michigan State you can turn your attention to a bracket challenge that is probably way more fun and likey a bit more personal for you. Recently, over drinks with a few music-loving friends, we got into a debate to crown the King of R&B. But rather than focus on individuals singers, our music debate started with a focus on "Black Bands" including everybody from the everybody knows Earth Wind & Fire and Parliament/Funkadelic to lesser known bands like Mandrill and Kleeer. What became clear after a few heated exchanges about whether "The Revolution" or "The Average White Band" qualified (though we loved both, the consensus was NO on each), was that: one - this was tough, two - this list essentially stops in the 80s, and three - with the exception of Klymaxx this was a boys-only club.
To broaden the discussion as well as make it more interesting we moved from the battle of the black bands to all-time best R&B group. We define a group as both purely bands (Ohio Players and The Internet) where members actually play live instruments and vocal groups (The Temptations and Boyz II Men) where the artists don't play traditional instruments per se, but the focus is on their vocals or sanging & choreography. R&B for our purposes include Funk, Soul, Neo-Soul, & various sub-categories of R&B.
R&B Music Brackets Take-aways
Did hip hop kill-off 90s R&B groups or 90s r&b music period?
Groups are damn near extinct
The list reads like a who's who list for Unsung shows. Groups like SOS Band, Atlantic Starr, New Birth, etc. have amazing catalogs but fly way under the radar
Leon Frank Sylvers III was a bad man!
Fashion and haircuts are legit names for R&B music bracket regions. That gheri curl region would be competitive
Devante Swing should have been bigger.
I'm curious to see how some of my favs like Jodeci, Ohio Players, The Time, Cameo, Maze, and the O'Jay's fare in these brackets.
Go-Go music should have been represented in this bracket. We effed up on not having one of those bands like Rare Essence, Trouble Funk, etc.
Crowning the Best R&B Groups of All Time
Cast your votes here for the best in R&B music all time and check back daily to see the results by round. Feel free to print out a hard copy and write in your complete picks then post/share on social media with the hashtag #rnbgroupsmadness. Also feel free to forward the brackets link to friends and family.
Comments are welcome and strongly encourage.
I've also included links for playlists on both Spotify and Itunes to help with your selections.
To vote, click on a matchup and make your selection for a particular round. Note rounds are only open for a select amount of time before they are closed and the next one opens up.