This easy beef goulash recipe is a very unclassic version of that classic recipe that's a family favorite one pot weeknight dinner. Simple, quick and full of flavor it qualifies as ballin on a budget!
Note this recipe was updated September 19, 2019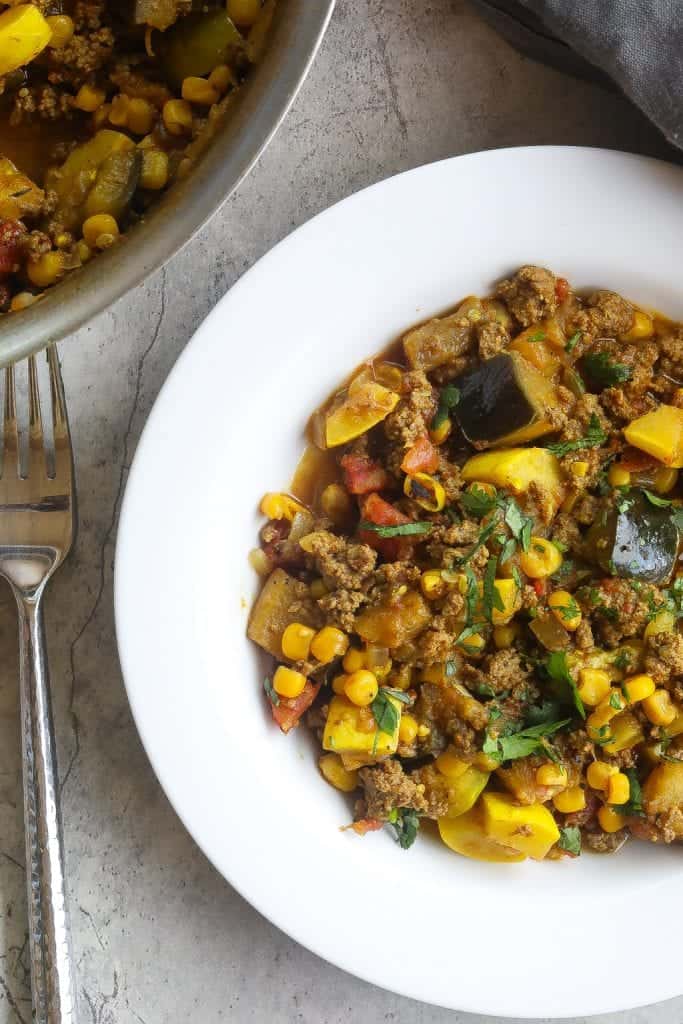 Inspiration for the beef goulash recipe
My grandma made a southern version goulash which included okra, tomatoes, corn, and was seasoned as only a big mama could season a dish. It was basically her okra gumbo recipe plus ground beef. We ate one or the other it seemed like at least once a week.
What is beef goulash?
Goulash has its origins in Hungary. Hungarian goulash is simply made with chunks of beef and mild peppers slowly simmered in paprika based sauce along with a few other spices. It's closer to chili minus the spicy peppers and chili powder.
American Goulash vs. Hungarian
Classic American goulash is quite different than the Hungarian version. Also known as Chop Suey, chili mac, or burgaloo depending on the region of the U.S. American goulash is more of a beefy macaroni cooked in marinara/pasta sauce. It's cooked on the cheap in large amounts so can be stretched to feed quite a few people. Plus its way easier to cook than let's say a lasagna.
What is American Goulash Made With?
Traditional goulash is made with ground beef and elbow pasta aka macaroni. Other ingredients that round out goulash include:
Yellow or white onions
Bell Peppers
Fresh Garlic
Tomatoes
Spices (salt, pepper, dried oregano)
Tomato sauce
Worcestershire sauce
How is this goulash recipe different than American goulash
The process for this version is the same as classic goulash, I.e. browned ground meat with vegetables, sauce, and spices in one pot. This is pretty much where the similarities end. This recipe is not even my grandma's southern version. This is basically just me screwing around in the kitchen making use of whatever ingredients we had left on hand near the end of the week.
The kids walked right past my wife and said "Dad, what's for dinner?" to which my lovely wife asked, "Can we do something with the eggplant and tomatillos before they go bad." Since I'm not one to resort to sarcasm or smart alecky comments I just gave the smart husband answer and classic song by one of my favorite bands Lakeside's "Your wish is my command."
Where this goulash recipe differs is in the use of ingredients like eggplant, tomatillos and corn. Also this recipe leans heavily on paprika like the original Hungarian goulash as well as cinnamon. The cinnamon is a really unique twist inspired by my Texas Chili Recipe. The paprika adds an earthy and smoky element while the cinnamon adds a bit of sweetness and pleasant surprise. It's definitely worthy of an Academy Award for best supporting actor.
My spice cabinet is always full, so I went with cumin and cinnamon to match the tomatillos and give a more Mexican bent to the goulash.This can be prepared with or without meat depending on your taste.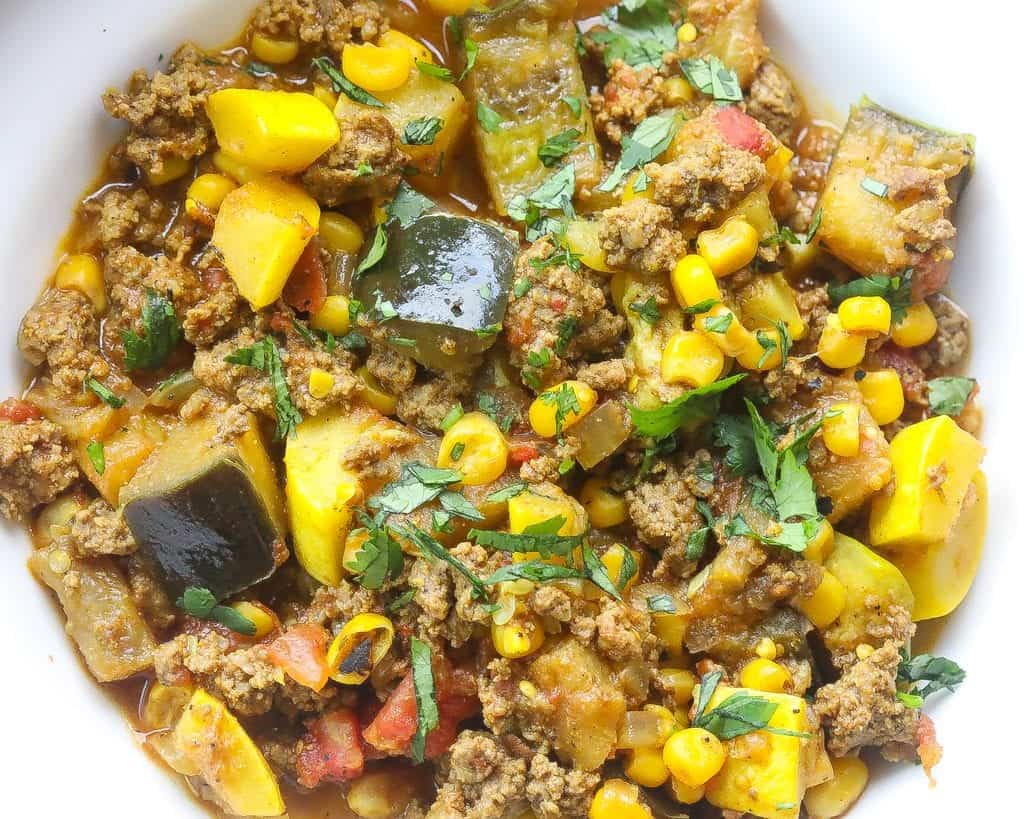 How to cook this easy goulash recipe
You'll start out by browning your ground turkey in a large stock pot. Note I long to preseason the turkey well beforehand for more flavor. Next saute your onions and garlic in some reserved fat from the ground turkey. The rest is about adding the remaining ingredients including the cooked ground turkey and allowing to simmer in the pot for about 20-25 minutes.
How Long Will Goulash Last in the Refrigerator
This easy goulash recipe will keep in the fridge for about 3 to 4 days if stored in airtight container. To reheat, I prefer to forgo the microwave and heat on stove slowly.
Beef Goulash Cooking Tips
Use a potato masher to crumble the ground turkey when you're browning it.
Cut the eggplant and tomatillo into smaller pieces for faster cooking.
Season early and often, especially when sautéing the onions and garlic as the heat will intensify the aroma and flavor of the spices.
The recipe calls for ground beef, but feel free to use ground turkey. Turkey doesn't have as strong a flavor as beef, but it does offer a few less calories relative to beef.
making easy beef goulash
If you make this unique twist on classic beef goulash please come back and leave me a comment below with your feedback. Definitely take a photo of the dish and be sure to tag #foodfidelity so that I can see them.
You can also keep up with my food exploits as well as original recipes! You can find me on Instagram, Facebook, Twitter, and Pinterest. If you like any of the music you find on the site, visit me at Spotify to find curated monthly playlists.
For other modern recipe twists on classics try this Stewed Okra, Fried Black-eyed Peas or these Jerk Fried Chicken.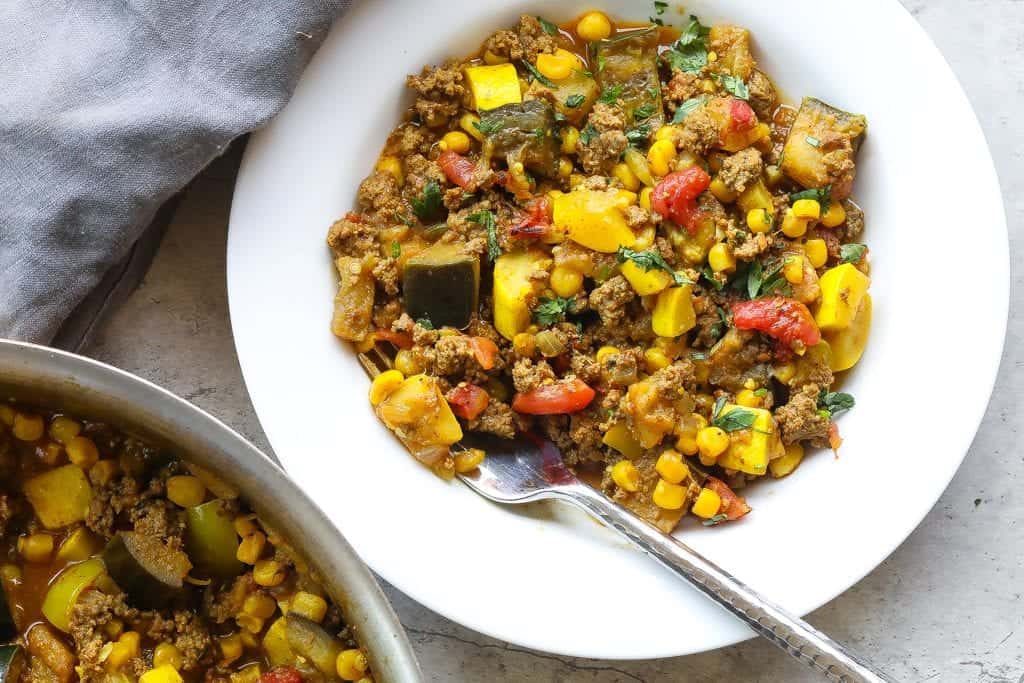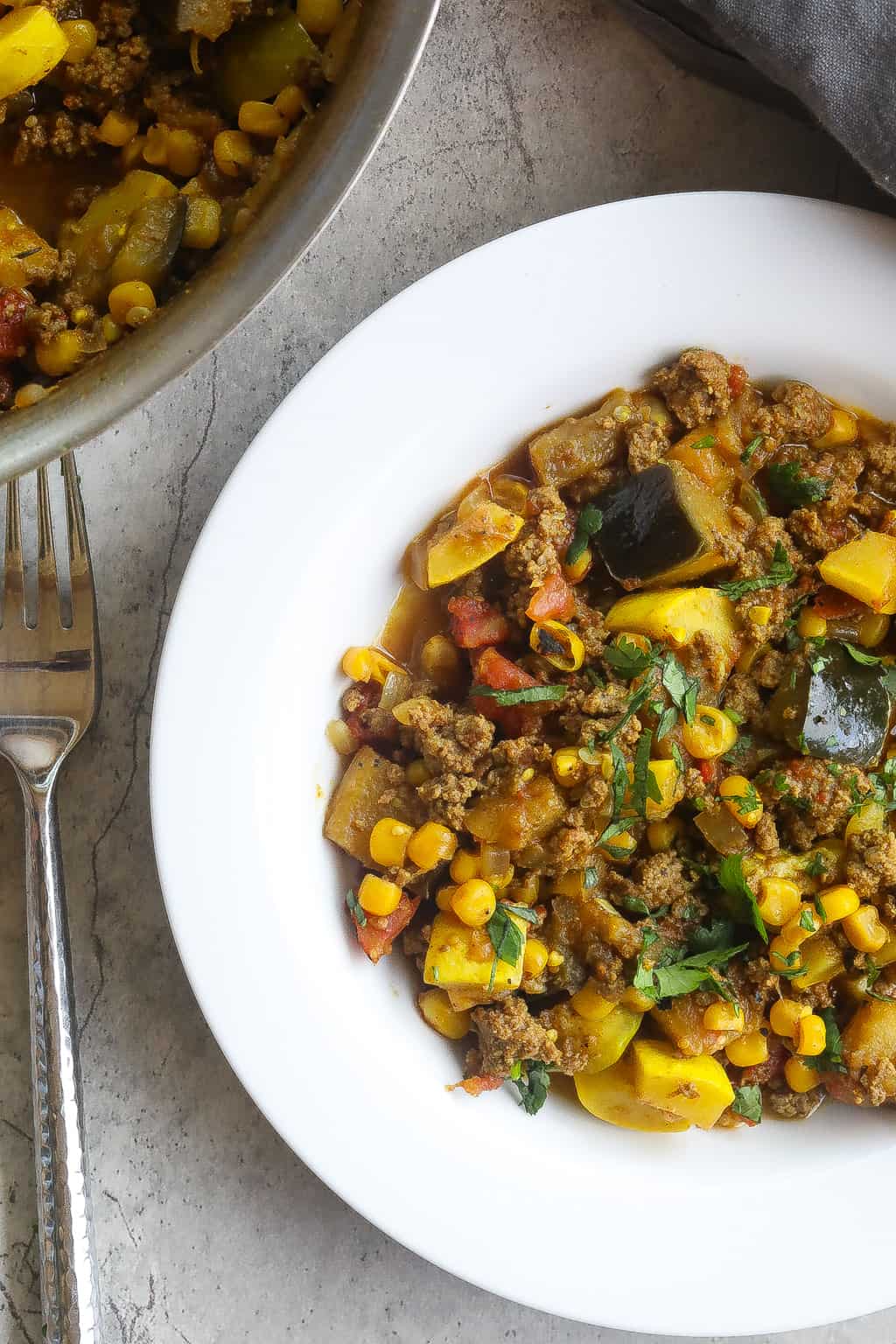 Ingredients
1

medium yellow onion diced

1

medium eggplant

chopped into small cubes

1

zucchini

chopped

4

tomatillos

cubed

1 ½

cups

corn

fresh, frozen, or canned can be used

12

oz

can fire roasted tomatoes

1 ½

cups

chicken stock

low sodium

1

lb

ground beef

browned and drained

1

lime

2

tsp

ground cinnamon

2

tsp

ground smoked paprika

1

tsp

ground cumin

2

tsp

dried herbs

any combo of oregano, basil, thyme, tarragon, parsley will do

salt and pepper to taste
Instructions
Saute onions in a dutch oven or medium sized pot for about 3-4 minutes over medium heat. Add eggplant, zucchini, and tomatillos and saute for another 2-3 minutes as ingredients begin to caramelize.

I like to season as I cook so add half the spices/herbs during sauteing (this will help bring out more of the flavor from the spices).

Add browned ground beef

Add tomatoes, corn, and stock then stir until all ingredients are thoroughly mixed.

Add the remaining spices/herbs, stir, and lower temperature to a simmer. Let simmer for about 20 minutes.
Nutrition
Calories:
499
kcal
|
Carbohydrates:
42
g
|
Protein:
28
g
|
Fat:
27
g
|
Saturated Fat:
9
g
|
Cholesterol:
83
mg
|
Sodium:
347
mg
|
Potassium:
1107
mg
|
Fiber:
10
g
|
Sugar:
14
g
|
Vitamin A:
2046
IU
|
Vitamin C:
29
mg
|
Calcium:
164
mg
|
Iron:
9
mg
Subscribe To My YouTube Channel
Subscribe To My YouTube Channel for full length recipe videos. Click the bell icon to be notified when I post new videos.
My YouTube Channel