Sambal is traditionally a hot and spicy chili based all-purpose condiment found in many Asian and African countries. In this version cucumber is used as the base.
This cucumber sambal will be perfect for this year's Kwanzaa menu, particularly with the grilled fish I'm planning. I love the refreshing element the cucumber base provides to this relish as well as the mild heat from the serrano chiles.
Though there are a few staples, my Kwanzaa menu varies from year to year, mostly centered around the sides or condiments which are more rotational. I like to cook during the holidays, but try to keep things very simple as I see the holidays as a time to chill, so no fuss recipes are perfect. This year I wanted to emphasize some South African elements. Stewed Eggplant from an earlier post will definitely make the cut, but I also thought it would be great to bring in a few new South African inspired condiments such as this cucumber sambal. The recipe was taken from Chef Marcus Samuelsson's cookbook which explores the foods and flavors of Africa.
What is a Sambal you ask?
Sambal is traditionally a hot and spicy chili based all-purpose condiment found in many Asian and African countries. It's highly common in Southeast Asian countries like Malaysia and Indonesia where it's more of a saucy paste in consistency/texture. Perhaps you've seen or tried Sambal Oleek which is a bright red chili garlic sauce/paste. It goes great with rice or eggs and is common in Asian restaurants. Africans favor more of a thick relish type consistency which is represented in this cucumber sambal recipe. Both the chilies and other primary ingredient (mango, cucumber, carrots, apple, etc.) are chopped and/or diced vs. ground.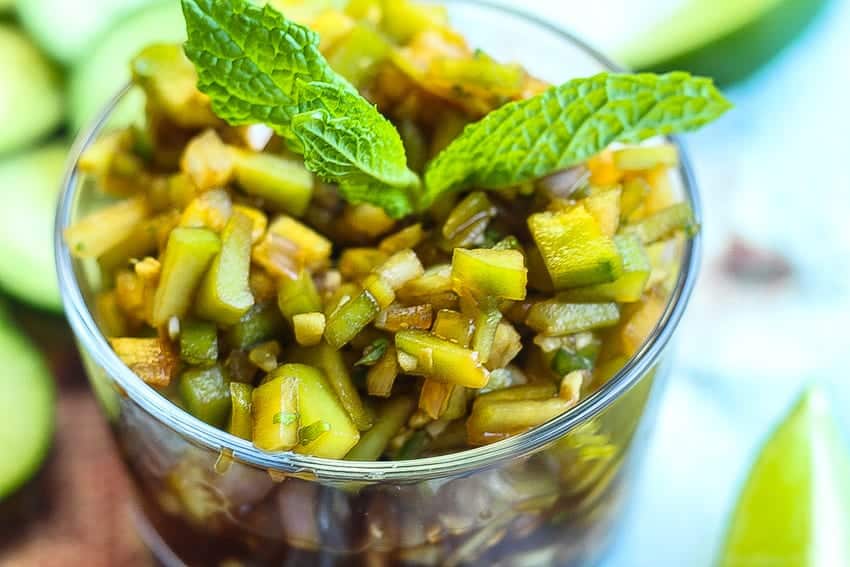 What do you eat with Cucumber Sambal?
Cucumber sambal works well with grilled meats, fish, and chicken pretty much cooked anyway. As I mentioned earlier I will be using this for grilled fish during the holidays. However, I've used on both grilled and fried chicken sandwiches and future use will include it as a condiment to a fancy hot dog recipe. I kept this version very mild by eliminating all seeds and veins from the serrano. Depending on your heat preference you can adjust by usin seeds as a lever; more seeds = more heat. The cucumbers are a great contrast as they play the cooling, refreshing role. The citrus from the lime adds some zest, while the mint adds more cooling effect.
Dope beats, fresh eats. Enjoy this cucumber sambal a great condiment for your main dish.!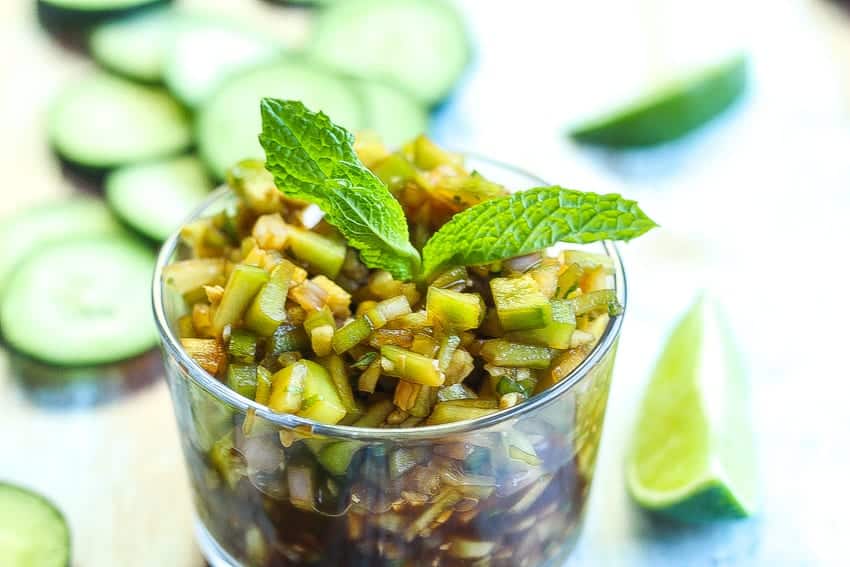 Ingredients
1

tablespoon

soy sauce

tamari for gluten free

1

teaspoon

sugar

1

small shallot

finely chopped

1

small yellow onion

chopped

2

garlic cloves

minced

1

serrano chile—seeds and ribs removed

chile finely chopped

2

teaspoons

finely grated fresh ginger

Juice of 1 lime

2

tablespoons

chopped mint

1

large cucumber—peeled

halved lengthwise, seeded and thinly sliced
Instructions
In a medium bowl, combine the soy sauce, sugar, shallot, chile, ginger, lime juice and mint and mix well. Add the cucumber and toss well. Cover and let stand at room temperature for 1 hour before serving.