Ground lamb is perfect for a stuffed eggplant recipe. Slightly gamey lamb is mellowed some by the rich silky eggplant.
First off let me say I love eggplant, but it ain't everyday that I can naturally squeeze eggplant into a conversation with my crew. Don't get me wrong many of my guys know their way around the kitchen, but we ain't talkin eggplant in those moments. I'm catching side eye and an extra large side of clowning…
But my chef homies, yes we can talk eggplant and anything else. I was at a cooking event with Chefs Marvin Woods and Tre Wilcox of Top Chef fame. We were talking shop about soul food, and Tre blind sided us with the statement that he never cooked and actually didn't know how to cook soul food. This would be akin to someone saying they never smelled weed at a Hip hop concert.
Now we gave him da business about losing his hood pass and all that, but on further reflection I thought it's actually a great thing. He was a black chef free to just cook whatever. More importantly, we have enough chefs cooking "soul food"; it's time for some of us to leave La La Land and evolve the culture and food. Don't get me wrong, I love fried chicken, mac and cheese with that smooth velveeta melt, and a big ole plate of smothered pork chops but we got plenty of experts who provide this and plus I can't eat it everyday.
This stuffed eggplant recipe was born out of those conversations as we discussed the need and desire for more creativity in this space. Underscored in all of this was the attitude to be free and challenge the accepted norms. For example when people think soul food they don't think eggplant. Why not? We gotta keep it real, that's exactly what's wrong. Keeping soul food "real" is killing us literally.
So throw on some Digable Planets, cook this stuffed eggplant to this "Escapism" chorus…
"Get free, get free ya'll
Funk is you, funk is me, funk is us, funk is free
I think every mom and dad should say to their kids
K-k-kids be free
Be whoever you are and do whatever you wanna do"
Stuffed Eggplant Serving Suggestions
You can enjoy this as a one-dish main entree. It's filling so I prefer to serve with a few lighter sides or salads like:
Expert Cooking Tips For Lamb Stuffed Eggplant
The actual recipe is a simple one. It's just a riff on stuffed peppers. The only real difference is in the prep of the eggplant. Whereas peppers are hollow but firm, with eggplant you are essentially removing the flesh which holds it intact.
In order for it to act as a vessel for the stuffing, a layer of the flesh has to be left behind to maintain the necessary firmness.
Removing the flesh can be a little tricky so carving the flesh in criss-cross fashion makes it easier to remove. Going heavy on the olive oil helps also.
The skin is edible
Be flexible with the ingredients. Don't feel married to ground lamb, as other meats work just as good. Same holds true for vegetables
Use traditional eggplant for this recipe that are longer than round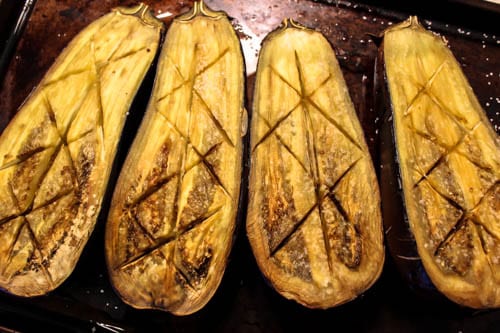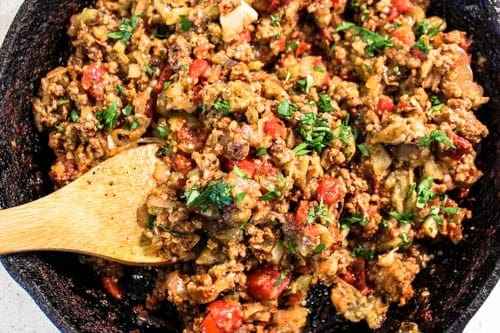 For similar recipes you might like try these:
Oven Roasted Eggplant w/ Cuban Mojo Sauce
Stewed Eggplant with South African Spice Rub
If you make this quick and delicious stuffed eggplant recipe or any other from the site, please come back and leave me a comment below with your feedback. Definitely take a photo of the dish and be sure to tag #foodfidelity so that I can see them.
You can also keep up with my food exploits as well as original recipes! You can find me on Instagram, Facebook, Twitter, and Pinterest. If you like any of the music you find on the site, visit me at Spotify to find curated monthly playlist
Ingredients
2

large eggplant

halved lengthwise

1

cup

extra virgin olive oil

1

large onion

halved and thinly sliced

4

garlic cloves

crushed

1

red bell pepper

diced

1 12

oz

can fire posted tomatoes

3/4

lbs

ground lamb

2

teaspoons

sugar

1

lemon thinly sliced

1

teaspoons

kosher salt

1

teaspoon

black pepper

1

teaspoon

smoked sweet paprika

1

tablespoon

fresh parsley

finely chopped

1

teaspoon

fresh oregano

finely chopped
Instructions
Cut a line 1/4 inch in from the edges of the eggplant halves, then score the flesh inside with a criss-cross pattern.

Rub plenty of olive oil over the eggplant and season with salt. Arrange in a single layer in an ovenproof dish. Cook in preheated oven at 400 degrees for about 30 minutes until the flesh has softened. Set aside leaving eggplant in the dish.

Season ground lamb with salt, pepper, and paprika. Heat oil in heavy skillet and brown the ground lamb. Remove lamb to a paper towel lined bowl, set aside and clean the skillet.

Heat oil in the cleaned heavy skillet, then add the onions, peppers and garlic, and saute over low heat 3-4 minutes. Increase the heat and add the tomatoes. Cook until the juices from the tomatoes have reduced some, then add salt and pepper to taste. Add the parsley and oregano to the onion/tomato mixture, then add the sugar.

Scoop some of the flesh from the middle of the eggplant, leaving a shell around the outside to help hold the eggplant base in shape. Chop the scooped out section and add to the tomato mixture. Add the ground lamb and mix well. Pile the mixture into each of the four eggplant shells and sprinkle with additional black pepper and paprika. Arrange lemon slices on top. Add some additional olive on top and then dose with about 1/4 cup of water.

Cover with aluminum foil and bake for 40 minutes until soft. Remove the foil for the last 10 minutes of cooking. Serve sprinkled with any leftover parsley and oregano.
Subscribe To My YouTube Channel
Subscribe To My YouTube Channel for full length recipe videos. Click the bell icon to be notified when I post new videos.
My YouTube Channel